Mondo Is Releasing An A24 Poster Series – Check Out Green Room And Under The Skin Now [Exclusive]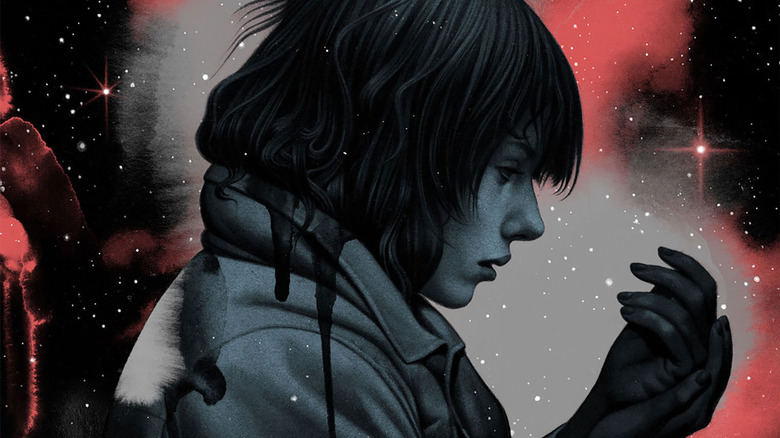 Mondo / THE VACVVM
Those crazy cats over at Mondo have done it again, this time putting out a gorgeous, limited edition screenprint collection combining the stylish films of A24 with the prestigious collective of world-class illustrators and fine artists from across the globe known as THE VACVVM. The collection features eight new screenprints in total, focusing on THE VACVVM artists' favorite films from A24's cross-genre collection. Folk horror, existential science-fiction thrillers, religious dramas, and stories about inheriting familial traumas will all be explored through the stunning artwork of some of the most gifted talents working today. All prints will be available on MondoShop.com with a staggered release throughout March, beginning with Mike Sutfin's interpretation of Jeremy Saulnier's "Nazi Punks, F*** Off!" horror thriller, "Green Room," and Joao Ruas' otherworldly take on "Under the Skin" on March 10, 2022.
"Every A24 film is incredibly unique, but the logo at the beginning of each film is a mark of quality, excitement and uniqueness that no other studio is currently providing," says Eric Garza, Mondo Senior Creative Director. "Working with THE VACVVM to identify some of their favorite films from the studio, and bringing them to further life, has been such an incredible journey." 
Over the next four weeks, the following posters will be released as part of this exclusive, limited edition collection, all available at Mondo's shop:
"Green Room" by Mike Sutfin (3/10)
"Under the Skin" by Joao Ruas (3/10)
"Hereditary" by Richey Beckett (3/17)
"The Killing of a Sacred Deer" by Vanessa Foley (3/17)
"Ex Machina" by Ken Taylor (3/24)
"First Reformed" by Randy Ortiz (3/24)
"The Witch" by Jessica Seamans (3/31)
"The Lighthouse" by Nicolas Delort (3/31)
We at /Film are thrilled to provide a sneak peak at the first two available designs. Continue below to check out Mike Sutfin's "Green Room" and Joao Ruas' "Under the Skin."
Mike Sutfin's Green Room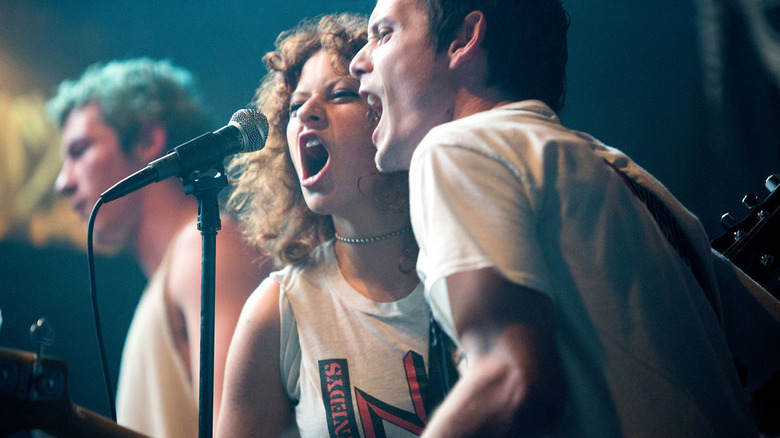 A24
First on the docket is Mike Sutfin's two different versions of "Green Room," a DIY-or die approach to traditional punk show flyers.
Once upon a time, Mondo was just a "quasi-bootleg t-shirt shop" called Mondo Tees in the basement of a single-screen movie theater, but now, it's considered to be one of the premiere brands of all things pop culture. Screenprints, vinyl releases of scores/soundtracks, books, collectables, apparel, puzzles, enamel pins, and so much more have all been given the Mondo treatment, becoming must-haves for the cinephile in us all. Work like this really does bridge the gap between the old Mondo and the current Mondo. 
Joao Ruas' Under the Skin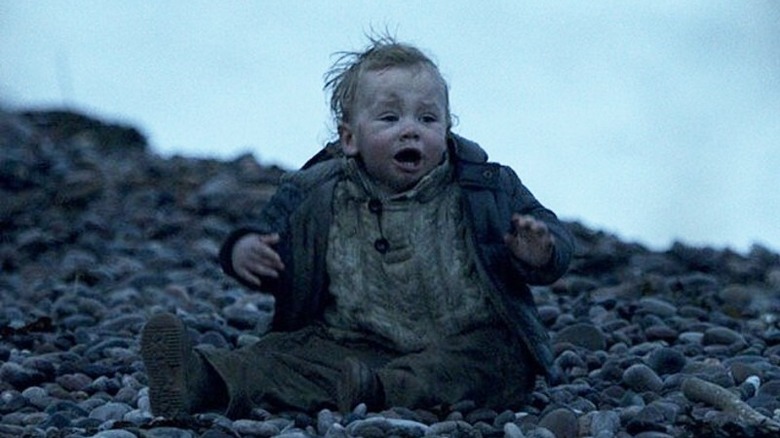 A24
After Scarlett Johansson had already nabbed the role as Black Widow but before she became one of the highest paid actresses in the world, she was a seductive and (literal) man-hungry alien in Jonathan Glazer's hallucinogenic masterpiece, "Under the Skin." For the Mondo x THE VACVVM collaboration, Joao Ruas captures the expansive galaxy colorway of the film, grounded in Ruas' style of eerie, layered work with rich and contrasting black shades.
Mitch Putnam, Mondo Senior Creative Director and Co-Founder, as well as head of THE VACVVM, spoke highly of the collaboration saying, "Literally across the board, every VACVVM artist totally stepped up and delivered mind-blowing work that we hope fans of these films, and this collective, will love."
If you want to snag these posters, keep a close eye on the Mondo shop for the next couple weeks. They're going to go fast.