Seth Rogen's The Boys: Diabolical Episode Just Wasn't Gory Enough At First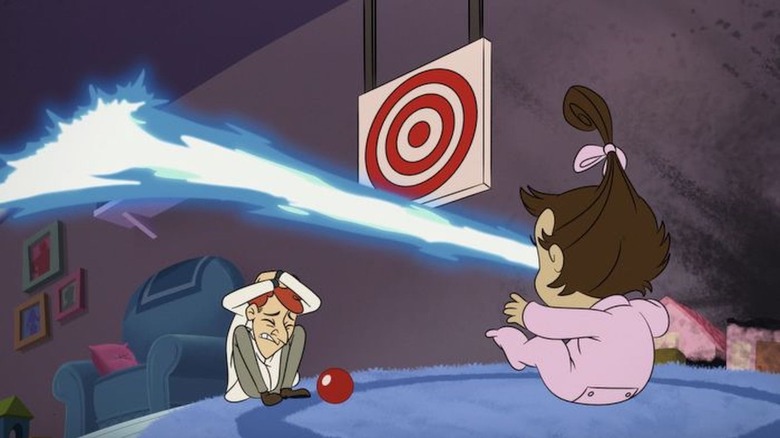 Amazon Prime
While we still have a little while to go until new episodes of "The Boys" drop on Amazon Prime, the streamer has released an animated anthology titled "The Boys: Diabolical" to fill the void. Set in the world originally created by Garth Ennis and Darick Robertson for their gory, irreverent superhero comic, then brought to life for a live-action adaptation by Seth Rogen and Evan Goldberg, this eight-episode series brings in a number of big names from all over the entertainment world — including Aisha Tyler, Michael Cera, Ilana Glazer, Awkwafina, Justin Roiland, Don Cheadle, Kumail Najiani, Kevin Smith, Giancarlo Esposito, and more.
But if you're concerned that the Vought International-approved show might scale back on the flagship's trademark satire and gore just because it's animated, worry not. (After all, this is from the same people that brought us "Invincible.") Though each episode of "The Boys: Diabolical" features different creative teams and animation styles, they all deliver on the outrageous violence that you've come to know and love from the original satirical superhero series. In fact, Rogen and company even went back to turn up the volume a bit on that particular area.
I love the smell of animated violence in the morning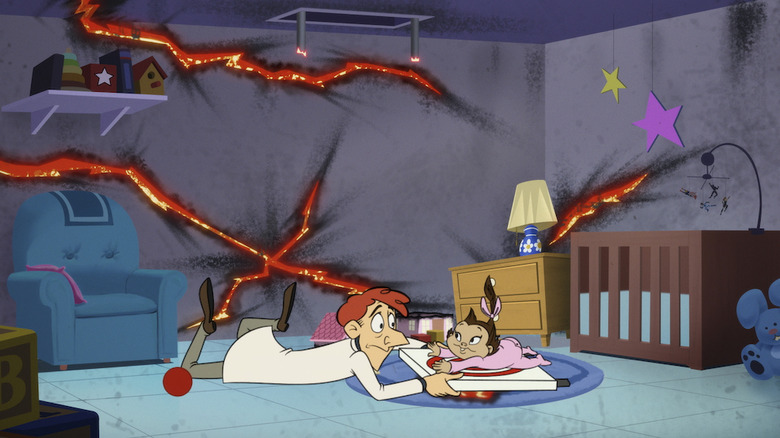 Amazon Prime
While talking to Variety about "Laser Baby's Day Out," the premiere episode of "The Boys: Diabolical," Rogen and Goldberg shared that they were inspired by the Baby Herman shorts from "Who Framed Roger Rabbit?" and the 1994 film "Baby's Day Out." But when it came to inserting the signature violence of "The Boys" into their short, the "Pam & Tommy" star revealed that their first pass was more along the lines of what you'd see in any regular Saturday morning cartoon.
"What's so funny is, we actually had to make it so much more gory than we thought we were going to. Because when we wrote it, it was gruesome — but then you saw it in animation and we were like, 'Oh, it's not that gross actually,' because that's what you're used to seeing in children's animation all the time. We actually had to really ratchet it up once we got back the first cut because it almost just looks like an actual 'Looney Tunes' cartoon."
Considering that the duo actually recruited a team that had experience with "Looney Tunes" and "Animaniacs" to animate their episode, it's fitting that the gags and violence made famous by those zany characters is what they ended up with. However, since "The Boys" isn't the sort of story to hold back or pull punches, it's great that they were willing to go back in to inject this heartwarming story of a super-powered baby and the scientist trying to protect her with an obscene amount of blood and brutality. And since it sounds like Amazon was okay with their team going as far as possible, it's not surprising that Rogen and Goldberg fully took advantage of that openness.