The Boys Season 3: Release Date, Cast, And More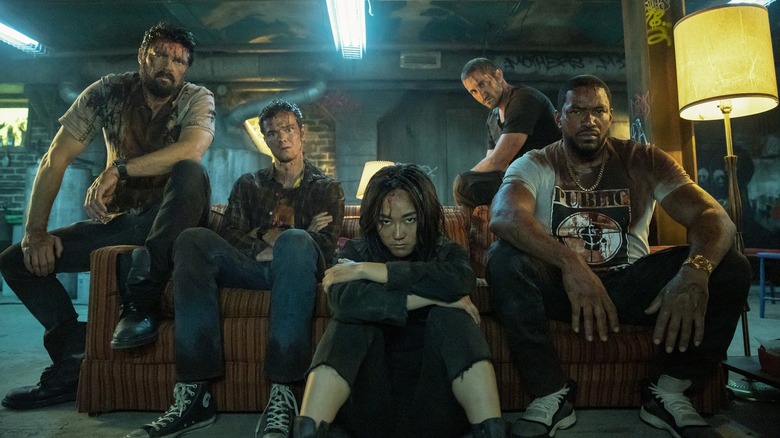 Amazon Studios
(Welcome to ...And More, our no-frills, zero B.S. guide to when and where you can watch upcoming movies and shows, and everything else you could possibly stand to know.)
You didn't think DC movies were the only ones taking darker, deconstructionist, and more critical approaches to superheroes in recent years, did you? The Zack Snyder era of the live-action DC Universe may be over, but audiences clearly remain interested in alternate genre fare to counteract the relatively straightforward and positive depictions of superheroes in the Marvel Cinematic Universe. "Invincible" helped fill one such niche, though season 2 appears to be a long way off at this moment. But before that animated series made waves among viewers, Amazon's "The Boys" arrived on the scene and put a brazenly satirical spin on classic superhero archetypes like Superman, Wonder Woman, the Flash, and more. In this superhero universe, Superman is an unhinged, power-mad, and completely out-of-control weapon of mass destruction. Meet Antony Starr's Homelander, everybody! His love interest isn't Lois Lane, but a thinly-veiled commentary on the rise of white supremacists and Nazism adherents in the form of Aya Cash's Stormfront.
"The Boys," which pulls no punches and has an absolute blast while doing so, is coming back for even more violence, gore, and unabashed political commentary. Read on for everything you need to know about season 3 of "The Boys."
The Boys Season 3 Release Date and Where To Watch It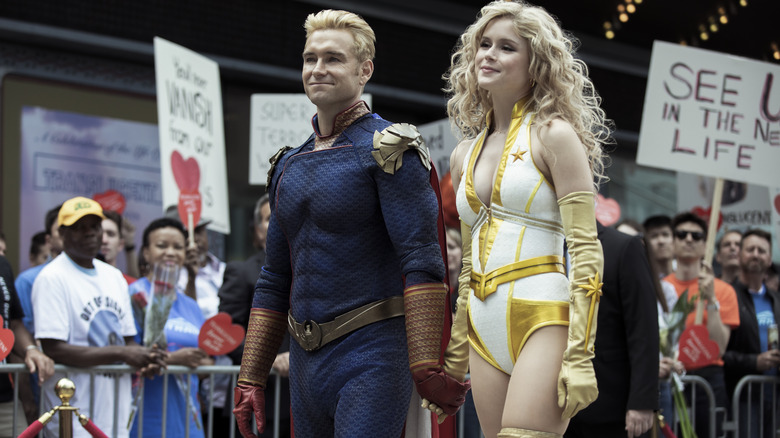 Amazon Studios
"The Boys" creator Eric Kripke and Amazon Studios have kept details of season 3 close to the vest thus far, mostly biding their time and keeping us occupied with bite-sized installments of the in-universe Fox News parody program, "Vought Seven on 7." In addition to filling out minor world-building details and including amusing little vignettes, the steady trickle of clips have also revealed new looks at incoming supporting players such as Groundhawk, Crimson Countess, and Blue Hawk. (A wink and a nod at the lack of creativity that plague superhero names at times? I'd like to think so!) 
But finally, we recently received word as to when we can expect Season 3 to premiere. Attached to the last "Seven on 7," Amazon included a brief look at the next season and revealed the Season 3 premiere date: June 3, 2022. The series is available to subscribers of Amazon Prime Video, with the first two seasons currently available on the streaming service.
What is The Boys?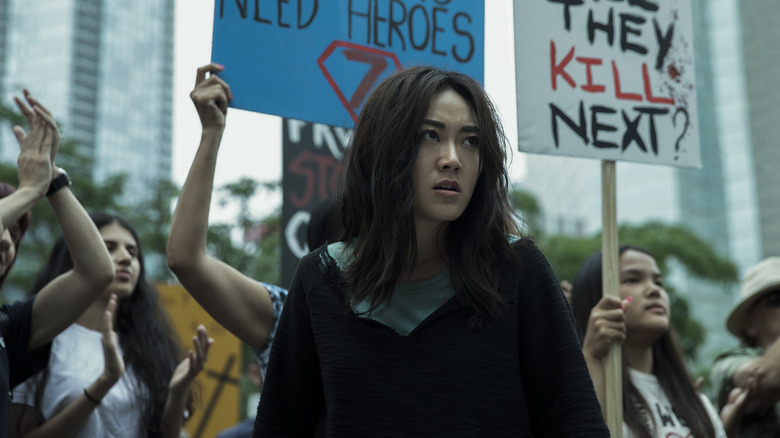 Amazon Studios
"The Boys" began with a low-stakes look at a day in the life of everyday, no-name civilian Hughie Campbell (Jack Quaid). While walking with his girlfriend Robin, however, a speedster "Supe" careens down the street and, uh, through her, leaving again just as quickly with barely a second glance. Once tracked down by the mysterious anti-Supe crusader Billy Butcher (Karl Urban) and recruited to aim his need for vengeance against the reckless, all-too-powerful Supes of the sinister Vought Corporation, Hughie enters a far bigger world than he ever could've imagined. Much of the first season revolved around formation of the Boys, made up of Hughie, Billy, Mother's Milk (Laz Alonso), Frenchie (Tomer Capon), and eventually Kimiko (Karen Fukuhara). Together, the team of misfits attempt to strike back at the villainous "superheroes" and help make a celebrity-worshipping public finally see the truth of their actions.
Season 2 largely dealt with the threat of Stormfront and the increasingly sociopathic behavior of Homelander, all wrapped up in a larger conspiracy concerning Vought's creation of both villains and heroes using a special serum. The finale brought events to an explosive climax, featuring the shocking, head-exploding attack on a crucial courtroom hearing, the death of Stormfront, and the possible redemption of Queen Maeve (Dominique McElligott). The creative path for season 3 is wide-open, however, with the series able to take the events in any number of directions — loosely based on Garth Ennis' original source material, of course. 
The Boys Season 3 Showrunners, Crew, and More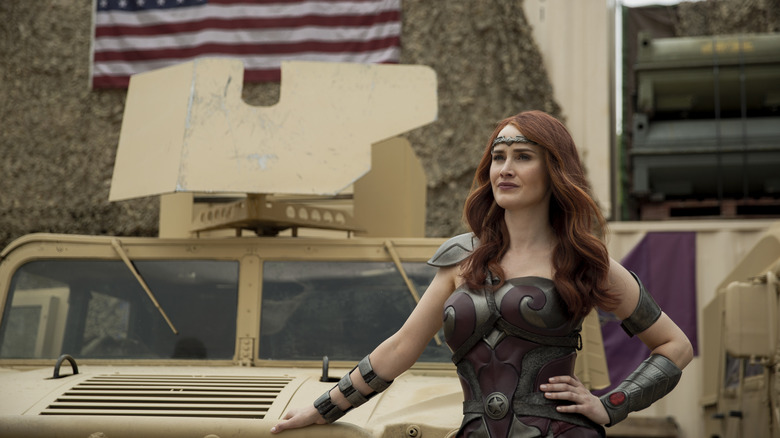 Amazon Studios
"The Boys" is created by Eric Kripke, who also serves as head writer, showrunner, and executive producer on the series. Directors throughout both seasons have included Kripke, filmmaker Dan Trachtenberg for the series premiere, "WandaVision" alum Matt Shakman, Philip Sgriccia, Frederick E.O. Toye, Stefan Schwartz, Jennifer Phang, Dan Attias, Liz Friedlander, Steve Boyum, Batan Silva, Sarah Boyd, and Alex Graves. Writers and directors for the Season 3 batch of episodes have not yet been announced, though it's expected to include more contributions by writer Craig Rosenberg, Kripke himself, and others. 
The Boys Season 3 Cast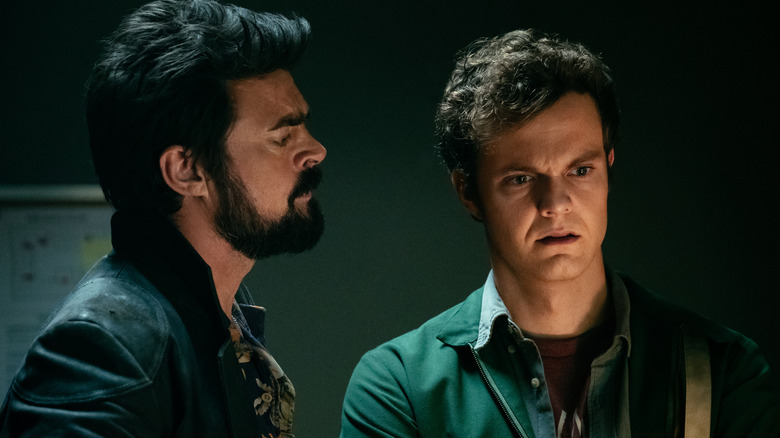 Amazon Studios
"The Boys" is largely an ensemble series, balancing various supporting characters and subplots that all add up to the overall story. We originally started off with Jack Quaid's Hughie Campbell, who still serves as our main perspective throughout the much larger events of the show. His turbulent dynamic with Karl Urban's Billy Butcher provided much of the tension between our heroes (the actual heroes, at least, not just the super-powered kind) in the early going, but the events of the series have since expanded to include each member of the Boys overall, as well as the ongoing storyline of the Supes themselves. In addition to Urban and Quaid, "The Boys" stars Antony Starr as Homelander, Erin Moriarty as Hughie's superhero love interest Annie January/Starlight, Dominique McElligott as the conflicted Queen Maeve, Jessie T. Usher as A-Train, Laz Alonso as Mother's Milk, Chace Crawford as The Deep, Tomer Capon as Frenchie, Karen Fukuhara as Kimiko, Nathan Mitchell as Black Noir, Colby Minifie as Ashley Barrett, Claudia Doumit as politician Victoria Neuman, and Giancarlo Esposito as Vought CEO Stan Edgar. New arrivals include Miles Gaston Villanueva, Sean Patrick Flanery, Nick Wechsler, Jensen Ackles, Laurie Holden, Frances Turner, Kristin Booth, and Jack Doolan.
The Boys Season 3 Trailer
The Boys is an irreverent take on what happens when superheroes, who are as popular as celebrities, as influential as politicians and as revered as Gods, abuse their superpowers rather than use them for good. It's the powerless against the super powerful as The Boys embark on a heroic quest to expose the truth about "The Seven", and their formidable Vought backing.