You'll Probably Have To Wait A Little Bit For Invincible Season 2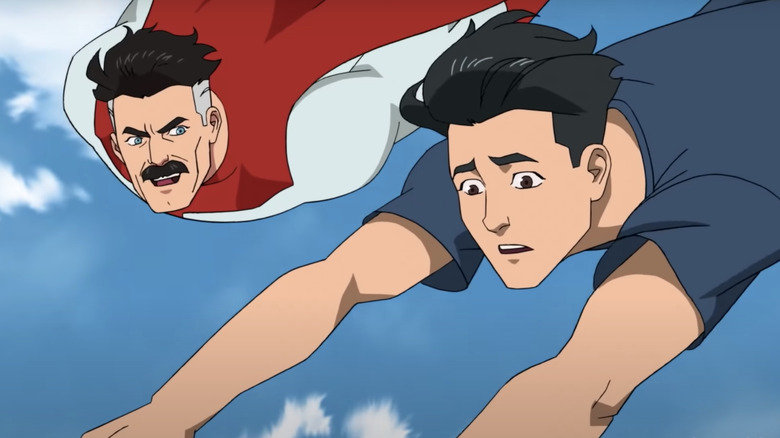 Amazon Studios
"Invincible," now streaming on Amazon Prime Video, reunites Steven Yeun with "The Walking Dead" creator Robert Kirkman. The catch is that it's an animated series, so you'll only hear Yeun's voice as the main character, Mark Grayson. He's a 17-year-old who idolizes superheroes and soon gets drawn into their violent world as he manifests his own powers, not unlike his father, Omni-Man (voiced by J.K. Simmons, still channeling J. Jonah Jameson even with his animated appearance). Basically, Mark Grayson is Superboy and his dad is a dark version of Superman. 
If you've been keeping up with "Invincible" and hoping to see season 2 sooner rather than later, we have somewhat disappointing news. Yeun recently spoke to Collider about his new film,"The Humans," and when asked about the status of "Invincible" season 2, it didn't sound like new episodes would be ready soon. The actor explained:
"We haven't started. I know we're starting at some point soon. I've talked to Robert [Kirkman], here and there. He's super excited about it. He thinks Season 2 is gonna be even better than Season 1, which I have no doubt about. If you go to his source material, 'Invincible' is an incredible comic, and just thinking about how much story hasn't been told from that run, it's gonna be bonkers. I'm really excited about it."
Steven Yeun Hive, Assemble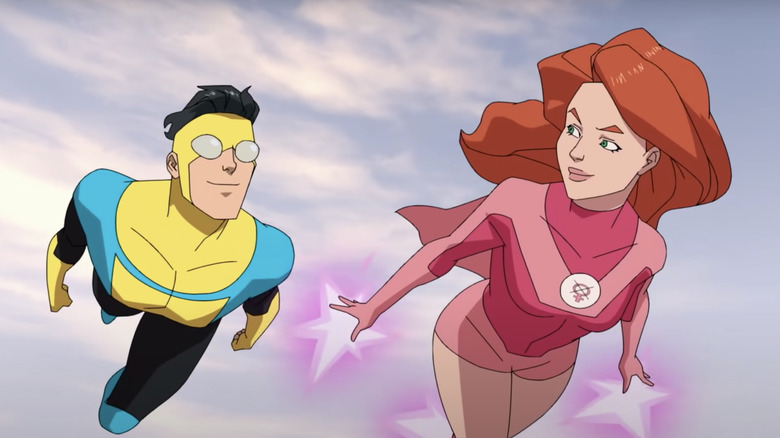 Amazon Studios
Yeun has come a long way since braving the zombie apocalypse as Glenn on "The Walking Dead." His post-AMC career has seen him teaming with auteurs like Bong Joon-ho for "Okja" and Jordan Peele for the upcoming "Nope." Yeun can also be seen in critically acclaimed films such as "Burning" and "Minari," the latter of which earned six Academy Award nominations last year and became the first Korean film to score a win for acting for Youn Yuh-jung's supporting role.
Otherwise, you can catch Yeun in "The Humans," which is currently in theaters and streaming on Showtime. This film has been on my radar since I read our own Chris Evangelista's review of it coming out of the Toronto International Film Festival back in September. The movie is set on Thanksgiving but the review describes it as "a surprisingly scary horror movie disguised as a family drama." The only slice of Thanksgiving horror I can recall having seen is the fake slasher trailer for "Thanksgiving" that Eli Roth directed as part of Quentin Tarantino and Robert Rodriguez's "Grindhouse" double feature back in 2007.
As a hyper-violent superhero tale, "Invincible" treads more familiar ground, but it has won over skeptics and currently sits pretty with a 98% rating on Rotten Tomatoes. Here's the synopsis for the first season from Amazon:
INVINCIBLE is an Amazon Original series based on the groundbreaking comic book from Robert Kirkman, the creator of The Walking Dead. The story revolves around 17-year-old Mark Grayson (Steven Yeun), who's just like every other guy his age — except his father is the most powerful superhero on the planet, Omni-Man (J.K. Simmons). The hour-per-episode series also stars Sandra Oh, Zazie Beetz, Gillian Jacobs, Zachary Quinto, Jason Mantzoukas, Melise, Mark Hamill, Mahershala Ali, Seth Rogen, and more.