Jordan Peele's Nope Has Wrapped Production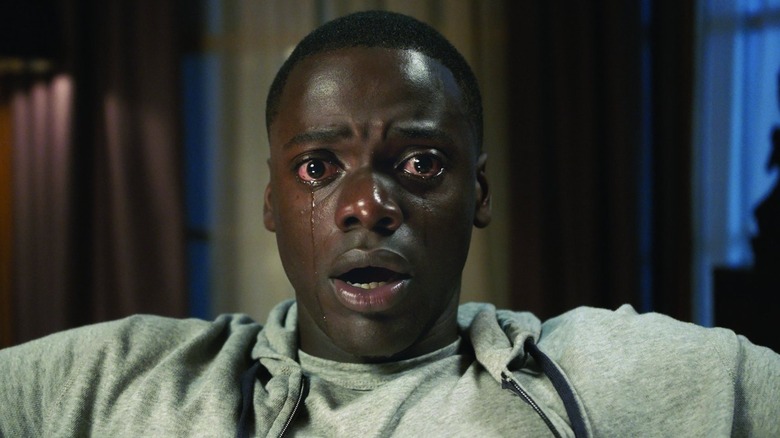 Universal Pictures
Good news, Jordan Peele fans. The acclaimed helmer of "Get Out" and "Us" has officially wrapped production on his third directorial feature, "Nope."
There's still not much word on any plot specifics, but Indiewire (by way of Variety) reports that Hoyte van Hoytema served as the film's cinematographer and that he and Peele shot "Nope" on Kodak film, including 65mm in IMAX. Hoytema has an impressive list of credits that includes "Let the Right One In," "The Fighter," "Tinker Tailor Soldier Spy," "Her," "Spectre," and "Ad Astra." In recent years, he has become more well-known as Christopher Nolan's regular director of photography, stepping in after Nolan and longtime collaborator Wally Pfister parted ways, and serving as the DP for "Interstellar," "Dunkirk," and "Tenet." He's also attached to Nolan's upcoming "Oppenheimer."
"Nope" will reunite Peele with Daniel Kaluuya, the star of "Get Out," who won the Academy Award for Best Supporting Actor for "Judas and the Black Messiah." Steven Yeun, who was nominated for Best Actor for "Minari," co-stars, and Peele has lined up a strong cast beyond that, including Keke Palmer, Barbie Ferreira, Brandon Perea, and Michael Wincott.
A Cloud of Questions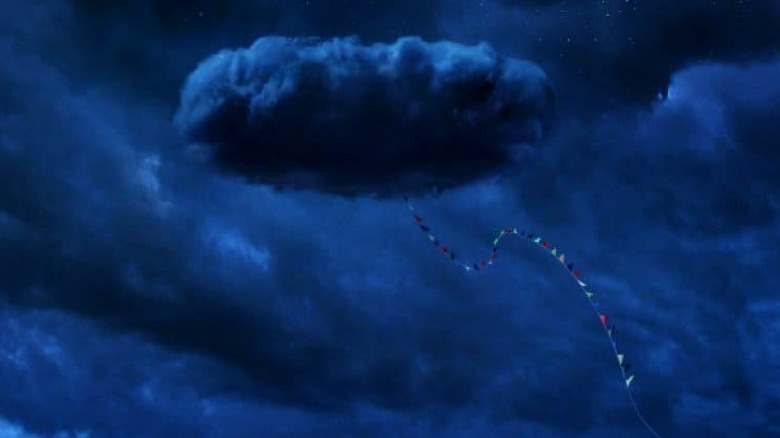 Universal Pictures
Peele co-wrote and produced Nia DaCosta's "Candyman," which was released just a couple of months ago. He also hosted and executive produced the short-lived CBS All Access revival of "The Twilight Zone," but "Nope" will be his first time back in the director's chair for a feature film since "Us," which hit theaters in March of 2019.
"Get Out" was an instant classic, and while "Us" had a more mixed audience reaction, it still received overwhelmingly positive reviews from critics and cemented Peele, the former costar of "Key & Peele" on Comedy Central, as a singular voice in the realm of horror cinema.
Based on the first poster for "Nope" — which shows a cloud with colorful pennants hanging over a small town in the mountains — we speculated that the movie might be "some sort of spectacle-filled blockbuster," possibly involving aliens or a carnival. These are just wild guesses, but "Nope" will be Peele's first IMAX film, and his use of the format implies that he will be going for a more widescreen vision.
As we noted in a previous post, the IMDb cast list for "Nope" (which should be taken with a grain of salt until official confirmation arrives) also includes Terry Notary, an actor known for his motion-capture performances in films like "Avatar," the rebooted "Planet of the Apes" trilogy, and "Avengers: Endgame."
"Nope" has locked in a release date of July 22, 2022.