Keanu Reeves Is The Voice Of Batman In New DC League Of Super-Pets Trailer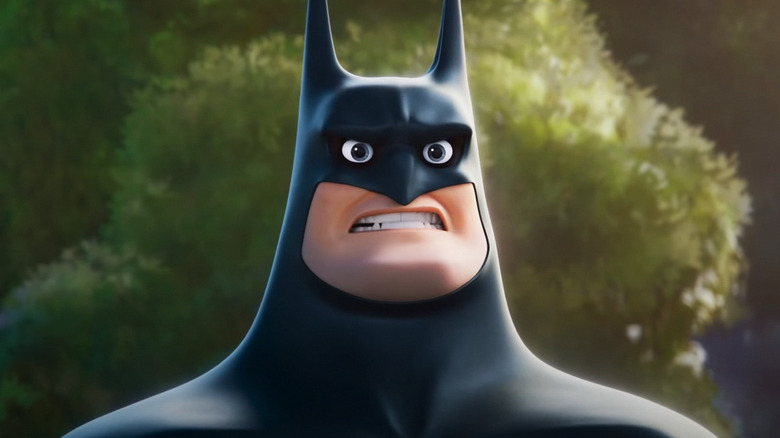 Warner Bros.
No sooner has one Batman arrived in theaters than another Batman appears on the scene to provide back-up! A new trailer for "DC League of Super-Pets" reveals that "The Matrix" star Keanu Reeves is voicing the latest animated iteration of the Dark Knight.
Directed by Jared Stern and Sam Levine, "DC League of Super-Pets" centers on Superman's faithful hound, Krypto the Superdog (Dwayne Johnson), who assembles a team of superpowered animals to rescue the Justice League after they're kidnapped. The voice cast also includes Kevin Hart as Ace the Bat-Hound, Vanessa Bayer as a pot-bellied pig called PB, Natasha Lyonne as a turtle called Merton, Diego Luna as a squirrel called Chip, and John Krasinski as a Kryptonian called Kal-El.
The new trailer for "DC League of Super-Pets," timed for the release of "The Batman" in theaters, pokes fun at its sister movie in a good-natured way as Batman and Ace take turns to rattle off their tragic backstories in a gritty noir style montage ... but even Batman can only keep up his grim facade for so long when there's a dog around. 
DC League of Super-Pets Batman Trailer
Though "The Batman" has received overwhelmingly positive reviews, there have been some complaints that it's too dark, grim, and violent for younger children to enjoy. "DC League of Super-Pets," therefore, is a neat way of making sure there's something for all the family within the broad scope of DC movies. And the news that Keanu Reeves will be voicing Batman in the movie satisfies a very popular bit of fan casting (Keanu really does have a perfect Batman voice).
Warner Bros. Animation regularly produces animated films set in the DC universe, but they're usually released direct-to-video rather than getting a theatrical run. Age-wise, they also target a similar demographic to the live-action films or even older, with R-rated titles like "Suicide Squad: Hell to Pay."
In 2018, though, Warner Bros. released "Teen Titans Go! To the Movies" in theaters. Like "DC League of Super-Pets," it was a comedy adventure primarily aimed at younger audiences and it enjoyed modest box office success, grossing $52 million worldwide against a $10 million production budget. With its 3D CG animation, "Super-Pets" presumably has a bigger budget, but the presence of Batman and Superman in the story (not to mention the lovely voice of Mr. Reeves) is sure to give it a boost.
"DC League of Super-Pets" releases in theaters on May 20, 2022.