Knives Out Has A Subtle Nod To A Mystery Movie Classic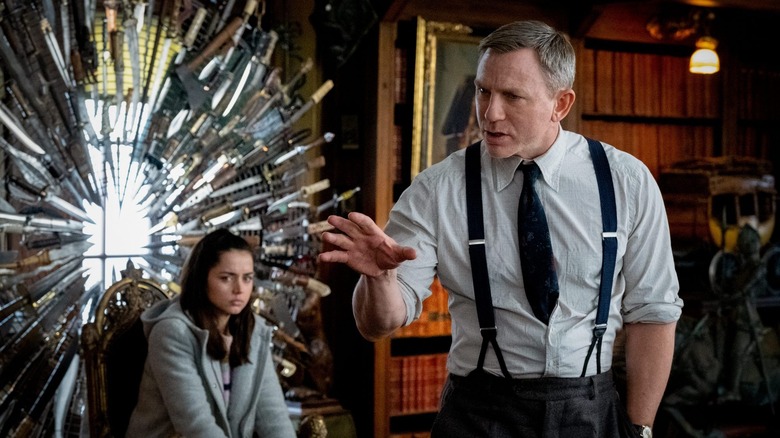 Lionsgate
"Knives Out" has been praised to high heaven since its release in 2019, and the film is totally deserving of those accolades, from critical raves to a Best Original Screenplay nomination. That screenplay is a great showcase of the detail-oriented approach writer/director Rian Johnson takes to his projects, and those details are brought to life by a marvelous ensemble. The movie is primarily a homage to Agatha Christie mysteries: Benoit Blanc (Daniel Craig) is a modern day Hercule Poirot, and the sprawling cast recalls "Murder On The Orient Express" and "Ten Little Indians." However, Christie wasn't the film's only influence. "Knives Out" has a very sly, easily missable reference to 1972's "Sleuth."
Getting to the bottom of "Sleuth"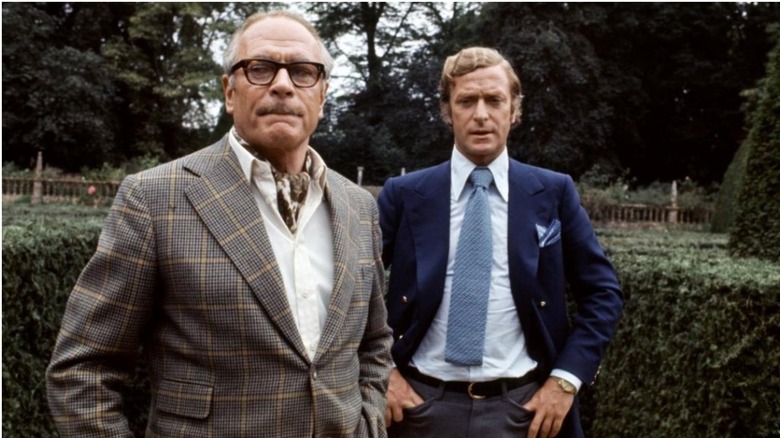 20th Century Fox
"Sleuth" first premiered as a play in 1970, while the extremely entertaining film iteration debuted in 1972. The production was written by Anthony Shaffer, who adapted his own work for the film's screenplay. "Sleuth" was the final effort of Joseph L. Mankiewicz before he bowed out for a well-earned retirement, earning himself a Best Director nomination along the way.
On camera and stage, "Sleuth" is a two-man show. Sir Andrew Wyke is a crime writer who invites lower class Milo Tindle to his home. Milo is sleeping with Sir Andrew's wife, and the novelist suggests Milo burgle his home so that they can run off and Wyke can be free of his wife. This plan turns out to be a ruse for Wyke to kill Milo and then claim self-defense, and the rest of the film becomes a game of manipulation and oneupmanship between the two men.
Sir Laurence Olivier played Andrew, despite having previously disparaged the play as "a piece of piss." Michael Caine played Milo. The actor already had some classic roles and an Oscar nomination for "Alfie" under his belt, but he wasn't quite the pillar of British cinema he is now. Yet here he was facing off against a man whose name is shorthand for "amazing acting." When Caine asked how to address his co-star, Olivier graciously responded, "Well I am the Lord Olivier and you are Mr. Michael Caine. Of course that's only for the first time you address me. After that, I am Larry and you are Mike."
Sleuthing for an Easter egg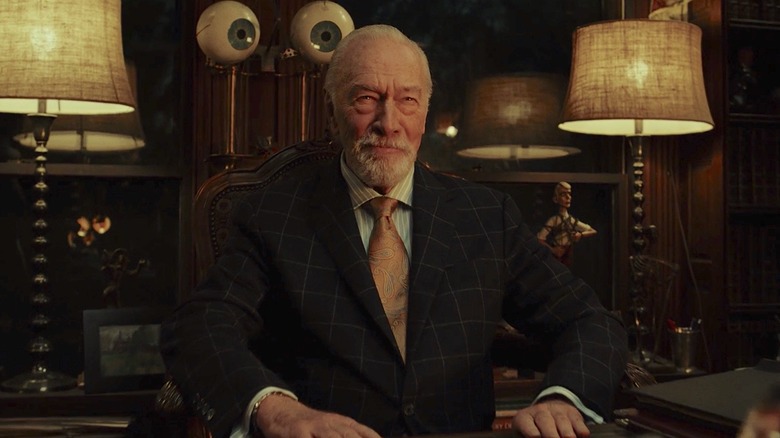 Lionsgate
So, what is it that connects "Sleuth" to "Knives Out?" Quite a bit, actually. Both films mix comedy with real life and death stakes. "Sleuth" character Andrew Wyke and Harlan Thrombrey (Christopher Plummer) in "Knives Out" share the occupation of mystery novelist, which in turn adds flavors to the stories with self-reflexivity. Both "Sleuth" and "Knives Out" have themes of class conflict: The former is a psychological sparring match between an old money scion and middle-class Londoner, while in the latter, poor immigrant Marta (Ana de Armas) is the one beacon of light against the decadence of the Thrombeys. The two are also share similar settings — old, storied mansions — and make the setting as much a character as the people inhabiting the films. However, the most explicit connection between "Sleuth" to "Knives Out" is also the most obscure.
The mystery in "Knives Out" is presented as just the latest one for Blanc, the "last of the gentleman sleuths." Linda (Jamie Lee Curtis) mentions she read a "New Yorker" article — and in Joni's (Toni Collette) case, a tweet about a "New Yorker" article — about how Blanc solved a mystery involving a tennis champion. This detail is what connects the film to "Sleuth." In a 2019 director and cast roundtable, Daniel Craig brought up the tennis champ and asked Johnson if there was any deeper meaning to Blanc's backstory. Johnson explained, "At the beginning of 'Sleuth,' the novel that [Andrew's] dictating is 'Death by Double Faults.' And he's describing how the killer paced along the line of the tennis court and threw the body into the clay."
While "Knives Out" has a sequel coming later this year, "Sleuth" remains comparatively difficult to track down. The film is currently unavailable for streaming — the closest you can get is the 2009 remake starring Caine as Andrew and Jude Law as Milo.