Superhero Bits: The Batman Concept Art, Colin Farrell Does Hot Ones & More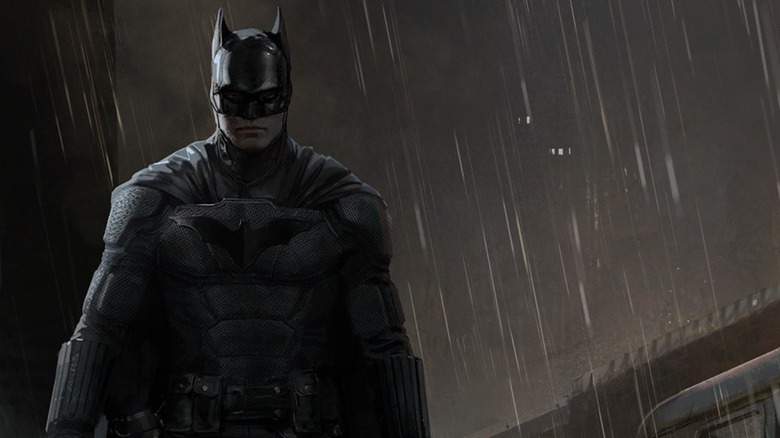 Warner Bros.
(Superhero Bits is a collection of stories, updates, and videos about anything and everything inspired by the comics of Marvel, DC, and more. For comic book movies, TV shows, merchandise, events, and whatever catches our eye, this is the place to find anything that falls through the cracks.)
In this edition of Superhero Bits:
The Avengers meet NHL mascot Gritty.
Marvel might have big plans for Man-Thing.
"The Batman" concept art showcases alternate looks at Battinson.
Colin Farrell, AKA our new Penguin, does "Hot Ones."
Batwoman season 3 is now streaming for free
"Batwoman" has wrapped up its third season on The CW, but for those who have been looking for an excuse to catch up on the show, now is the time. As the above video indicates, the network has made the latest season of the show free to stream in its entirety. You may have to put up with some ad breaks on the network's website, but you don't have to wait for it to arrive on a major streaming service, which is certainly a plus. 
Get a copy of Avengers #53 with Gritty on the cover
Those heading to the Philadelphia Flyers game against the Chicago Blackhawks on Saturday, March 5 will have the chance to get a pretty unique collectible in the form of the above copy of "Avengers" #53. The exclusive issue available at the game features none other than famed NHL mascot Gritty on the variant cover alongside Iron Man. Truly the crossover we've all been waiting for. Now, when do we get to see Gritty team up with the Thing?
Peacemaker gets a Funko Pop! figure
"Peacemaker" season 1 may be in the books, but that doesn't mean we don't have more to look forward to when it comes to John Cena's deeply flawed DC superhero. Case in point, Funko has revealed a new Pop! figure based on the character who viewers first came to know in last summer's "The Suicide Squad." The figure was revealed during WonderCon by the popular toy company. Details on when it will hit shelves have not been revealed yet, but be sure to keep an eye out. No doubt, it will be available in plenty of time for season 2.
Is Marvel planning a Man-Thing Halloween special?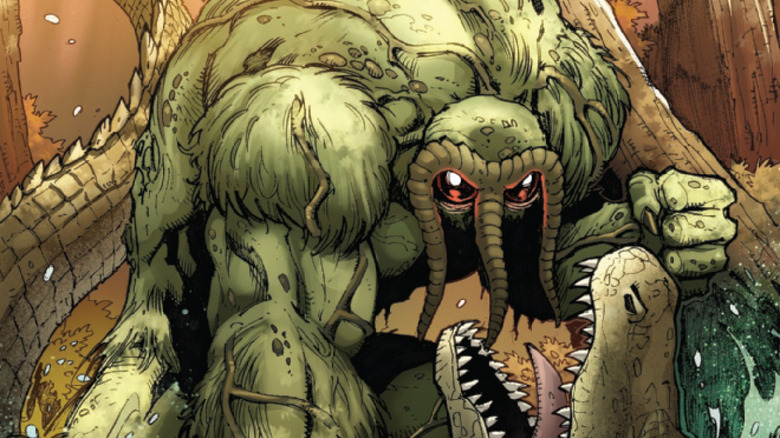 Marvel Comics
What's the time? It's rumor time! Before we dig in, you must take this with a grain of salt as it has yet to be confirmed by anyone at Marvel Studios or a trusted trade publication. That said, Screen Geek is reporting that Marvel has plans for none other than Man-Thing, AKA the company's giant green monster that is an awful lot like Swamp Thing, but isn't Swamp Thing. Those plans specifically include a Halloween special for Disney+, much like what is happening with Werewolf By Night as we speak. That's what makes this so believable, as this could be an annual avenue for Marvel to explore these horror-centric characters in the streaming world. No word on who might be eyed to star, but it's said they're currently looking for a "big name" to fill the title role. It's certainly something to keep an eye on in the coming months.
Eternals scene commentary with Lauren Ridloff and Lia McHugh
Marvel has released a new video about "Eternals" which sees stars Lauren Ridloff (Makkari) and Lia McHugh (Sprite) breaking down some scenes from the movie with insightful commentary as only those who were there could provide. The film is massive in scope and hearing some behind the scenes discussion about how it all came to be is certainly interesting, especially for those who fell on the side of enjoying director Chloé Zhao's ambitious yet divisive MCU epic. Check it out for yourself above.
Patrick Stewart continues to fuel the fire of his return as Professor X in the MCU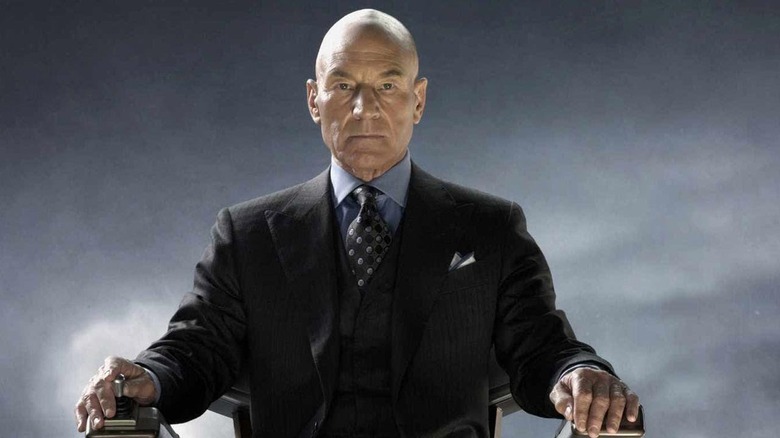 20th Century Studios
At this point, it's all but directly confirmed that Patrick Stewart is coming back as Professor X in "Doctor Strange in the Multiverse of Madness." Now, it's just putting on a show until it can be said outright. To that end, Stewart recently spoke to Rolling Stone and added a little more fuel to the fire, pointing out that the character has already died more than once on screen. And yet, he keeps coming back.
"This is a very delicate area... All I can say to you is we'll have to see. But bear in mind that Professor Xavier has already died twice. I think he must have some sort of Superman quality."
At this point, it's really just a matter of explaining through multiversal madness how Professor X returns, given what happened to him in "Logan."
The Batman star Colin Farrell faces the wings of death on Hot Ones
"Hot Ones" has become a wildly popular show with quite a bit of clout, despite the fact that it is produced for YouTube and doesn't air on a fancy streaming service or network. That means they get big names to eat extremely hot wings and answer very prodding questions. In this case, Colin Farrell, who plays Penguin in "The Batman," is the latest guest to sit across the table from host Sean Evans. Not to spoil it, but Farrell does an admirable job and the interview itself is quite good.
The Batman concept art
Lastly, today brings some newly-surfaced concept art from "The Batman" to the table from the exhibition "The Art of DC — The Dawn of Super Heroes." The images offer a window into what it took to craft this new version of Gotham City, centered around Robert Pattinson's Bruce Wayne. We even get a couple of looks at various versions of the Batsuit before the one that ended up in the film was settled on. "The Batman" hits theaters tomorrow.