The Outlaws Trailer: Christopher Walken Wants A Group Hug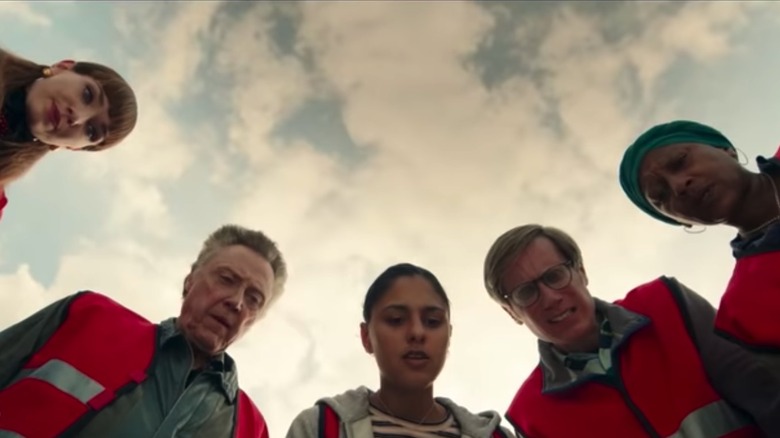 Prime Video
If you're like me, and you giggle when a store has a random picture of Christopher Walken that says, "Walkens Welcome," "The Outlaws" trailer is going to make you very happy. There are three of those signs in my town, and I laugh every single time. What? It's funny! Anyway, today Prime Video has released a new trailer for their upcoming six-part series from award-winning writer and director Stephen Merchant, and it looks funny, heartwarming, and adorable. Do not tell me that Merchant isn't adorable, because you're obviously wrong.
I hadn't heard a single thing about this series, and I watched the trailer three times because it makes me happy. I love a story where people who are from very different walks of life come to an understanding and develop friendships. It's pure fantasy, according to my social media experience, but as with dragons and aliens, I want to believe.
The series is about a group of low-level criminals put on a work program who find something that could either make them all very happy or put them all in jail. Maybe both. The show is coming to BBC One in the UK, and Amazon Prime Video in the US, Canada, Australia, and New Zealand. "The Outlaws" trailer awaits you below. 
'Why am I the used condom?'
As you can see from the quote above, a tiny bit of this trailer's dialogue is mildly NSFW. Here is the official synopsis:
The series follows seven strangers from different walks of life forced together to complete a Community Payback sentence in Bristol. As they become involved in each other's lives, they also become involved with a dangerous criminal gang. At first, the outlaws seem like archetypes easy to pigeonhole, but gradually we see behind their façades, understand their hidden depths and what made them the people they are today. We are reminded that no one is all good or all bad. Everyone has a story.
Everyone may have a story, but this story has Academy Award-winner Christopher Walken in it. Do you need more than that? If so, it has Stephen Merchant, as well as Rianne Barreto, Gamba Cole, Darren Boyd, Clare Perkins, and Eleanor Tomlinson. 
Here, we see things like Merchant's character awkwardly — oh, so very awkwardly — trying to hire a sex worker, or Walken's character passing bad checks. The community center they're supposed to help create is full of dead animals, though, as they're told, they only have to handle the ones that are smaller than 10 kilos. It isn't just carcasses that they find, though. There is a bag full of money in the ceiling. What are a group of low-level criminals to do? Keep it? That's not going to sit well with the people that put it there in the first place. 
This looks like the perfect weekend binge-watch. "The Outlaws" will hit the streaming service on April 1, 2022.