Gods Behaving Badly: The Unreleased Christopher Walken Project We've Never Seen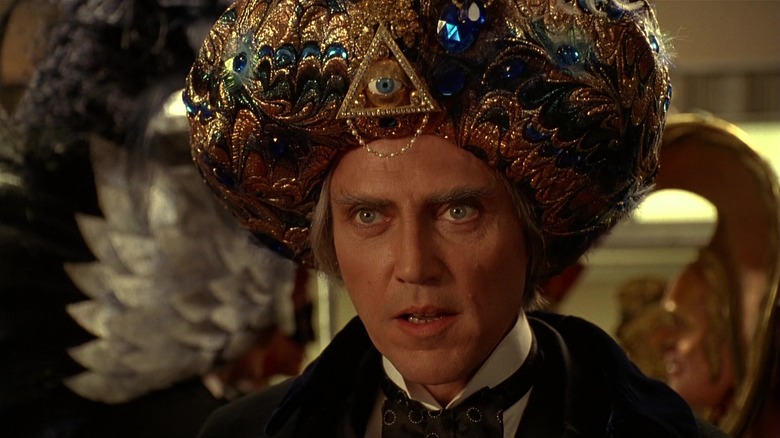 Warner Bros
Cinematically, I've always thought of the Greek God Zeus as a toga kind of guy. That's probably because I loved those old Ray Harryhausen monster movies when I was a kid, especially those classic swords-and-sandals adventures like "Jason and the Argonauts" and "Clash of the Titans."
Niall MacGinnis and Laurence Olivier memorably played Zeus in those movies, and many other actors have portrayed the character over the years. One of the most intriguing was potentially Christopher Walken, who played the role in the unreleased comedy "Gods Behaving Badly." In 2013, photos emerged of him in the Daily Mail, dressed like a crime kingpin rather than the traditional threads of Greek deities. The headline ran: "So that's ambrosia: Christopher Walken gorges on gyros while filming Gods Behaving Badly as Zeus," and the article continued with this drivel: 
"One can really work up an appetite being on a film set all day when playing Zeus, king of the gods. Luckily for Christopher Walken he was able to sink his teeth into some traditional Greek food in the form of a gyros while filming on set in Manhattan, New York City."
We all know Walken can be pretty scary on screen, but I don't think he looked at anyone in a movie with quite the same malevolence as he is directing at the photographer in the subsequent images, which show him looking a little like Max Shreck from "Batman Returns" while holding a kebab. Adapted from Marie Phillips' lightweight novel, the film version of "Gods Behaving Badly" shifted the action from London to New York, where Walken joined a solid cast including Alicia Silverstone, Sharon Stone, John Turturro, Oliver Platt, and Rosie Perez. Yet the movie was never released in any form. What happened?
Who Made Gods Behaving Badly?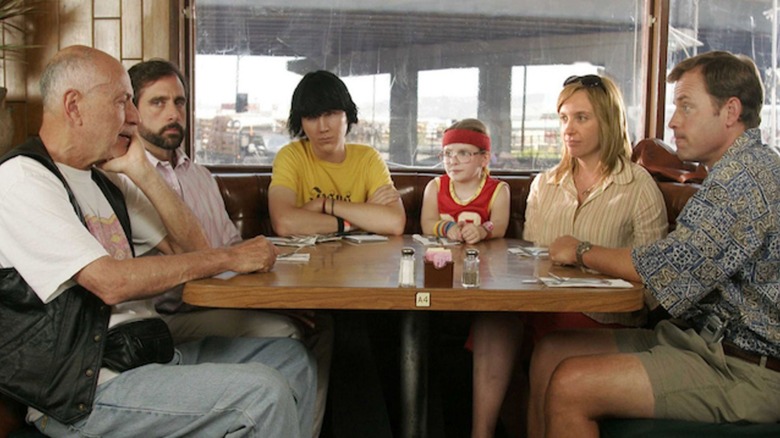 Fox Searchlight Pictures
"Gods Behaving Badly" made its premiere out of competition at the Rome Film Festival in November 2013, telling the story of a bunch of Greek Gods alive and well in Manhattan, still tinkering with the lives of mortals. There was some buzz about it beforehand; according to Italy Magazine, "Critics and audiences are looking forward to American Producer Marc Turteltaub's first film as director."
Turteltaub, former president and CEO of The Money Store, had used his profits from selling the business to get into the movie business. As a producer, he is responsible for a lot of dross, but he was behind some notable films before he took the director's chair on "Gods." There was the superbly quirky road movie "Little Miss Sunshine," the riveting slice of social realism "Chop Shop," and the charming sci-fi shaggy dog story "Safety Not Guaranteed." In the build-up to the Festival, Turteltaub seemed very enthusiastic about the project (via Roma Cinema Fest):
"After writing the screenplay, we sat around dreaming who would be the ideal cast to play our gods. Whoever it was, they would have to be bigger than life. How about Chris Walken to play Zeus? Yes, everyone shouted in agreement. John Turturro as Hades? Of course. Why not Sharon Stone as Aphrodite? Oliver Platt as Apollo! And Edie Falco, Rosie Perez and... We threw out all our favorite ideas. And then, something amazing happened: they all said yes. I wanted to create a fable in which the gods exhibited all the foibles of mankind and forgot their true nature. Only by having this incredible cast and crew to support me was it possible to tell this story."
Unfortunately, when audiences and critics actually got to see the film, they were far less positive about it.
How Did the Premiere Go?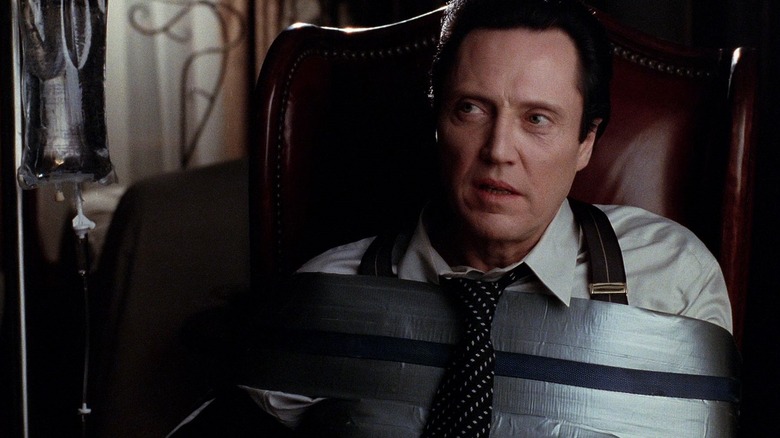 Eyes n' Rice/Artisan Entertainment
"Gods Behaving Badly" took a mauling from critics who attended the premiere. Jay Weissburg of Variety didn't mince words, describing the film as the "remarkably feeble helming debut from Marc Turtletaub," before going on to say: 
"This Gotham-set update, about a couple of colorless mortals who save the world when a lovesick Apollo puts out the sun, has zero texture and negative charm: Tellingly, Athena, goddess of wisdom, is absent from the lifeless script. So wishy-washy it's possibly unreleasable, "Gods Behaving Badly" is best relegated to airplanes and VOD."
The Hollywood Reporter also butchered it:
"Rounding up a cast of stars — many of whom had their heyday two decades ago — this outdated, unfunny satire feels like an extended SNL sketch from the early '90's, and one that probably would have been tossed into the waste basket."
So while the reviews were scathing, why was "Gods Behaving Badly" never released? Plenty of terrible movies with scathing reviews hit our screens every year. There are very few screenshots and behind-the-scenes snaps, which makes it difficult to get a sense of what the finished film looked like. There is a general shoddiness about what does exist — Walken and Turturro in gold headbands and togas (yes!); Sharon Stone apparently on a cigarette break; a CG Cerberus in Grand Central Station; Alicia Silverstone on the back of a scooter; and, bizarrely, a random guy dancing to Jackson Five on the NYC set.
I guess some films just aren't meant to be seen and, in the case of "Gods Behaving Badly," it sounds like we all dodged a bullet when this one was consigned to the Hades of film history.