The Morning Watch: The Book Of Boba Fett Honest Trailer, Breaking Down The Biggest Jackass Stunts & More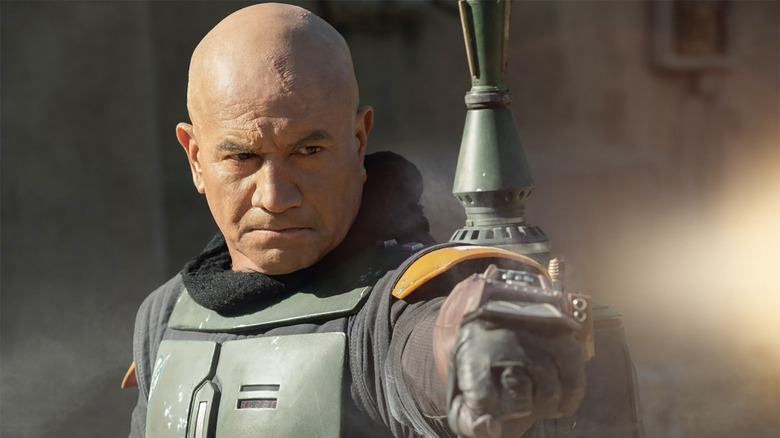 Lucasfilm
(The Morning Watch is a recurring feature that highlights a handful of noteworthy videos from around the web. They could be video essays, fan-made productions, featurettes, short films, hilarious sketches, or just anything that has to do with our favorite movies and TV shows.)
In this edition, "The Book of Boba Fett" takes some licks in a new Honest Trailer that pokes fun at the "Star Wars" TV series. "Jackass" star Johnny Knoxville takes a look back at some of the biggest stunts and moments from the sensationally stupid franchise. And finally, as you wait for "Pam & Tommy" to wrap things up, series star Seth Rogen answers the web's most searched questions about himself.
Watch The Book of Boba Fett Honest Trailer
First up, Screen Junkies has wasted no time following up on "The Book of Boba Fett" after the show recently wrapped up the first (and possibly only) season on Disney+. Ever since Boba Fett stood around and looked cool a few times, fans have always wanted to know more about him. Since that worked out so well in the prequels, here we are with a show that's literally full of naps. Who would have thought that a comparison to "Walk Hard: The Dewey Cox Story" would have been so appropriate?
Johnny Knoxville breaks down the biggest Jackass stunts
Next, after nearly 20 years of dangerous stunts and wild pranks, "Jackass Forever" sent off MTV's crew of knuckleheads with a bang. In honor of the sequel, GQ brought in Johnny Knoxville to break down the biggest moments in the franchise, from "Anaconda Ball Pit" to the "Toro Totter" to the "Rent-A-Car Crash-Up Derby." It's hard to believe that these guys are still alive after everything they've endured, but we're certainly glad they've put themselves through hell for our entertainment.
Seth Rogen answers the web's most searched questions about him
Finally, with the end of "Pam & Tommy" on the horizon, Wired had Seth Rogen partake in their Autocomplete Interview. See how Rogen answers some of the web's most searched questions about himself. Does he have a podcast? As a Jewish man, does he celebrate Christmas? Can you ever find Rogen playing "Call of Duty" online? Get the answer to all these questions and much more.