Chariot Trailer: John Malkovich Investigates A Glitch In The Reincarnation Process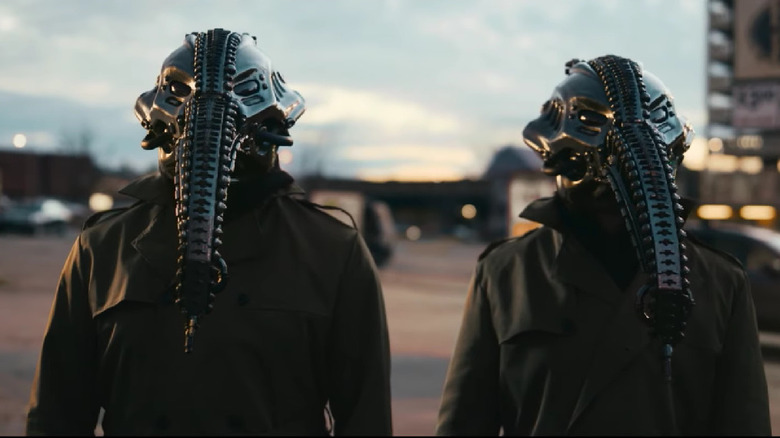 Saban Films
In David Mitchell's sci-fi metafiction novel "Cloud Atlas" (which the Wachowskis adapted into a "wholly unique" feature in 2012), it's said that if you travel far enough, you'll meet yourself. The "mostly infallible" life cycle, as John Malkovich's Dr. Karn explains it, is simple: "You live, you die, you live, you die." What "The Chariot" presupposes is: what if it wasn't? Malkovich stars as a shady man of science in Adam Sigal's dark comedy, in which the process of reincarnation has become privatized and a corporation now oversees the rebirth. A young man (Thomas Mann) encounters a woman (Rosa Salazar) he loved in a past life, causing a glitch in the system and, apparently, a world of trouble for himself as a result.
This is the third feature film for Sigal ("When the Starlight Ends"), who also pens the screenplay. The film, the first from Scarlett Pictures, also stars Shane West, Scout Taylor Compton, Vernon Davis, Chris Mullinax and Joseph Baena-Schwarzenegger. Melissa McPhail executive produces, while Sasha Yelaun and Johnny Remo of Skipstone Pictures produce alongside Henry Penzi and Carol Anne Watts. Check out the trailer below.
'Tell me, do you enjoy existing?'
Mann, whose prior credits include "Kong: Skull Island" and "Me and Earl and the Dying Girl," stars as Harrison Hardy opposite Malkovich's Dr. Karn. The movie is billed as a dark comedy, and so Malkovich's presence as an eccentric, sinister doctor who wears cute bows in his hair isn't out of place. The best dark comedies lean into the natural absurdities of awful situations — think of a buck naked David Naughton awakening in a zoo enclosure after a night of lycanthropy in "An American Werewolf in London." It's easy to imagine the pitfalls and possibilities surrounding reincarnation, especially if the death-rebirth process can be honed and wielded. Personally, I'm hoping that Malkovich's good doctor changes a little bit each time he shows up, like so many iterations of the same soul jumping from vessel to vessel. Let's not act like the Primetime Emmy winner is averse to the strange and unusual.
Malkovich recently wrapped on the pandemic-inspired action thriller "The Survivalist" alongside Jonathan Rhys Meyers, and we'll soon hear his voice as Chief Engineer Pollard in "Unsinkable," a multi-episode audio drama about WWII cargo ship San Demetrio, known as the ship that wouldn't die. Us mortals are out of luck, however, for the secret movie Malkovich made with Robert Rodriguez, which won't drop until the year 2115. Where's reincarnation when you really want it?
"Chariot" releases on April 15, 2022.