GeekBomb: Everything You Wanted To Know About John Malkovich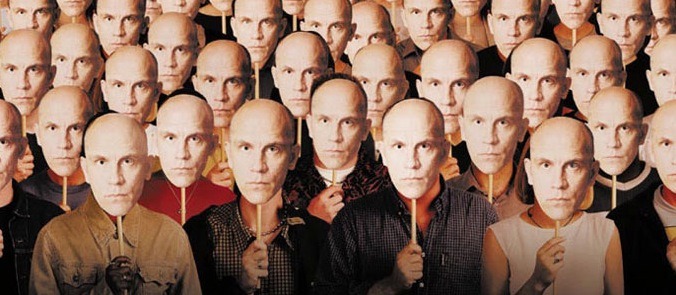 John Malkovich is one of those actors who really seems hard to pin down. He can take a strange role and make it his own, a la Teddy KGB in Rounders, or he can take the role of a villain and make it uber-creepy, like he did in In The Line of Fire. Or, he can also play a part where he's playing himself, and a version of himself piloted by someone else, and make fun of himself and his image in the process as in Being John Malkovich. Besides all this, he definitely seems like someone that you don't want to piss off.
Malkovich is defined both by his acting ability, and the strange choice of roles he's taken over the years. He's not someone you'd ever see as the leading man, but what he brings to the table in his supporting roles and antagonistic ways more than make up for that. He's gone from art film staple to period piece villain to comedic foil and every other role in between, and he's now joining the ranks of the comic book realm with a part in Jonah Hex, where he'll be squaring off against Josh Brolin. You can never quite tell what he'll be doing next, and the only cinematic counterpart I can even think of him would be Christopher Walken (although Walken isn't quite as choosy in his roles). Maybe we'll see them in a father / son project some day.
While I dream about that, head down below to check out today's GeekBomb about John Malkovich. After all, he's premiering in this weekend's wonderfully quirky movie The Great Buck Howard.
The Early Years
Malkovich was born in Benton, Illinois in 1953, one of five kids born to Daniel and Joanne Malkovich. His parents owned and operated a local newspaper, The Benton Evening News, and a local conservation magazine called Outdoor Illinois. His father served as the conservation director for the state as well, and his mother didn't like to dole out strict punishment, so the kids ran wild in the Malkovich household. John's older brother Daniel often teased him for being overweight, which eventually led Malkovich to drop 70 lbs by eating nothing but Jell-O for two whole months. He also picked up sports and played throughout high school, and you can see a photo of him in his football outfit in Being John Malkovich.
Malkovich later attended college at Eastern Illinois University, and later transferred to Illinois State University where he studied theater, and became good friends with fellow student Joan Allen. Knowing Malkovich like we do, its a bit ironic to note that Illinois Statue University is located in Normal, Illinois. After leaving college before graduating, he moved to Chicago and joined the fledgling Steppenwolf Theater, which was founded in 1974 by Gary Sinise, Terry Kinney, and Jeff Perry. Malkovich stayed at Steppenwolf for many years, beginning with his first play as an actor in 1976 with Birdbath. He started directing plays there the same year with The Indian Wants The Bronx, and he often returns to direct or perform. He last appeared there in 2005's Lost Land.
He didn't coast by, however, and often had to take odd jobs to support himself. "I worked in an office supply store, I drove a school bus, I painted houses, I worked for a Mexican landscape gardening company, picking out weeds." He said, "And generally when I was doing something it somehow took my interest. In fact, it must be a kind of shallowness. When I did office supplies mostly I thought about office supplies, and then when I got on the train I'd think about theater, and then I would do theater. But the next morning I would go in and, you know, reorganize the paper clips."
First Film Roles and Breaking Out
While at Steppenwolf, Malkovich won an Obie Award in 1983 for True West, and when the production of Death of a Salesman he was appearing in was adapted for television on CBS, he won an Emmy award for his role as Biff opposite Dustin Hoffman as Willy. Although that was not Malkovich's first time on television as he had also appeared in the 1981 television movie Word of Honor in 1981. Malkovich continued to win awards for both acting and directing, and had a small role as an extra with several other Steppenwolf members in Robert Altman's A Wedding in 1978. But he really made the leap to starring film roles with his double whammy year of 1984, when he appeared in both The Killing Fields and Places in the Heart, for which he was nominated for an Oscar.
He again had a year of dual roles in 1987 with parts in Spielberg's Empire of the Sun, and as a quirky android and a scientist in Making Mr. Right, but he really rose to the star power level in 1988 when he played the deliciously evil Vicomte de Valmont in Dangerous Liaisons. This propelled him into the stratosphere, and he actually briefly dated Michelle Pfeiffer during filming. Since then, he's appeared in almost 50 different film and television projects, including being nominated for his role as the bad guy in Wolfgang Petersen's Clint Eastwood thriller, In the Line of Fire (which netted him a Best Supporting Actor Oscar nomination). He'd continue to take extremely quirky roles like the Clown in Woody Allen's Shadows and Fog, and Cyrus 'The Virus' Grissom in Con Air. He excelled as the insane Kurtz in the TNT television production of Heart of Darkness, and stole his scenes as the Oreo-eating poker player in the Ed Norton / Matt Damon movie Rounders, but his most notable role will probably forever be in 1999's Being John Malkovich.
Being John Malkovich
Malkovich was sent the script for this movie by Spike Jonze, and he initially didn't want to star in it. He offered to help produce it, but didn't want to play the title role and felt that it would be better for another actor. Eventually Jonze wore him down after a couple of years and he agreed to be in it. He had always loved the script, and famously said, "When I first looked at the script, the title seemed like a one-line joke, but it turned out to be a 100-page joke." Originally, Kevin Bacon was going to play Malkovich's friend, but that role ended up going to Charlie "Masheen" Sheen. Malkovich is also meant to be playing a very exaggerated version of himself: his actual name is John Gavin Malkovich, and his character's name is John Horatio Malkovich.
Being John Malkovich brought Charlie Kaufman to public notice, and also shined a new light on Malkovich himself. The film won multiple awards and was nominated for three Academy Awards. Makovich has continued to pursue his love of acting and strange roles ever since, bringing his notable quirk to roles in The Libertine, Adaptation (where he played himself playing himself again, albeit briefly), The Hitchhiker's Guide to the Galaxy, Art School Confidential, and Burn After Reading, among others. Would he be playing these parts if he hadn't been in Malkovich? It's hard to say. At least he's never done Making Mr. Right 2. It's easy to gauge the effect that film had on Charlie Kaufman, but it's harder to tell how it affected Malkovich, and if it changed his imaged in the mind of producers and casting directors. In my opinion, it did nothing but help his career, and it's nice to see someone not take themselves so seriously. And Malkovich seems like a guy who would have taken himself ultra-seriously.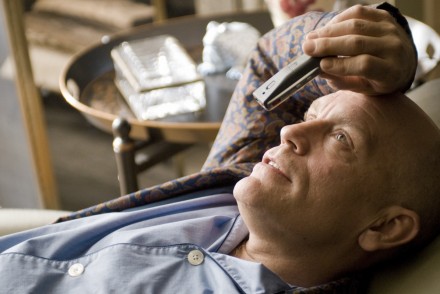 Tidbits
Malkovich's first Broadway directing experience was with 1985's Arms and the Man. He later replaced actor Kevin Kline in the lead role.
John Malkovich appears in the video for Annie Lennox's hit song "Walking on Broken Glass," and he's wearing a costume borrowed from the set of Dangerous Liaisons. The video also stars Hugh Laurie, later of House fame.
Malkovich is fluent in French and lived there for more than 10 years. He currently resides (supposedly) in Cambridge, Massachusetts.
Although he never finished college, in 2005 while speaking at his alma mater, he was awarded a bachelor's degree in theater.
While it was overshadowed by Being John Malkovich in 1999, he also played screenwriter Herman Mankiewicz in HBO's RKO 281 about the making of Citizen Kane. This is well worth finding and watching.
Another quirky film of his worth seeing is Colour Me Kubrick, which is the true story about a man who passed himself off as Stanley Kubrick. Malkovich plays Alan Conway, the hoaxster.
Once said: "I want to be successful. I would like it to be a success with something that doesn't make me want to vomit all over the screening room after I've seen it."