Human Resources Trailer: Helen Mirren Is A Shame Wizard In The Big Mouth Spin-Off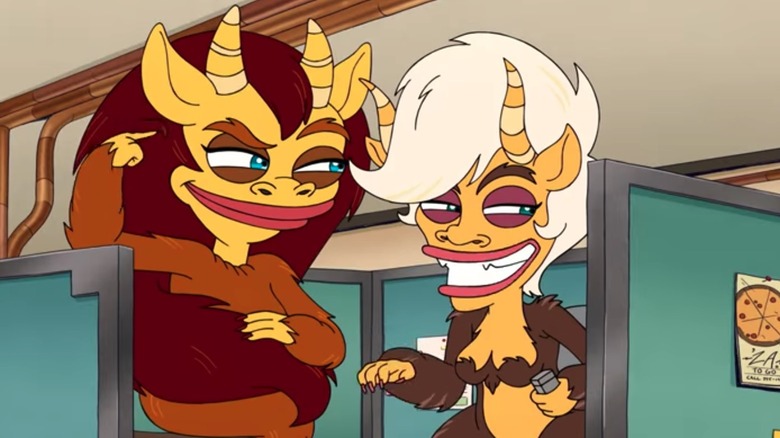 Netflix
Attention, everyone! Helen Mirren is playing a Shame Wizard! I repeat, Helen Mirren is playing a Shame Wizard! 
Today, we have a new trailer for the Netflix animated series "Human Resources," along with a synopsis and a list of cast members, and I am trying to process Helen Mirren not only doing a voice for this particular series, but the sentence "Helen Mirren is playing a Shame Wizard" is a thing I get to write. 
In the new series, we have a whole Human Resources department focused on dealing with the inner workings of the adult human brain. Makes sense. Try to think of nothing for a moment. Try to clear your thoughts. Can't do it, can you? It's probably because of the Department of Intrusive Thoughts that we see right at the beginning of the trailer. I do not like this department. At. All.
I can feel my anxiety going up as I watch this. We've got hormone monsters, which cause nothing but trouble. The sign behind one of their executives has a list which discusses how consent is sexy, there is no kink shaming, and management is not responsible for unattended holes. I think you can see where this is going.
There are self-explanatory Shame Wizards, and seriously, I feel like I need a therapy session to get through this 2:35 trailer. I do like the Logic Rocks though, especially the one who tells you not to get up once the plane lands. Maybe he can make an announcement the next time I fly?
The cast list for this thing is practically Don't Look Up
The nice ones here are the Love Bugs, though the one we get to know in the trailer, Emmy, isn't very good at her job. In fact, she messes up and her first client — a pregnant woman — can't love her baby because of mismanagement. That's not dark at all. Jeez.
I couldn't watch "Big Mouth," the Netflix series this is spun off from, because I went through puberty once and that was plenty. This is more up my alley, but honestly, I don't think it's going to help my mental health. It does look funny, I guess. The thing is, and I know this will be an unpopular opinion, the animation style really grosses me out.
Maybe the Depression Kitties are okay? I like kitties ... nope. They do nothing but hiss. Yeah, I don't know if this show is good for anyone's mental health, even with the addition of Dame Helen.
Maybe get your therapist on the phone before you watch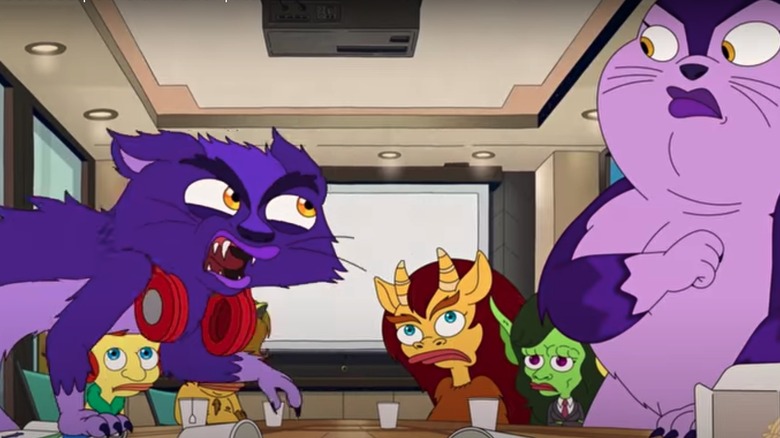 Netflix
The new cast members include Mirren as renowned Shame Wizard Rita St. Swithens, because of course she's renowned. There's also Hugh Jackman as Dante the seductive Addiction Angel, Lupita Nyong'o as Asha the Shame Wizard, Chris O'Dowd as Flanny the Lovebug, Harvey Guillen as Jose the Spider Receptionist, Ali Wong as Becca, Janelle Monáe as Claudia, Mike Birbiglia as Barry, and Tim Robinson as Doug.
They join series regulars Nick Kroll, Maya Rudolph, Aidy Bryant, Randall Park, Keke Palmer, Brandon Kyle Goodman, and David Thewlis, and previously announced guest stars Pamela Adlon, Rosie Perez, Henry Winkler, Thandiwe Newton, Jemaine Clement, Maria Bamford, and Bobby Cannavale. Whew!
Here is the official synopsis for you:
From the inventive minds that brought us the award winning adult animation favorite Big Mouth comes the even edgier and adult-ier Human Resources. The spin-off pulls back the curtain on the daily lives of the creatures – Hormone Monsters, Depression Kitties, Shame Wizards and many more – that help humans journey through every aspect of life from puberty to parenthood to the twilight years. It quickly becomes clear that though the protagonists are creatures, they have a lot of humanity themselves. Featuring an all-star voice cast – including Nick Kroll, Maya Rudolph and David Thewlis reprising their Big Mouth roles as well as Aidy Bryant, Brandon Kyle Goodman, Keke Palmer, and Randall Park among others – Human Resources is not your normal day at the office. The series is co-created and executive produced by Kelly Galuska, Nick Kroll, Andrew Goldberg, Jennifer Flackett and Mark Levin.
"Human Resources" will premiere on March 18, 2022 on Netflix.