This International Thriller Inspired Kill Bill's Animated Sequence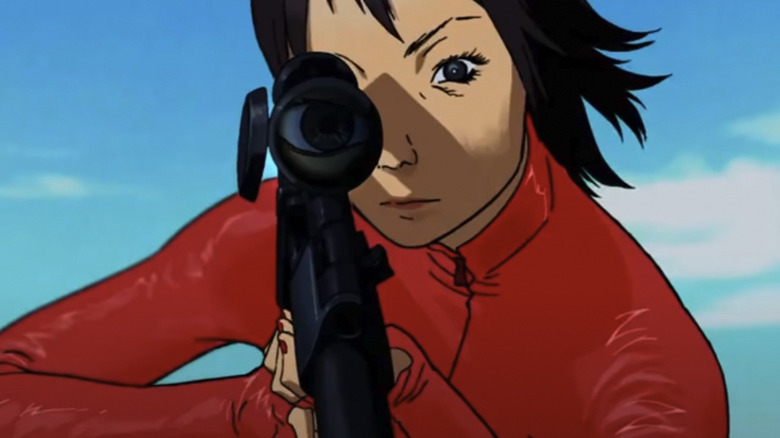 Miramax Films
Quentin Tarantino's films are built on homage. As you might've guessed, the director has a love of pulp fiction. Westerns, kung fu films, heist movies: Tarantino loves B-movies of all sorts and his movies remix those genres with loving, self-referential pastiche. "Kill Bill" is his homage to the samurai film, and he goes one step further in honoring the genre's Japanese roots by including a seven minute anime sequence. Like much of Tarantino's work, the inspiration for the sequence lies in the work of another.
The origin of O-Ren Ishii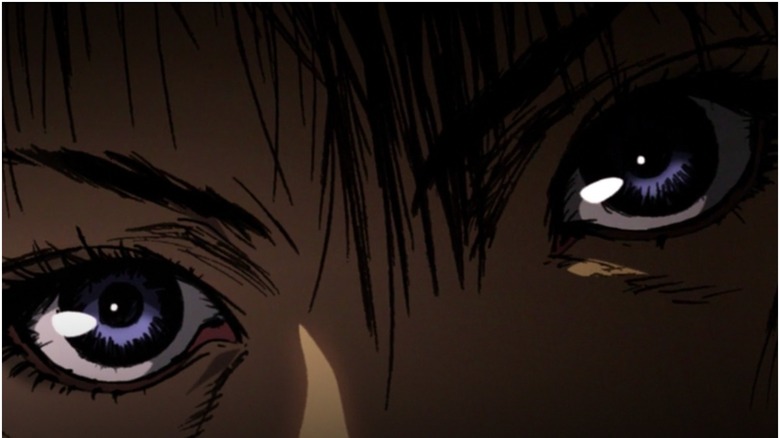 Miramax Films
"Kill Bill: Vol. 1's" anime sequence, which begins the film's Chapter 3, is a stunning moment among a sea of them. Beginning exactly 37 minutes into the film, the animation chronicles the brutal origin story of O-Ren Ishii/Cottonmouth (Lucy Liu). As a child, O-Ren witnesses her parents being killed by Yakuza boss Matsumoto while she hides under her bed. The sword that kills O-Ren's mother just barely misses O-Ren's head; the first drops of blood from her mother's corpse land on O-Ren's face.
Luckily for O-Ren, Boss Matsumato is a pedophile, and she easily gets close enough to kill him. Baptized by the blood of her parents' killer, O-Ren climbs to become one of the world's top assassins. The scene embodies the themes of "Kill Bill," from the destructive cycle of revenge to men's exploitation of women. The hyper-violence of the sequence, from a handgun bullet blowing a man's whole lower leg off or a geyser of blood erupting from Matsumato's chest, is barely exaggerated from the film's live-action parts.
The sequence was directed by Kazuto Nakazawa and produced by prolific anime studio Production I.G. Reportedly, Tarantino was a fan of I.G.'s previous films, "Ghost in the Shell" and "Blood: The Last Vampire." (Matsumoto's sword-wielding henchman also looks like a dark-haired version of Vicious from "Cowboy Bebop.") However, the scene wasn't only influenced by Japanese animation.
The Indian film that influenced "Kill Bill"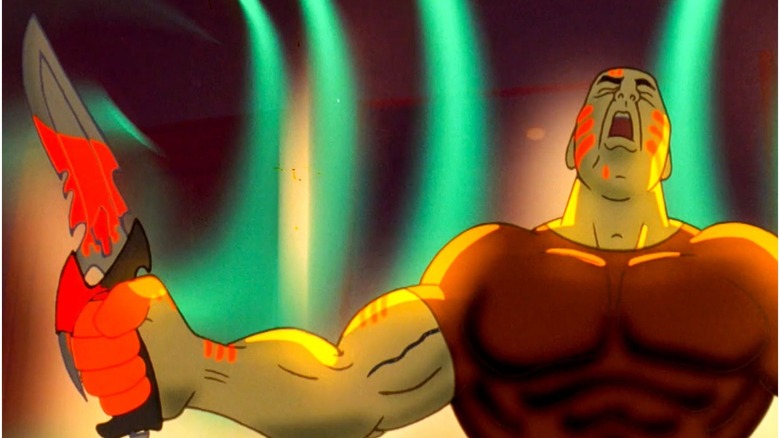 V. Creations
While interviewing Tarantino in Venice, Indian filmmaker Anurag Kashyap asked him "​​whether the Manga sequence in 'Kill Bill' was inspired from an Indian film and [Tarantino] excitedly remarked, 'Yes, I saw this Indian serial-killer film which showed violence as animated." Using his knowledge of his homeland's film industry, Kashyap was able to deduce the film Tarantino was referring to.
The film in question is "Aalavandhan" (English translation: "He Came To Rule"), a 2001 psychological thriller that, like "Kill Bill" later did, intercut between live-action and animation. Directed by Suresh Krissna, "Aalavandhan" was adapted from the 1984 novel "Dhayam" by Kamal Haasan; Haasan himself wrote the film's screenplay and starred as dual roles Major Vijay Kumar (Vijay) and Nandha Kumar (Nandhu). Unlike Tarantino's film, where animation displaces live-action for a single scene, "Aalavandhan" blurs the lines further; animated characters emerge from and fight rotoscoped across live-action footage more than once. This means that the "Aalavandhan" animation sequences are more disorienting — which is fitting, since instead of being a narrated flashback, the animation in "Aalavandhan" is the product of a character's drug-fueled hallucinations. There's also less gore; even a scene where Haasan's lead stabs a woman and paints his arms and face with her blood pales compared to the gallons of spilled blood in "Kill Bill's" seven animated minutes. 
Kashyap's connection to Tarantino doesn't end there. The director's next film will be a Hindi-language remake of "Kill Bill," starring Bollywood actress Kriti Sanon in the role originated by Uma Thurman. Whether Kashyap's "Kill Bill" will blend live-action and anime together remains to be seen.