Encanto Continues To Demolish The Streaming Competition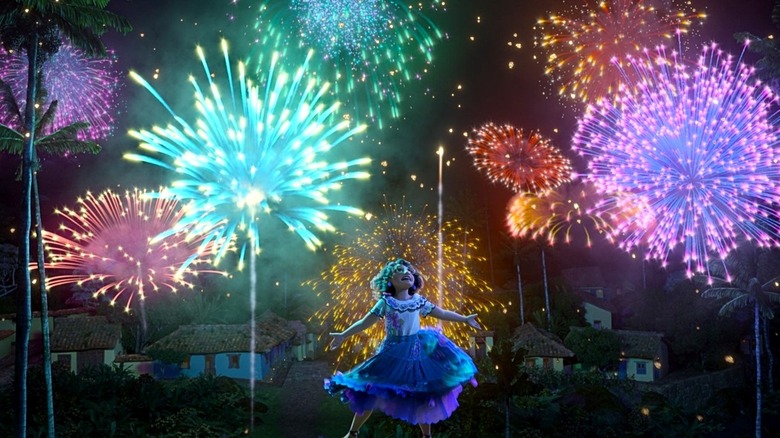 Disney
In news that surprises no one, the Walt Disney Animation film "Encanto" is at the top of Nielsen's streaming movie charts for the week of January 24-30, 2022, according to THR. The film hit 1.4 billion minutes viewed on Disney+ and I'll bet my favorite magical candle that you were one of them. In terms of overall streaming, "Encanto" was at number two behind the Netflix original series "Ozark." 
There are many reasons for this, including the fact that about 40 percent of the viewership for the animated musical came from kids between the ages of two and 11. You know how kids watch things over and over. Hey, if your child is going to have something on a loop, this is a very good choice. Go tell your kids that I said they have excellent taste, and also that they should sing "We Don't Talk About Bruno" again. 
I'm not kidding. It's absolutely an ear worm, but there are so many that are worse. Something about a juvenile fish with a lot of teeth and family? Plus, "We Don't Talk About Bruno" slaps and honestly, that's the first time I've used that word in reference to music. Get off my lawn.
I'm pretty sure everyone is actually talking about Bruno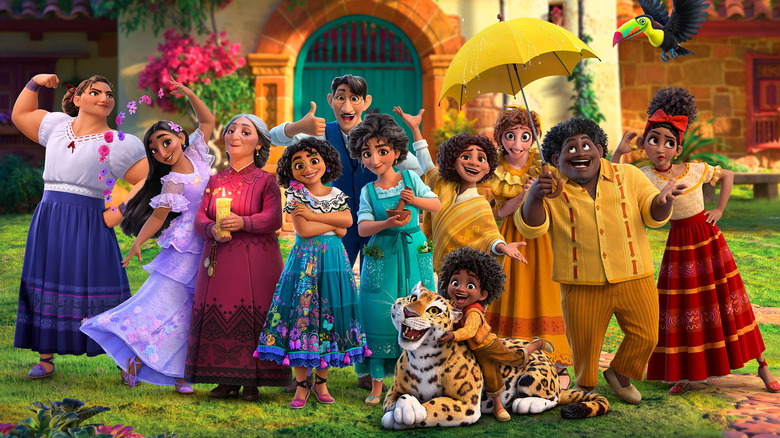 Disney
In the preceding week (January 17-23, 2022), Nielsen says that there were 1.5 billion streaming minutes for "Encanto." Disney+ had some more names on the top 10 list for the week of January 24-30, 2022, including "The Ice Age Adventures of Buck Wild," "Eternals," "Moana," and yes, "Frozen." Here is the full top 10 list:
1. "Encanto" (Disney+), 1.4 billion minutes 
2. "Home Team" (Netflix), 443 million 
3. "The Ice Age Adventures of Buck Wild" (Disney+), 347 million 
4. "Eternals" (Disney+), 251 million 
5. "The Royal Treatment" (Netflix), 231 million 
6. "Munich: The Edge of War" (Netflix), 200 million 
7. "Hotel Transylvania: Transformania" (Prime Video), 194 million 
8. "Moana" (Disney+), 187 million 
9. "Don't Look Up" (Netflix), 165 million 
10. "Frozen" (Disney+), 103 million
If you are not one of the people who streamed "Encanto" over and over, it's the story of the young Mirabel (Stephanie Beatriz), the only person in her family in Colombia who doesn't have a magical gift. The magic was bestowed upon the Madrigal family when the matriarch lost her husband while fleeing soldiers. She found a candle that never went out, giving gifts to her children and creating a hidden community that wouldn't be troubled by them anymore. When the magic starts to fail, Mirabel has to find the reason in order to save her family and the magical Casita they reside in. Go watch it and distract yourself from *gestures to the entire world.*
Also, this movie made me want to have a capybara of my very own. Thanks Disney!