Lin-Manuel Miranda Explains Why They Didn't Submit We Need To Talk About Bruno For Best Original Song At The Oscars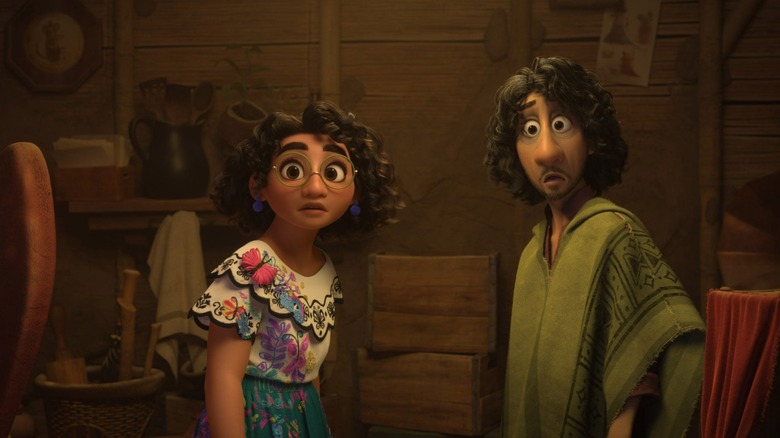 Disney+
For a guy we're not supposed to be talking about, we sure seem unable to shut up about Bruno from "Encanto." Well, to be fair, we can't stop talking about his character song, "We Don't Talk About Bruno." The smash-hit single put Disney back on the Billboard Hot 100 for the first time in almost three decades, skyrocketed the soundtrack to the top of the Billboard Top 200, and sparked an inescapable trending sound on TikTok. Penned by Lin-Manuel Miranda, his work for "Encanto" nabbed him his second Oscar nomination for Best Original Song, but "We Don't Talk About Bruno" wasn't even submitted for Oscar contention — the nomination comes for the ballad "Dos Oruguitas."
Submissions for the Academy Awards were due by November 1, 2022, and "Encanto" didn't hit theaters until Nov. 24. After a shortened theatrical run, the film was made available on Disney+ where it exploded in popularity. There was truly no way for anyone involved with "Encanto" to predict what a cultural phenomenon they had with "We Don't Talk About Bruno," so the team went with a more traditional choice. Miranda, however, does not regret the decision. "I'm still proud of 'Dos Oruguitas' as the submission," Miranda said to Variety, adding:
When those are the parameters, you have to pick the thing that best exemplifies the spirit of the movie, and it contains all of it inside this song – as opposed to a journey of a particular character. It's the foundational story, but I'm not going to say it wasn't hard [to choose].
Will Encanto give Lin-Manuel Miranda his EGOT?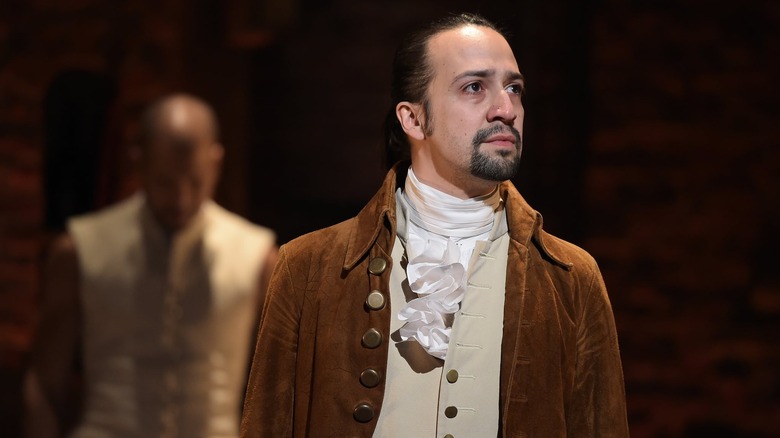 Disney+
"We Don't Talk About Bruno" may be the chart topper, but Miranda's other songs "The Family Madrigal," "Surface Pressure," "What Else Can I Do?," and the Oscar-nominated "Dos Oruguitas" are all enjoying a ride on the Billboard charts. "Encanto" was nominated for three Oscars: Best Animated Feature, Best Original Score, and Best Original Song. Miranda missed the Oscar for "How Far I'll Go" from "Moana" in 2016, but if he pulls it off with "Dos Oruguitas," he'll finally earn the coveted EGOT (Emmy, Grammy, Oscar, Tony) distinction. Miranda is also the first Latino to be nominated for Best Original Song more than once.
Regardless of whether or not Miranda can pull off the win with "Dos Oruguitas," it's undeniable that his work on "Encanto" is his most popular since "Hamilton." Even if "We Don't Talk About Bruno" had been nominated, there was no guarantee that the song would have won despite its popularity. As fans of "Spider-Man: No Way Home" have recently learned all too well, popularity has nothing to do with whether or not a movie is going to bring home a statue at the end of the night, or even constitute a nomination. "Dor Oruguitas" may not have the chart-topping reputation as "Bruno," but the emotional ballad is certainly closer to the type of song the Oscars love to celebrate.
The 94th annual Academy Awards airs on ABC on March 27, 2022.