Superhero Bits: Ryan Reynolds' Encouraging Deadpool 3 Update, An Ant-Man 60th Anniversary Series & More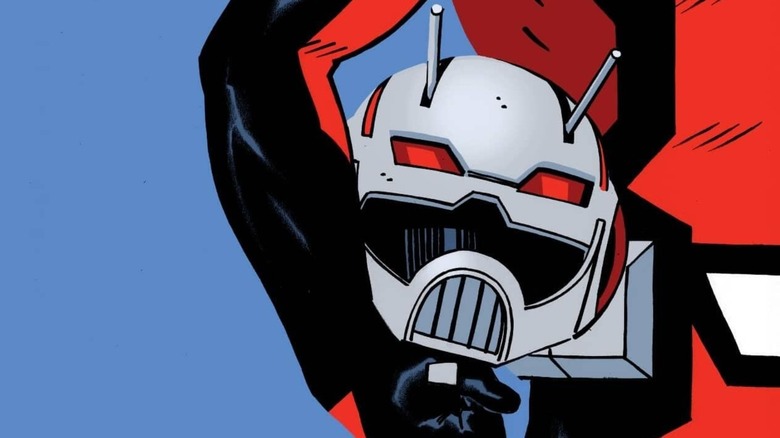 Marvel Comics
(Superhero Bits is a collection of stories, updates, and videos about anything and everything inspired by the comics of Marvel, DC, and more. For comic book movies, TV shows, merchandise, events, and whatever catches our eye, this is the place to find anything that falls through the cracks.)
In this edition of Superhero Bits:
Ryan Reynolds updates on the future of "Deadpool." 
Marvel's plans for the 60th anniversary of "Ant-Man."
Michael Chiklis offers advice for the "Fantastic Four" reboot.
"Batwoman" and "Legends of Tomorrow" season finale trailers. 
Legends of Tomorrow season 7 finale promo
Here's the official promo for the 13th and final episode of the seventh season of "Legends of Tomorrow" on The CW:
The Legends are all disappointed and hurt by Gideon's (Amy Pemberton) actions, but Gideon is horrified when AI Gideon tells her about Gary (Adam Tsekhman). Itching to get back to doing what they love best, they realize that Gwyn (Matt Ryan) has broken the treaty and must find him. Meanwhile, Sara (Caity Lotz) keeps an important secret from Ava (Jes Mccallan) because she doesn't know how she will react.
Kevin Mock directed the episode, which was written by Phil Klemmer and Keto Shimizu.
Who is the Chameleon? Marvel explains it for us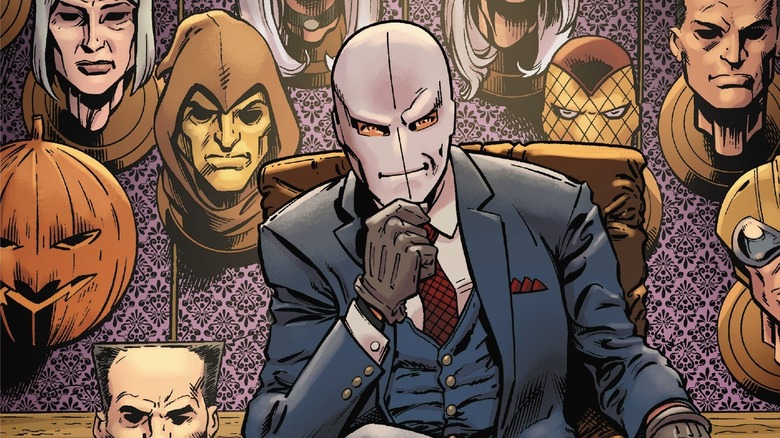 Marvel Comics
We recently learned that not only is the live-action "Kraven the Hunter" movie quickly coming together at Sony, but none other than Chameleon will be the main villain of the piece, with Fred Hechinger ("The White Lotus") on board to play the classic "Spider-Man" baddie alongside Aaron Taylor-Johnson's Kraven. For those who are unfamiliar with the villain, Marvel has put together a handy explainer piece, which should help provide a much-needed primer as he is about to become a part of the Marvel multiverse. Check it out for yourself by clicking here. 
Batwoman season 3 finale promo
Here's the official promo for the 13th and final episode of the third season of "Batwoman" on The CW:
In the explosive season three finale, Batwoman (Javicia Leslie) and a panicked Bat Team (Nicole Kang, Camrus Johnson) must race against the clock as Marquis's (Nick Creegan) nefarious plan balloons into something Gotham would never have suspected...and won't see coming. Joining forces with Jada (Robin Givens), Ryan, Mary, Luke and Sophie (Meagan Tandy) must call on every skillset they possess to save the city. As more about Marquis's shocking, twisted past unravels, a final stand-off between brother and sister puts Ryan's life – and new love – on the line. And as Alice (Rachel Skarsten) reaches her breaking point, an empathetic Mary makes another appeal on behalf of her sister for the Joker's buzzer, but everyone wonders – is Alice beyond saving?
Holly Dale directed the episode, which was written by Nancy Kiu and Caroline Dries.
James Gunn keeps getting Rick and Morty keychains on the Guardians 3 set
For nearly two weeks now, director James Gunn has been having "Rick and Morty" keychains mysteriously placed at his workstation whilst filming "Guardians of the Galaxy Vol. 3." He does not know who is doing this or where they are coming from, but the gag has refused to end, with no signs that it is going to let up. Why is this happening? Who is behind it? Those questions may be answered in time, but for now, it is a little window into what appears to be a very fun workplace that revolves around Gunn. Hopefully, that results in a satisfying conclusion to this trilogy come summer 2023.
2005's Fantastic Four star Michael Chiklis has advice for Marvel's reboot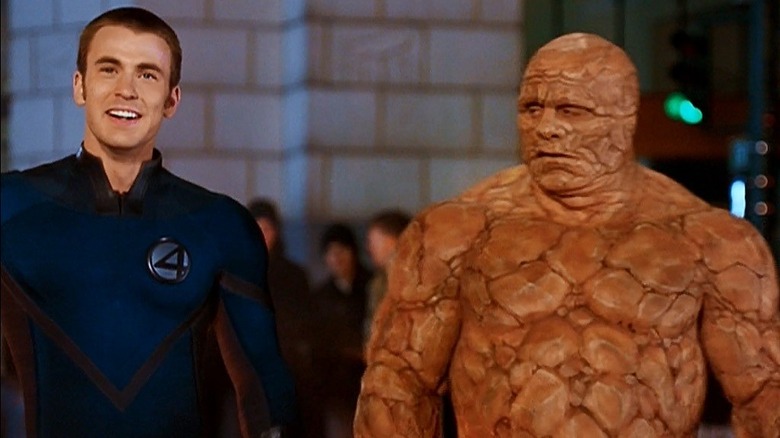 20th Century Studios
Marvel Studios is in the midst of planning a reboot of the "Fantastic Four" franchise within the MCU, with "Spider-Man: No Way Home" director Jon Watts on board to direct. Now, in an interview with Screen Rant, Michael Chiklis, who stared as Thing/Ben Grimm in the 2005 live-action movie, offered some advice to the filmmakers behind the upcoming reboot.
"Just understand, the real tone and tenor of The Fantastic Four is as we did it. It's not meant to be dark and brooding. It's never going to be The Dark Knight. Don't try to make it that. Don't expect it to be that. The Ever-Lovin' Blue-Eyed Thing was from Brooklyn and he was a Dodgers fan. They were a sweet family and that's the way it's meant to be. It wasn't meant to be hardcore and dark and brooding. Try to make it that, you will fail."
Indeed, it did seem like taking the "dark and brooding" approach is at least in part what doomed the 2015 reboot, which remains one of the biggest superhero bombs of the modern era. The new "Fantastic Four" reboot doesn't have a release date, but with "Spider-Man: No Way Home" out of the way, we should be hearing more on that front soon.
Patrick Stewart has an excellent response to the Doctor Strange 2 trailer
A trailer for "Doctor Strange in the Multiverse of Madness" recently dropped that featured the unmistakable voice of Patrick Stewart seemingly as Charles Xavier somewhere off in the greater Marvel multiverse. This is a big deal, and since the actor is currently promoting the release of "Star Trek: Picard" season 2, he is being asked about it. In the above video, the actor has an absolutely pitch-perfect response. This is the benefit of getting a fun-loving, classically trained actor to be in your big movie. He can (maybe) lie, but do so with charm and style. Never change, good sir.
Ryan Reynolds offers an encouraging update on Deadpool 3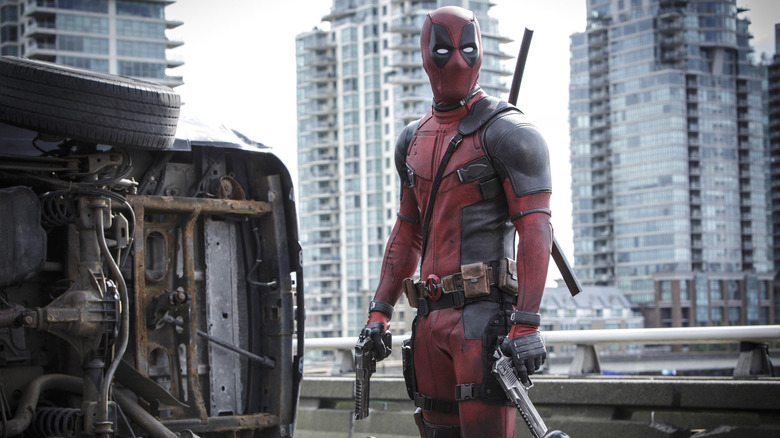 20th Century Studios
It has been nearly four years since "Deadpool 2" hit theaters and three years since the Disney/Fox merger closed. Yet here we are, seemingly not much closer to "Deadpool 3" becoming a reality. Luckily, in a recent interview with Collider, star Ryan Reynolds provided an encouraging update on the future of the franchise. When asked if he had talked with "The Adam Project" and "Free Guy" director Shawn Levy about collaborating on the movie, Reynolds had the following to say:
"We pretty much talk about everything, but I'll say this about that particular subject is I'll have a batch of updates on that sooner rather than later, I hope. So I'll be able to get into stuff about Deadpool a little bit more clearly and definitively down the road."
That still leaves us in a hurry-up-and-wait pattern, but that sounds optimistic. Fingers crossed.
Marvel Comics announces Ant-Man 60th anniversary limited series
Lastly, Marvel Comics has announced a brand new, four-issue limited "Ant-Man" series that will be released this summer to coincide with the character's 60th anniversary. As the above teaser artwork implies, the series will examine the character's past, present, and future with writer Al Ewing and writer Tom Reilly paving the way. Per Marvel:
Each thrilling issue will focus on a different Ant-Man from Hank Pym to Eric O'Grady to Scott Lang as a brand-new future Ant-Man seeks to connect them all so they can face off against a threat only they can hope to defeat!
Ewing also added the following:
"For Ant-Man's ant-iversary, we wanted to go BIG with the world's smallest hero — burrowing an ant tunnel right through his sixty-year history and far beyond, from the wild and wooly 1960s all the way to a future you'll have to see to believe! You'll find out how Henry Pym, Scott Lang and Eric O'Grady impacted each other's lives in ways they never knew themselves — but who's the mysterious final member of this Ant-tastic Four? Tremble with ant-icipation, true believer — the answers are coming soon to a hill near you!"
"Ant-Man" #1 hits shelves on June 8, 2022.