Why John Candy Took Home Less Than $500 For His Home Alone Cameo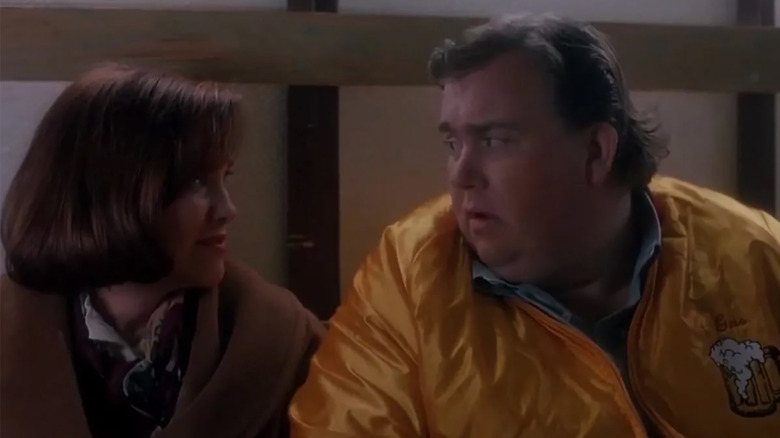 20th Century Fox
When it comes to the business of show, movies are a gamble — there are too many variables to know for sure whether a film will be a money-making success or not. That's a big reason why the current cinematic landscape is filled with movies based on IP, as they're the closest thing investors and major studios can come to having an assured financial return. Most films, even those made by well-known filmmakers, need to have a bit of luck if they hope to become a success.
Actor John Candy was all too aware of that uncertainty, which is why he chose to play it safe when agreeing to appear in John Hughes' production of "Home Alone" in 1990. Candy was far from the first actor to choose a guaranteed paycheck over the potential to earn a portion of a film's profits, but he unfortunately became one of the most regretful and bitter to have done so. "Home Alone" didn't just become a success, it became a mega-hit, spawning several sequels and launching young Macaulay Culkin into stardom. While his fellow actors hit paydirt, Candy's take-home for appearing in the film was a mere $414. Though it was mostly his own fault, the low payment caused a rift between the actor and his collaborator friend Hughes, one which sadly did not get repaired before Candy's untimely death just a few years later.
'You know, it's Christmas time'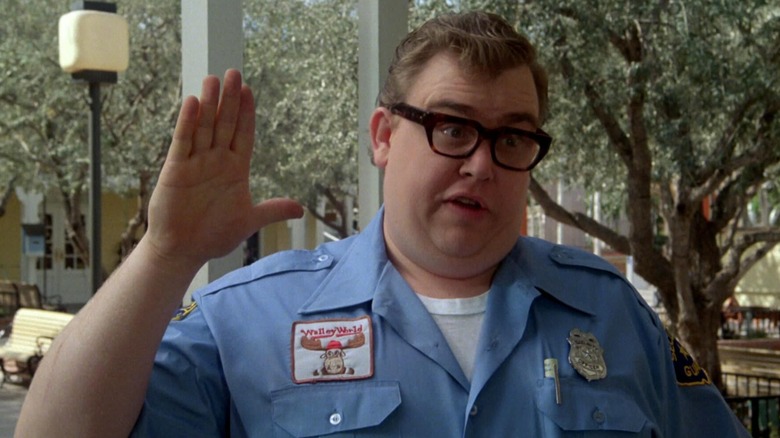 Warner Bros.
At the time "Home Alone" was made, Candy and Hughes had been colleagues for just under a decade. The two first collaborated on 1983's "National Lampoon's Vacation," a film (seen above) directed by Candy's "SCTV" friend Harold Ramis and written by Hughes. After Hughes began to direct successful films, in addition to writing them, Candy rejoined the filmmaker for 1987's "Planes, Trains, and Automobiles," Hughes' first film as a director to feature adult protagonists. It was a watershed movie for both men, and the two collaborated further on films like "The Great Outdoors" and "Uncle Buck."
It was on "Uncle Buck" that Candy and Hughes met the precocious Culkin, who was then just nine years old. Hughes was so taken with the child actor that he decided to write a movie built around the boy's youthful rapscallion energy, and thus "Home Alone" was born. Given that Candy was the star of "Uncle Buck" and that a subplot of "Home Alone" had a few similarities to "Planes, Trains and Automobiles," it seemed natural to involve the actor.
When Hughes approached Candy with the gig, he made the suggestion that the actor should take a slice of the movie's ultimate profits. Yet Candy was both generous — turning down Hughes' offer by way of saying it was a favor for a friend — and cautious. Strange as it may sound, "Home Alone" was far from a sure thing. It was a holiday family comedy that combined heartfelt sentimentality with sitcom-style kiddie antics and a surprisingly violent third act full of slapstick, when Kevin (Culkin) fends off the burglars attempting to rob his home. While Hughes was certainly an established success, the movie wasn't a teen or adult comedy as he'd made before, and the director was an unknown protegé of his named Chris Columbus, who would go on to direct the first two "Harry Potter" movies.
For all these reasons, Candy didn't feel like rolling the dice on the movie's potentially being a hit. Yet he happily showed up for the "concentrated 22-hour stint" of filming that his cameo role required, ad-libbing some of the movie's best jokes and livening up a subplot with his colorful character of Gus Polinski, "polka king of the midwest."
'You're beating yourself up there, ya know...these things happen'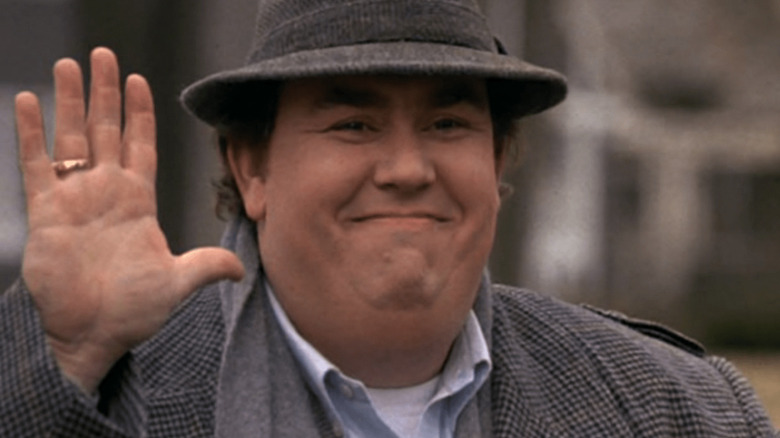 Universal
"Home Alone" ended up grossing $476 million off an $18 million budget, meaning that if Candy had taken Hughes' suggested deal, he would've made far more than just a couple hundred bucks. While Candy understood his responsibility for the missed opportunity and didn't appear to blame Hughes, he certainly had some bitterness due to the situation and studio 20th Century-Fox. As Columbus recalled, "There was certainly a little resentment on John's part," and when the actor and Columbus reunited for the Hughes-scripted "Only the Lonely," the filmmaker explained, "There were a couple times on set when he would make a cutting remark about Fox and what he was paid." Clearly, Candy was hoping the studio would recognize the actor's generosity and make some additional compensation after the fact, but it was not to be.
The other saving grace Candy expected was a continued working relationship with Hughes, but that sadly also wasn't to be, which resulted in a bigger loss than a small paycheck. After "Only the Lonely" and "Career Opportunities" in 1991, Candy never worked on a Hughes script or production again.
There were allegedly some initial talks about his returning as Gus in 1992's "Home Alone 2: Lost in New York," but "terms couldn't be agreed," and another Hughes project entitled "Dutch" ended up being made without Candy as initially planned. Even worse, according to Martin Knelman's book "Laughing on the Outside: The Life of John Candy," Hughes and Candy stopped speaking after '92, and Candy passed away soon after in March of 1994. Candy's passing was a major factor in Hughes becoming disillusioned with the film industry, causing the filmmaker to retire about a decade before his own death in 2009.
While the "Home Alone" experience didn't work out well for Candy's bank account or his relationship with Hughes, it at least resulted in an all-time classic that's revisited every holiday season. As Gus Polinski himself says as he attempts to console Kate McCallister (Catherine O'Hara), "These things happen."