Julia: Release Date, Cast, And More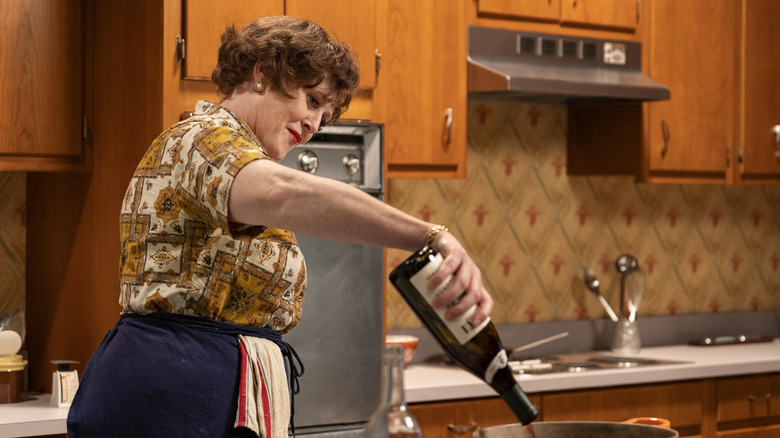 HBO
Throw on your favorite apron, turn on every burner on your stovetop, and pour yourself a sturdy glass of wine, because Julia Child is coming back to a TV near you via HBO's newest series "Julia." Whether you're a professional chef or someone who barely knows how to cook an egg, you can't deny the charm of Julia Child, whose impact on modern cooking, and especially cooking shows, cannot be overlooked. Hell, I even liked "Julie & Julia." I mean, I don't remember much about it, but chefs are fascinating and I think movies (and shows) about cooking rule. 
If you're also intrigued by Julia Child's life, keep on scrolling. And if you think this show isn't for you ... you should also keep on scrolling. This is a fun website. Something might jump out and surprise you. You're already here, there's no reason to turn back.
Julia release date and where you can watch it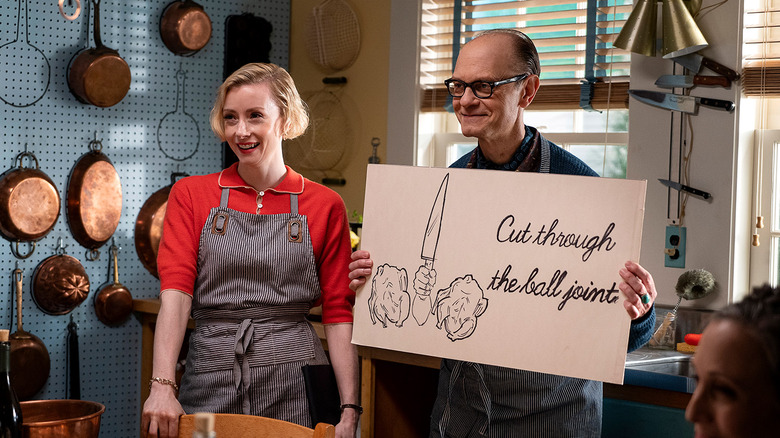 HBO
"Julia" is a fun and off-beat comedic version of Julia Child's life, so you know it's coming from our friends at the Home Box Office, AKA the premium behemoth that is HBO. Honestly, this sounds right up HBO's alley, so it's all tracking for me. As for when you can watch it, the first three episodes of "Julia" will debut on HBO Max on March 31, 2022, and subsequent episodes will drop once a week through May 5, 2022. Obviously, this is hemisphere-dependent, but the timing of this show feels so right. Cooking is more fun in the spring/summer when the farmers markets blossom and more fruits and vegetables are in season, and this little sliver of a spring season might be the perfect catalyst to throw on a cute little '60s outfit and spend some time in the kitchen.
What is Julia about?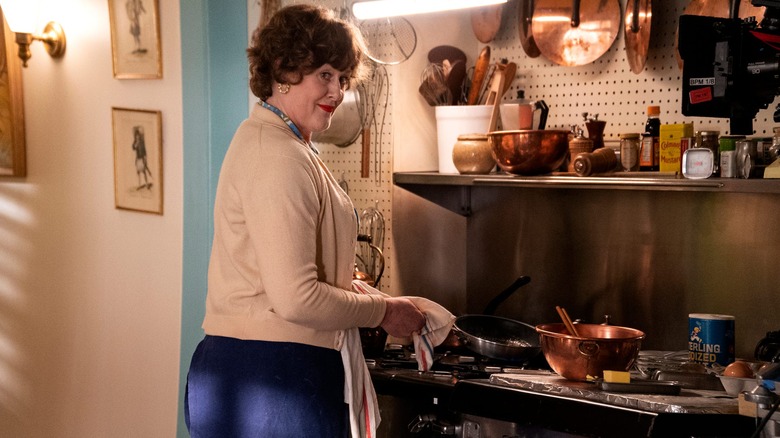 HBO
If you've been power skimming this article so far, you might have missed that this show is about Julia Child! If so, that's impressive and I would like to pick your brain. More specifically, "Julia" will tell the story of Child's TV show "The French Chef" which debuted on WGBH in 1963 and ran for 10 years. "Julia" will also heavily focus on Child's marriage to Paul Cushing Child. 
Here's a peek of the show's synopsis, which serves the major themes of the show up on a silver platter:
JULIA is inspired by Julia Child's extraordinary life and her long-running television series, "The French Chef," which pioneered the modern cooking show. Through Julia's life and her singular joie de vivre, the series explores a pivotal time in American history – the emergence of public television as a new social institution, feminism and the women's movement, the nature of celebrity and America's cultural evolution. At its heart, the series is a portrait of a loving marriage with a shifting power dynamic.
The cast of Julia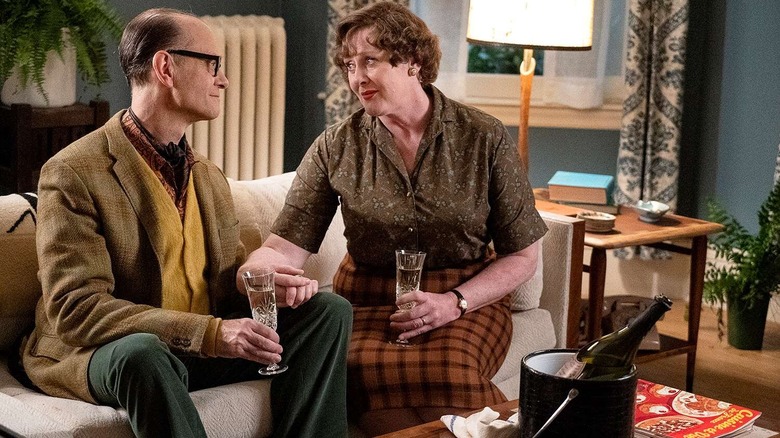 HBO
As you might have noticed while scrolling through these delightful photos, the cast for this show is very fun! Julia herself will be played by Sarah Lancashire ("Happy Valley," "Yesterday") and David Hyde Pierce is Paul Child ("Frasier"), while Fran Kranz ("The Cabin In the Woods"), Bebe Neuwirth ("Blue Bloods"), Brittany Bradford ("Fear the Walking Dead") and Fiona Glascott ("Brooklyn") play a menagerie of TV execs, publishers and editors. Everyone looks very cute in their vintage clothes. You have to love an HBO costume budget.
Julia's showrunners, crew, and more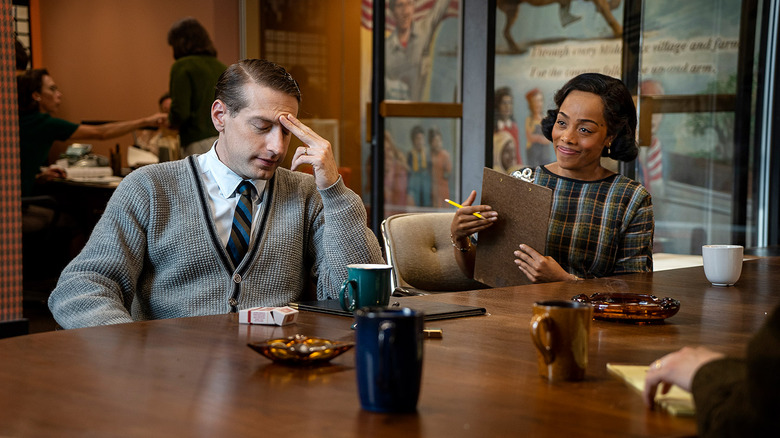 HBO
As for the rest of the "Julia" crew, Chris Keyser ("The Society") will serve as showrunner and executive producer. He's joined by creator and fellow exec producer Daniel Goldfarb ("The Marvelous Mrs. Maisel"), as well as Erwin Stoff ("I Am Legend"), Kimberly Carver "The Comedy Get Down", and Charles McDougall ("Desperate Housewives"). The whole thing will be produced by Lionsgate and 3 Arts. It's an eclectic bunch, that's for sure.
If this all sounds delicious to you, stick a note on your fridge for March 31, 2022, and don't forget to make yourself something good to eat. This sounds like it'll be the perfect show to pair with a good meal and strong drink.