The Best TV Shows And Movies Leaving Hulu In March 2022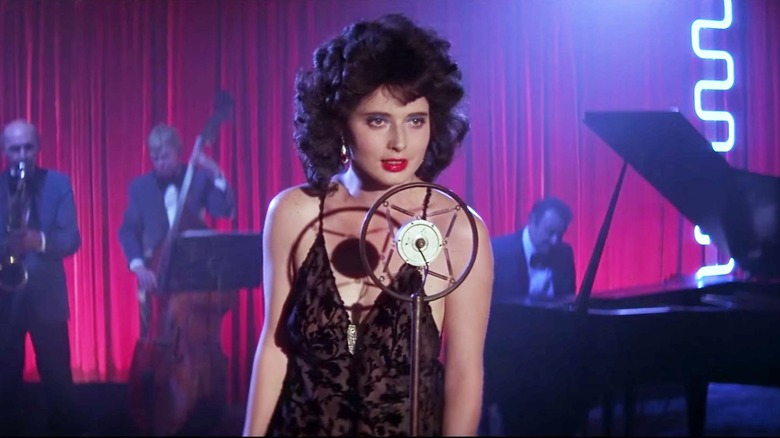 DEG
March is almost upon us. The month that's long been described as going "in like a lion, out like a lamb" always feels like one of the longest of the year, as the harshest bits of winter in the northern hemisphere finally give way to the beginnings of spring. On Hulu, the month will go out a bit worse than it started, because plenty of good movies are about to leave the streamer in anticipation of spring and summer hits. Some of the movies leaving will still be available to stream elsewhere, like the "Batman" films, which are still on HBO Max. But others will once again be relegated to rental status. If you've been saving something in your to-watch list, check below to make sure that you're not going to run out of time before the movie is taken off of streaming. 
Here's everything leaving Hulu in March 2022, with five of the best titles that everyone should try to catch before they're gone. 
Moon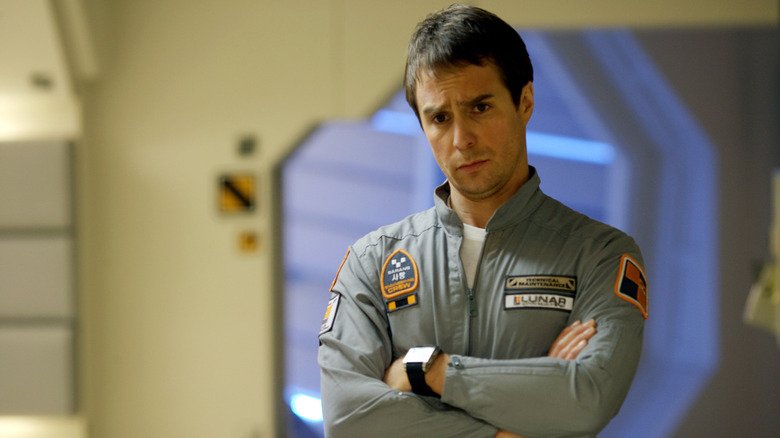 Sony Pictures Classics
Few movies can follow a single actor for their entire runtime, but Sam Rockwell in "Moon" is truly something to behold. Rockwell stars as Sam Bell, a lunar employee whose job is monitoring and maintaining mining equipment on the moon. Everything's become automated and mostly runs through the AI GERTY (voiced by Kevin Spacey, the film's one weak spot), but a human needs to be around in case things go wrong. Sam is nearing the end of his three-year mission when things start going wrong, and "Moon" takes multiple wild twists before its final landing. "Moon" was directed by  Duncan Jones, who went on to direct the Netflix original "Mute," which takes place after the events of "Moon." A graphic novel follow-up to "Mute," "Madi: Once Upon A Time in the Future," was released in 2020 by Z2 comics. 
The less you know about "Moon" before watching, the better, so go put this one on before it's gone on March 31, 2022. 
The Man Who Shot Liberty Valance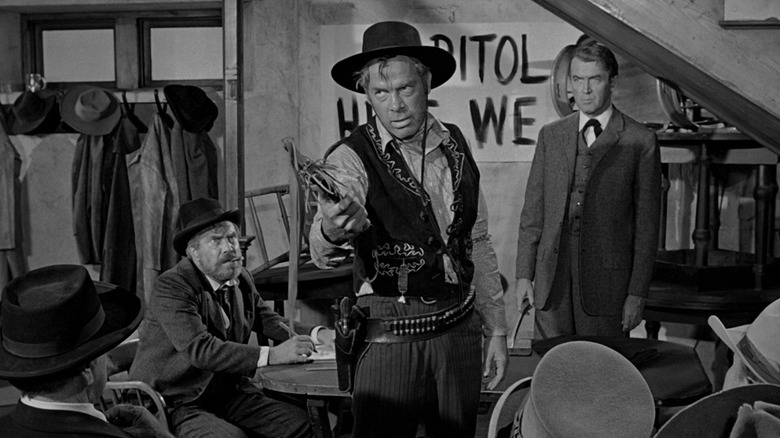 Paramount Pictures
"The Man Who Shot Liberty Valance" is one of the great westerns, dealing with established character archetypes and subverting tropes all the way back in 1962. Legendary director John Ford helmed this film about a good-hearted lawyer named Ransom, played by James Stewart, who is new to the wildness of the west. When he is beaten up by Liberty Valance (Lee Marvin) and his men upon entering the region, Ransom decides to stand up to his bullies and try to save the small town from the crooked cowboys. He's assisted by a local rancher, played by John Wayne, who helps him understand the way things work in the lawless, anarchic world of the developing western United States. The film's performances are stellar, and Marvin and Stewart help bring out the best in Wayne, who can sometimes be stiff and hokey. Here, he's significantly more complex, and his rancher character is beautifully brought to life. "The Man Who Shot Liberty Valance" is listed in the United States National Film Registry at the Library of Congress. It's not only worth seeing for its cultural and cinematic contributions, however; "The Man Who Shot Liberty Valance" is also a truly enjoyable movie that will keep you engaged and thinking about it long after the credits have rolled. 
The Last Waltz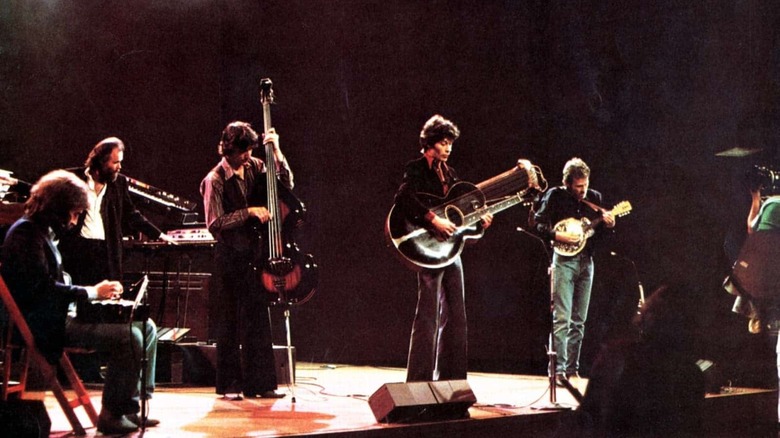 United Artists
"The Last Waltz" is a 1978 documentary concert film about the band The Band, directed by Martin Scorsese. It's considered one of the best concert films of all time, and features some of North America's greatest musicians of the 1960s and '70s performing together. The concert was held on Thanksgiving Day in the U.S., November 25, 1976, and was advertised as The Band's final concert appearance — a farewell to fans that would celebrate their many accomplishments. Special guests include Bob Dylan, Ronnie Hawkins, Paul Butterfield, Eric Clapton, Bobby Charles, Joni Mitchell, Neil Diamond, Dr. John, Van Morrison, Muddy Waters, Ringo Starr, Ronnie Wood, Neil Young, and Emmylou Harris. Twenty-five songs from the hours-long concert made it into the final cut of the film, interspersed with interviews with the band members and collaborators. "The Last Waltz" is a piece of music history, and it has some seriously sweet songs to boot. Make sure you check this one out before it's gone on March 31, 2022. 
Blue Velvet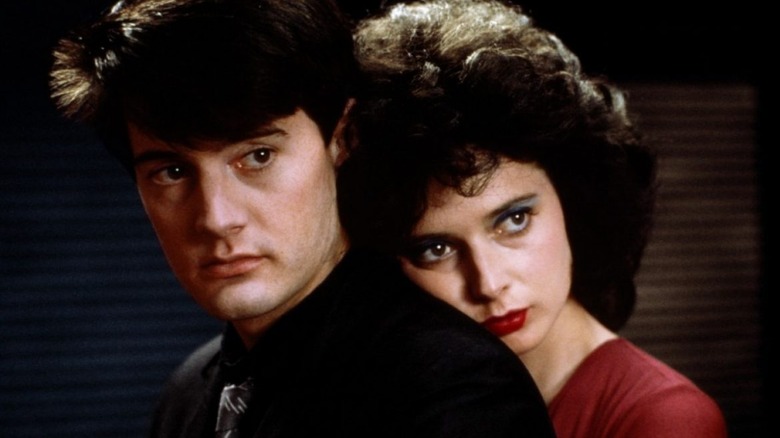 DEG
David Lynch is a master of weird cinema, and his 1986 neo-noir thriller "Blue Velvet" is one of his demented best. The film stars Kyle MacLachlan as Jeffrey Beaumont, a young college student who discovers a severed human ear in a field and becomes entangled in both an insane criminal conspiracy and a torrid affair with a lounge singer named Dorothy, played by Isabella Rossellini. An absolutely unhinged Dennis Hopper stars as Frank Booth, a drug lord gangster who enjoys heavy drug use, particularly inhalants. Booth storms into Dorothy's room and Jeffrey hides in the closet, only to witness Frank assault Dorothy in more ways than one. This sends him spiraling into an investigation into Frank and all of his evil deeds, and his passions are likely to get him killed. "Blue Velvet" is occasionally tough to watch, but it's such an unusually twisted take on the evil that can lurk beneath the most benign appearances.
Almost Famous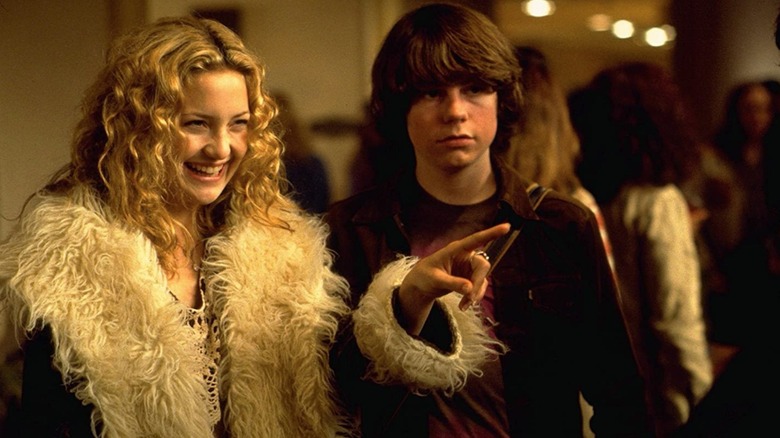 Paramount Pictures
"Almost Famous" is writer and director Cameron Crowe's semi-autobiographical story of touring with a band as a teenager while covering music for Rolling Stone magazine. Once upon a time, Rolling Stone was considered the height of cool, and being a teenage writer for them was some kind of holy grail. A young Patrick Fugit stars as William Miller, a teenage misfit who just wants to write about music. He gets a gig following the fictional band Stillwater and reporting to Rolling Stone, but it turns out that the world of rock 'n' roll is a lot to handle for a 15-year-old. He develops a crush on the gorgeous groupie Penny Lane (Kate Hudson), befriends the lead singer of the band, and gets to live out every kid in the 1970s' wildest dreams. "Almost Famous" is a glimpse into another time, with one of the best soundtracks ever put together. If you can watch the band and their tour-mates sing Elton John's "Tiny Dancer" on the bus and not start singing along, you might just be dead inside. 
Everything Leaving Hulu in March 2022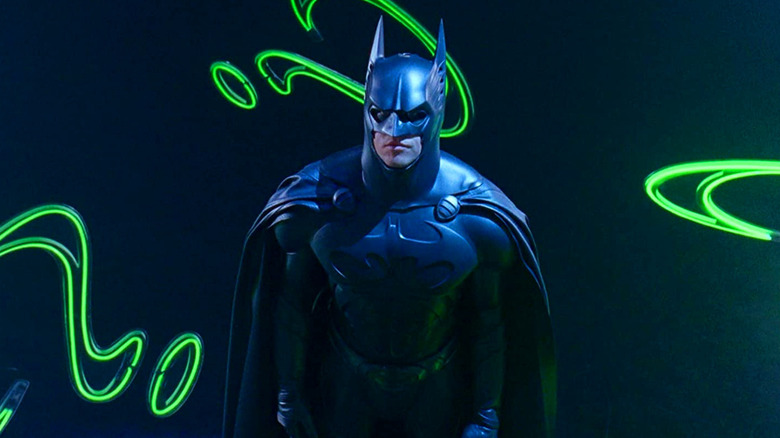 Warner Bros.
Leaving March 4
Beirut (2018)
Iron Mask (2019)
Leaving March 11
I Met A Girl (2020)
Leaving March 12
My Best Friend's Girl (2008)
Leaving March 13
The Man Who Shot Liberty Valance (1962)
Leaving March 14
Love, Simon (2018)
Maze Runner: The Death Cure (2018)
Leaving March 15
The Master (2012)
Quills (2000)
Step (2017)
Leaving March 17
Gemini Man (2019)
Leaving March 20
G.I. Jane (1997)
Leaving March 23
The Addams Family (2019)
Leaving March 24
Soldiers of Fortune (2012)
Leaving March 25
Judy (2019)
Leaving March 31
Airplane! (1980)
Ali (2001)
Almost Famous (2000)
Baby Mama (2008)
Batman (1989)
Batman Returns (1992)
Batman Forever (1995)
Batman & Robin (1997)
Beaches (1988)
Beerfest (2006)
Beethoven (1992)
Beethoven's 2nd (1993)
Behind Enemy Lines (2001)
Benny & Joon (1993)
Big Top Pee-Wee (1988)
Blow (2001)
Blue Velvet (1986)
Borat: Cultural Learnings Of America For Make Benefit Glorious Nation Of Kazakhstan (2006)
Casualties of War (1989)
Courage Under Fire (1996)
Coyote Ugly (2000)
The Crazies (2010)
Cujo (1983)
The Curious Case of Benjamin Button (2008)
Dance Flick (2009)
Date Night (2010)
Deuces Wild (2002)
Devil in a Blue Dress (1995)
Diary of a Wimpy Kid (2010)
Diary of a Wimpy Kid: Rodrick Rules (2011)
Double, Toil and Trouble (1993)
Dunston Checks In (1996)
Edward Scissorhands (1990)
The Firm (1993)
Flatliners (1990)
The Freshman (1990)
Furry Vengeance (2010)
Garden State (2004)
Ghoulies (1985)
The Greatest Story Ever Told (1965)
Grown Ups (2010)
Head of State (2003)
Hitman: Agent 47 (2015)
The Holiday (2006)
Hot Shots! Part Deux (1993)
I Love You, Beth Cooper (2009)
The Impossible (2012)
Internal Affairs (1990)
Jagged Edge (1985)
The King Of Comedy (1983)
The Last Waltz (1978)
Lawless (2012)
The Life Aquatic with Steve Zissou (2004)
Look Who's Talking (1989)
Look Who's Talking Too (1990)
Look Who's Talking Now (1993)
Major League (1989)
Midnight In Paris (2011)
The Missing (2003)
Moon (2009)
Moulin Rouge (2001)
Not Easily Broken (2009)
The Omen (1976)
Panic Room (2002)
Peggy Sue Got Married (1986)
Phenomenon (1996)
Platoon Leader (1988)
Red Eye (2005)
Red Riding Hood (2011)
Revolutionary Road (2008)
Romy and Michele's High School Reunion (1997)
The Royal Tenenbaums (2001)
Safe (2012)
The Sandlot (1993)
Second Act (2018)
Seven Pounds (2008)
Shanghai Noon (2000)
Single White Female (1992)
Sixteen Candles (1984)
The Squid And The Whale (2005)
Star Trek Beyond (2016)
Stick It (2006)
Sweet Home Alabama (2002)
Sydney White (2007)
The Tailor of Panama (2001)
Terms of Endearment (1983)
Vertical Limit (2000)
Victor Frankenstein (2015)
The Wackness (2008)
When In Rome (2010)
Where Hope Grows (2015)
Whiplash (2014)
Within (2016)
The Woman in Black (2002)