The Daily Stream: Flee Reminds Us That Realism In Animation Is Overrated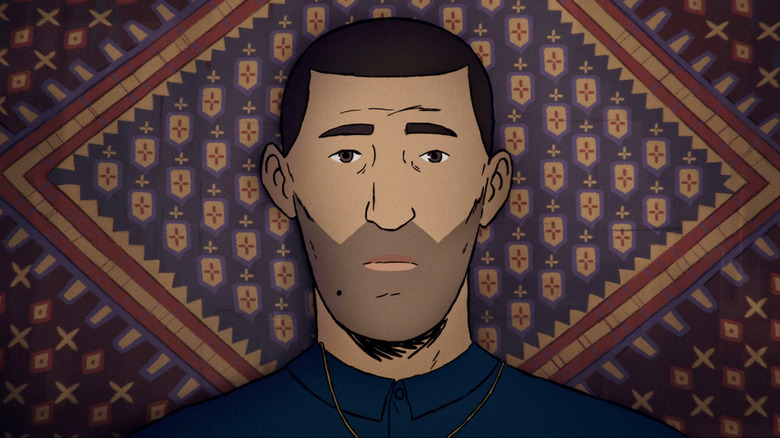 NEON
(Welcome to The Daily Stream, an ongoing series in which the /Film team shares what they've been watching, why it's worth checking out, and where you can stream it.)
The Movie: "Flee"
Where You Can Stream It: Hulu
The Pitch: In 1996, at the age of 15, Danish filmmaker Jonas Poher Rasmussen met Amin Nawabi, an Afghani boy who was unlike just about anyone else in his small hometown. (As Rasmussen noted in an interview with Variety, "I'm from a very small city, 400 or 500 people.") Where the few other immigrants that Rasmussen has crossed paths with up to that point did their best to avoid sticking out, Amin dressed in a flashy style that reflected his personal comfort with his queer sexuality, yet also clashed with his quiet, reticent manner. The pair would soon become close friends as Amin gradually opened up to Rasmussen about himself and his own history, including how the rest of his family had tragically died while fleeing their home country years ago.
Except, that wasn't true.
Jump to the present, and Amin, himself on the verge of purchasing a house with and marrying his soon-to-be-husband, has finally agreed to share his real story with Rasmussen as part of "Flee," a documentary which uses plain, comic strip-style animation in order to protect Amin's anonymity (Amin is not his real name) and recreate events from his past, in combination with archival news footage which serves to establish the greater historical backdrop for his tale. What follows is a series of conversations that move back and forth in time, often in a stream-of-consciousness fashion, as Amin slowly reveals the truth about his journey from Afghanistan to Denmark — a moving "confession" that, as Hoai-Tran Bui aptly put it in her glowing review for /Film, plays out as "part therapy session, part historical chronicle, part timid coming-of-age drama."
Why it's essential viewing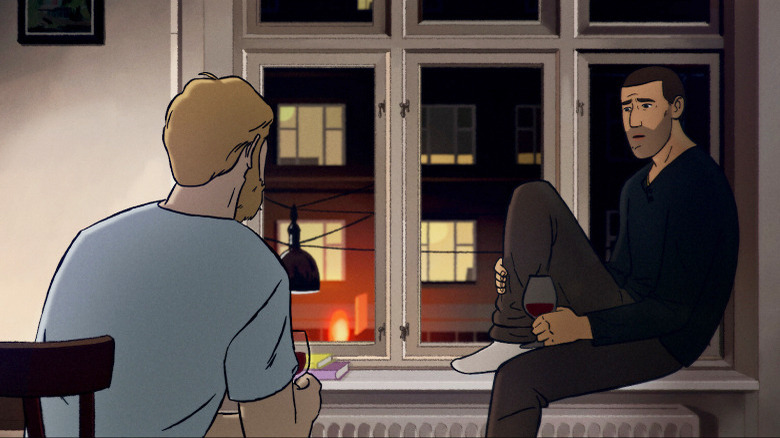 NEON
"Flee" was heralded by critics as one of the best movies of 2021 and has been nominated in three major categories at the 94th annual Academy Awards (namely, Best Documentary Feature, Best Animated Feature Film, and Best International Feature Film). Point being, there's not much I can add to try and further convince you that it's "essential" viewing. No, what I really want to talk about is the movie's simple visuals and how they show that realism in animation is, frankly, overrated.
First, a quick caveat: I don't feel that realism in animation is bad, per se, or the "wrong" approach to take across the board. In the case of "Flee," though, it's hard for me to imagine the film working nearly as well if its story had been rendered with more life-like imagery, much less photo-realistic animation. So much of the movie is about capturing the emotional essence of Amin's memories on the big screen, like the use of warmer shades when he recalls his happy childhood in Afghanistan — be he running around joyfully in his sister's dress or looking respectfully at the Jean-Claude Van Damme poster on the wall of his bedroom. This creates a vivid contrast with the scenes where Amin recounts the various attempts to smuggle him out of Russia (where he and his family were trapped after fleeing Afghanistan), which are visually darker, bleaker, and less detailed, as painful, traumatic memories often are. Even in the film's present, the unrefined animation acts as a shield for Amin, allowing him to be vulnerable and open in his talks with Rasmussen in a way that wouldn't come through if, say, there was a digital camera invading his personal bubble and trying to intimately capture every minor facial expression or subtle physical gesture he makes.
Realism, for sure, has its place in animation. I enjoy the way Disney and Pixar's recent animated films have blended photo-real textures and surfaces with stylized human faces and bodies, much like I appreciated Blue Sky Studios (RIP) for carrying over the cruder 2D character designs from the "Peanuts" animated shorts, films, and comic strip, then infusing them with more tangible details in "The Peanuts Movie." But to focus too much on realism in animation is to ignore the medium's roots in Impressionism and to restrict the ways it can be used to tell a story visually. It's that stylization that gives "Flee" the freedom to literally show Amin's memories forming out of the recesses of his mind while also capturing the spirit of his experiences, similar to how "An American Tail" (another animated immigration saga — albeit, y'know, a fictional one) can depict the unvarnished truth of what it was like traveling to the U.S. circa the late 19th century while telling a story about talking mice and cats.
Forget this misguided idea that the end goal of animation is to move closer and closer to replicating reality (looking at you, Robert Zemeckis): "Flee" reminds us that oftentimes, if you really want to capture what life feels like, you have to get a little distance from the real world.