The Chip 'N Dale Movie Looks Like A Love Letter And A Cease-And-Desist To Robert Zemeckis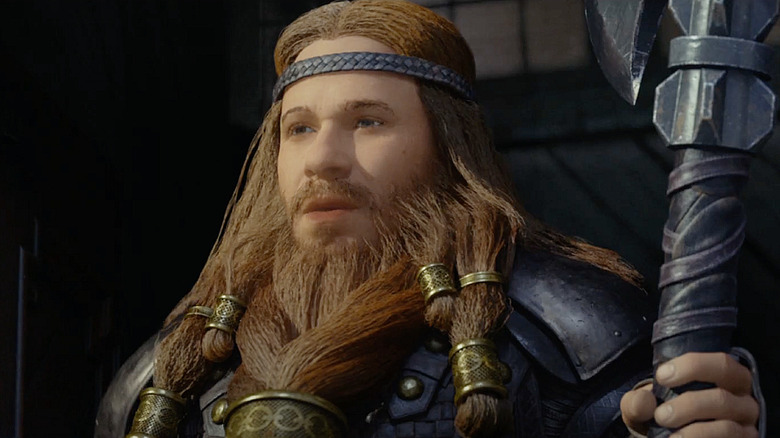 Disney+
Disney+ has dropped a teaser for its live-action/animated "Chip 'n Dale: Rescue Rangers" movie, and I can honestly say it's not what I — or, I suspect, anyone else — was expecting. Sure, I hadn't forgotten that report from 2019 stating that "Rescue Rangers" director Akiva Schaffer ("Popstar: Never Stop Never Stopping") was developing a "meta [and] self-referential" take on the classic Disney animated series, and I knew to expect something wild from two of the Lonely Island guys (that, is Schaffer and Andy Samberg, the latter of whom voices Dale in the film). But a reboot where Dale gets "CGI surgery" and he and his "Rescue Rangers" co-stars all exist in the real world, as do the likes of Roger Rabbit, 1990s-era Scrooge McDuck, and the ponies from "My Little Pony?" That I didn't have on my 2022 bingo card.
After establishing the main conflict in the film (Chip, as voiced by John Mulaney, and Dale must reunite after 30 years apart to solve a new mystery), the "Rescue Rangers" teaser takes an even stranger and more meta turn near the end. This is where we see Chip and Dale walking in an area populated by animated characters from that era in animation history where, as Chip puts it, "everything looked real, but nothing looked right?" What results is a gag that seems to take a shot specifically at "Who Framed Roger Rabbit" director Robert Zemeckis and his infamous motion-capture movies of the 2000s.
Remember Zemeckis and Disney's short-lived mo-cap era?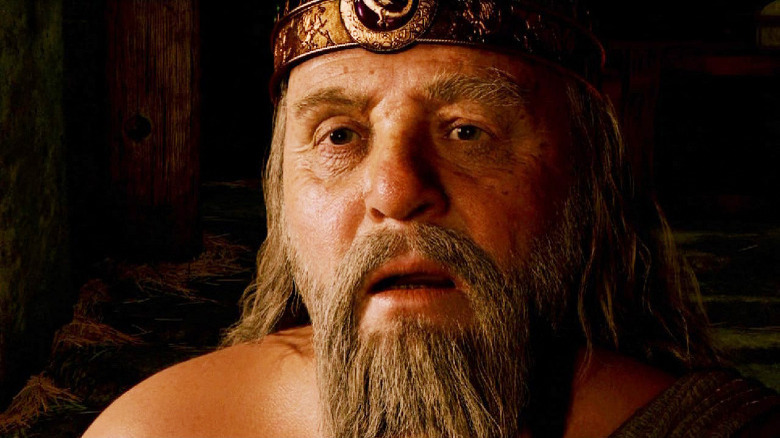 Paramount Pictures
While Zemeckis has spent most of his filmmaking career tinkering with new tech, for the past two decades, it seems like he's become far less interested in evolving the art of telling stories and more invested in developing digital tools like motion-capture. That was especially the case in the 2000s, when Zemeckis directed three mo-cap animated movies in a row, starting with "The Polar Express" in 2004 and continuing on to "Beowulf" in 2007 and "A Christmas Carol" in 2009. In fact, he might've continued to do so to this day, had the Disney-backed "A Christmas Carol" not flopped at the box office, grossing $325 million on a budget of $200 million (per Box Office Mojo). Disney's mo-cap film "Mars Needs Moms" (which Zemeckis produced only) was an even bigger financial dud when it arrived in March 2011, exactly one year after the Mouse House and Zemeckis announced they were shutting down their short-lived mo-cap animation facility, ImageMovers Digital.
The final stretch of the "Chip 'n Dale: Rescue Rangers" teaser reads as a direct attack on Zemeckis' mo-cap animated films, with Chip and Dale coming face-to-face with a mo-cap bearded fantasy warrior voiced by Seth Rogen. (And yes, he does the laugh.) It's a bit that perfectly mocks the uncanny valley look of the humans in Zemeckis' movies from that period in his career, especially the way their eye-lines just never worked the way they should. This also makes for a sharp contrast to Roger Rabbit's far more reverent cameo earlier on in the trailer — not to mention, the very setting for "Rescue Rangers," which reads as a loving homage to the "Roger Rabbit" universe (a place where old-school cartoon characters existed side-by-side with flesh-and-blood people).
Let's send-up live-action/CGI remakes too!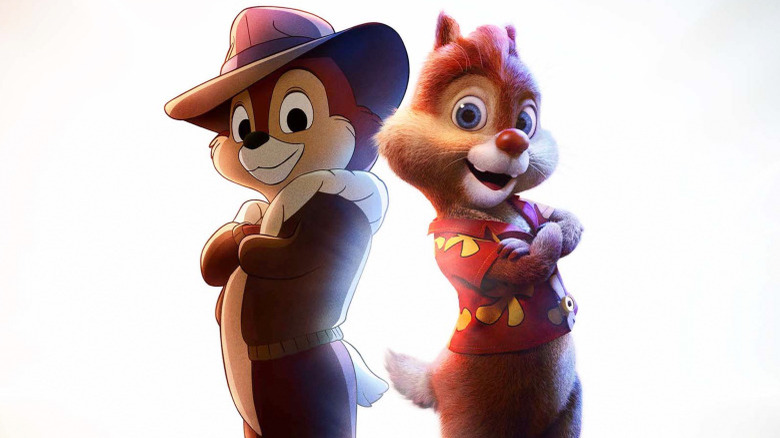 Disney+
As I see it, "Chip 'n Dale: Rescue Rangers" isn't taking the mickey out of Zemeckis' mo-cap work for the sake of being mean; it's trying to argue (via zany humor) that animated characters should remain "unrealistic" or cartoony, even in a time where computer animation has become the dominant approach among the major studios. Whether it's fans being justly horrified when Paramount rolled out Sonic's original design for the live-action "Sonic the Hedgehog" movie or the generally negative reactions to Zemeckis' use of mo-cap animation during the fantasy scenes in his 2018 directorial effort "Welcome to Marwen," we've seen time and time again that "realistic" character designs and computer animation just don't mix well. That goes double for Disney's live-action/CG remakes of its own 2D animated features from the last 12 years (and counting), none of which have truly matched the films that inspired them when it comes to pure visual splendor.
"Rescue Rangers" isn't just talking the talk; it's walking the walk by carrying over the original 2D designs for Chip and his fellow Rescue Rangers sans Dale, whose CGI makeover will clearly serve to make it all the harder for him and Chip to reconnect after so many years apart. This is also why the film has the makings of an inspired (and irreverent) commentary on Hollywood and the greater state of animation, as well as both an endearing love letter and a playful-but-pointed cease-and-desist to Zemeckis. One only wishes that "Rescue Rangers" had been able to come out with this message before the director signed on to helm Disney's live-action "Pinocchio" remake (which is now in post-production).
"Chip 'n Dale: Rescue Rangers" debuts May 20, 2022 as a Disney+ exclusive.