Barry Season 3 Trailer: Barry Promises A Whole Lot Of Drama On-Stage And Off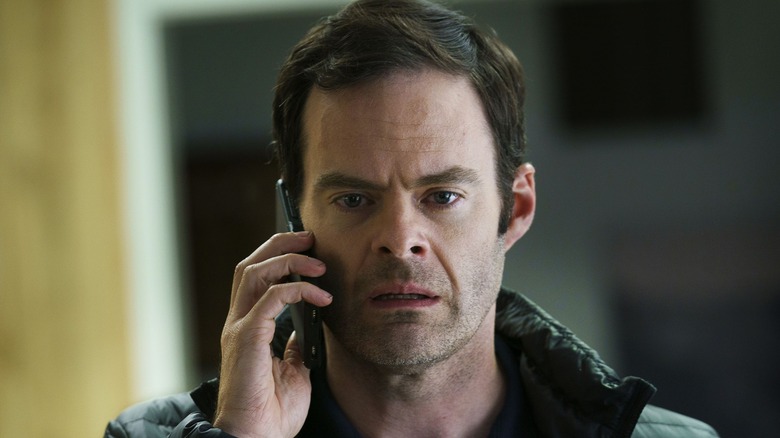 HBO
It's been a minute (three years' worth of minutes, to be precise), but our favorite assassin-turned-actor is almost back! HBO's Bill Hader-starring "Barry" will soon return to our screens for the first time since its curtains closed in 2019. The series follows Barry Berkman AKA Barry Block (Hader), an assassin who goes undercover in a Los Angeles acting troupe for a hit and falls in love with life as a thespian. He's forced to balance his desire to leave the hit-man life against a slew of competing pressures, from troubles in gangland to a treacherous handler in Stephen Root's Monroe Fuches.  
The eight-episode third season of the dark comedy is set to hit HBO on Sunday, April 24, 2022, at 10 P.M. ET/7 P.M. PT. Hopefully we'll get to see Barry leave his violent life behind him once-and-for-all (or perhaps hopefully not, because this show is really good). With HBO's new Season 3 trailer, we finally have a long-awaited glimpse into what's on the other side of Barry's season 2-ending rampage.
Barry Season 3 trailer
The third season will see all the major cast members return, including Henry Winkler, Stephen Root, Anthony Carrigan, Sarah Goldberg, and Bill Hader resuming in their respective roles. It will follow a set of tumultuous circumstances that closed out season 2, including Barry's beloved acting teacher Gene (Winkler) discovering that Barry is responsible for the death of Gene's beloved partner, Janice (Paula Newsome). The third season's official HBO synopsis catches us up in advance of the trailer to reveal continued pressure on our titular anti-hero:
Desperate to leave his violent past behind in favor of his newfound passion, Barry (Hader) is attempting to untangle himself from the world of contract killing and fully immerse himself in acting. But getting out is messy. While Barry has eliminated many of the external factors that pushed him towards violence, he soon discovers they weren't the only forces at play. What is it about his own psyche that led him to become a killer in the first place? Season three finds Barry and the other characters trying to make the right choice.
It looks like Barry's going to have a whole lot more introspection to draw from in his next monologue, and undoubtedly there will be consequences from Gene's discovery and Barry's season 2 massacre of almost every gang member in the area, apparently (seriously, watch episode 16, "berkman > block" again; Barry goes full John Wick). The new season credits Hader and co-creator Alec Berg as the third season's writers and directors, with season 4 reportedly written.
"Barry" season 3 begins streaming on April 24, 2022, on HBO.