Clips Round-Up: John Cusack In Pursuit, Malin Akerman Has A Week In Paradise, & More! [Exclusive]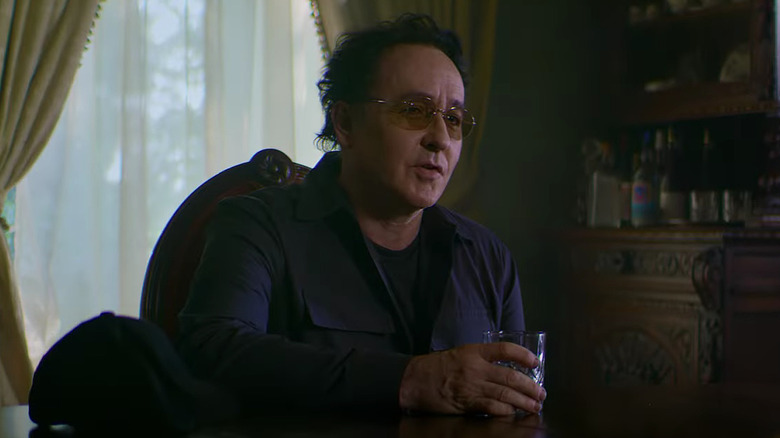 Lionsgate
(Welcome to SlashClips, a series where we bring you exclusive clips from hot new Digital, Blu-ray and theatrical releases you won't see anywhere else!)
In this edition:
Pursuit 
A Week in Paradise
The Desperate Hour
A Peloton of One
Pursuit
Our first exclusive clip of the week features movie star John Cusack in Lionsgate's action-thriller "Pursuit," which also stars Emile Hirsch ("Into the Wild"), Jake Manley ("Midway"), and Elizabeth Ludlow ("Godzilla: King of Monsters"). It was co-written by Brian Skiba ("The 2nd"), Andrew Stevens ("Night Eyes"), Dawn Bursteen, and Ben Fiore and directed by Skiba. The film is scheduled to hit select theaters and on demand on February 18, 2022.
Here is the official synopsis:
John Cusack ("Grosse Pointe Blank") and Emile Hirsch ("Into the Wild") star in this action-thriller about a tough cop's hunt for an even tougher criminal. Calloway (Hirsch), a ruthless hacker, is desperate to find his wife – who's been kidnapped by a drug cartel – when he crosses paths with Detective Breslin. But after Calloway escapes police custody, Breslin joins forces with a no-nonsense female cop to reclaim his prisoner. But is Calloway's crime-boss father (Cusack) somehow involved in this explosive situation?
A Week in Paradise
Next up, Screen Media has provided us with an exclusive clip from the romance "A Week in Paradise" starring Malin Åkerman ("Watchmen"), Connie Nielsen ("Wonder Woman"), and Philip Winchester ("Flyboys"). Directed by Philippe Martinez ("One Year Off") and written by Kate Wood ("Miss Willoughby and the Haunted Bookshop"), the film is now playing in theaters and on demand.
Here is the official synopsis:
Seeking solace from a failed marriage, Maggie (Malin Åkerman) escapes to the Caribbean to stay at her cousin Fiona's (Connie Nielsen) secluded resort. After some much-needed recovery, she meets the resort's charming chef, Sam (Philip Winchester), and begins to imagine a new life for herself just as her old one comes barging in.
The Desperate Hour
Here is a riveting exclusive clip from the pulse-pounding real time thriller "The Desperate Hour," starring Naomi Watts ("King Kong"), Colton Gobbo ("Titans"), and Sierra Maltby ("Jupiter's Legacy"). From ace director Phillip Noyce ("Salt," "Clear and Present Danger"), the film is set to arrive in theaters, on digital, and on demand February 25, 2022.
Here is the official synopsis:
Unfolding in real time, "The Desperate Hour" is a "riveting and pulse pounding" thriller from award-winning director Phillip Noyce. Recently widowed mother Amy Carr (Academy Award-nominee Naomi Watts) is doing her best to restore normalcy to the lives of her young daughter and teenage son in their small town. As she's on a jog in the woods, she finds her town thrown into chaos as a shooting takes place at her son's school. Miles away on foot in the dense forest, Amy desperately races against time to save her son.
A Peloton of One
Lastly we have an exclusive clip from directors John Bernardo and Steven E. Mallorca's powerful documentary "A Peloton of One," which will have a limited virtual theatrical release via Laemmle Theaters beginning February 18, 2022.
Here is the official synopsis:
Winner of The JP Morgan Chase Audience Award at the Greenwich International Film Festival, "A Peloton of One" is a documentary film about surviving Childhood Sexual Abuse, focusing on the next chapter in the Survivors' story – what happens after victims come forward. The film follows Dave Ohlmuller who conducts a solo bicycle ride from Chicago to New York, meeting a variety of other Survivors and legal advocates along the way.