The Dollars Must Flow As Dune Finally Crosses $400 Million At The Box Office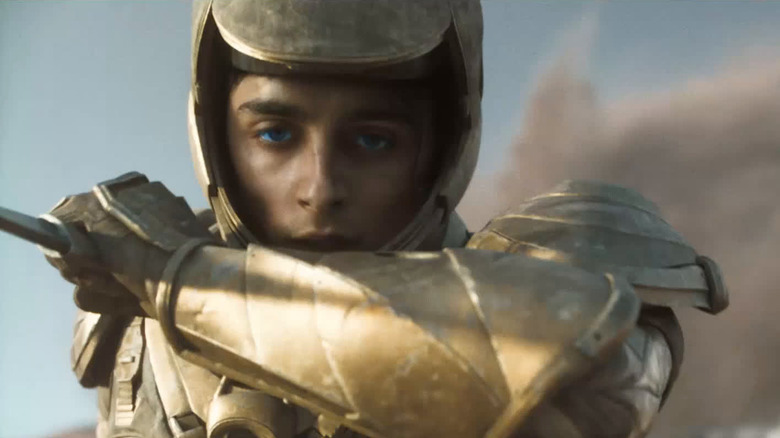 Warner Bros.
Five months after the movie first started making its way in theaters across the world, "Dune" has finally crossed a major box office milestone (of the pandemic era, anyway). The Warner Bros. and Legendary adaptation of Frank Herbert's famed sci-fi novel has officially crossed the $400 million mark at the global box office. This now makes the sequel seem like a safer bet despite already having the green light, while also giving just a bit more potential juice to this year's Academy Awards,
According to The Numbers, "Dune" has earned $400.1 million including $107.8 domestically. This is important as the movie was initially made available on HBO Max in the U.S. at no additional cost to subscribers, which most certainly hurt its overall earnings potential. Despite that, the allegedly strong streaming numbers coupled with the strong box office around the world helped get director Dennis Villeneuve his much-desired green light for "Dune Part Two" literally the day after the first film hit theaters in the U.S. Now, that move looks a little smarter in hindsight since it has crossed this threshold.
"Dune" carried a budget in the $160 million range and, in pre-pandemic times, the hope was this film could bring in $500 million or more to justify a big, flashy franchise. Expectations have been tempered a great deal over the past couple of years and, when coupled with what it did for HBO Max, the numbers made sense. It's also important to note that the first movie was very much a "part one," ending at a sort of strange place for more casual viewers, teeing up the ball big time for a sequel. If the second movie didn't get made, it would feel especially strange. The studio was pot-committed in a way. Luckily, moviegoers turned up.
The new blockbuster benchmark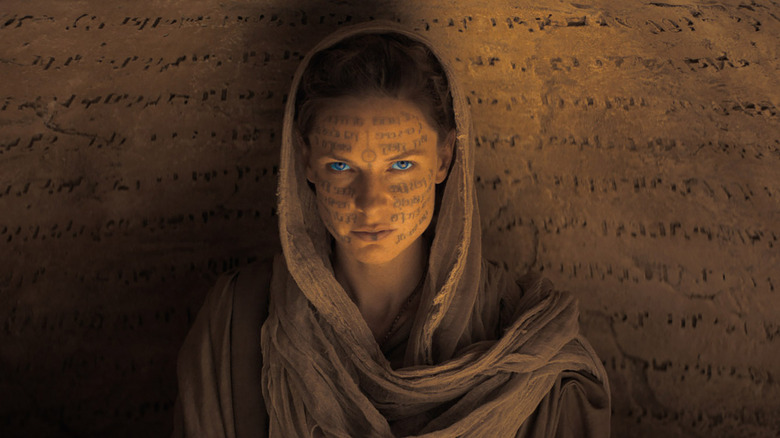 Warner Bros.
Sure, big movies have gotten sequels making less at the box office, but it's certainly not the rule. That said, the streaming age has upended old movie math and has made the equation far more complicated and blurry. What we are seeing is that $400 million seems to be the new benchmark for "good" in the post-pandemic world. "Shang-Chi and the Legend of the Ten Rings," ($432 million) "Godzilla vs. Kong" ($468 million), and "Venom: Let There Be Carnage" ($502 million) are perfect examples of that when looking back at 2021 (per Box Office Mojo). Below that, we get to "Black Widow" ($379 million) which was viewed as a relative disappointment. If there is a line for success or failure for a movie with a huge budget, this seems to be it.
The other important thing to consider is that "Dune" has been nominated for a ton of Oscars this year including Best Picture. And almost none of the other nominees in that category made a dent in the box office. As such, this movie has the best chance of getting moviegoers to care about the ceremony, which does indeed matter. Studios pour resources into certain movies in the hopes that they can go on to win big at the Academy Awards. If viewership continues to decline and the Oscars lose their punch, that is not a good sign for virtually anything original in the theatrical marketplace. Make no mistake; "Dune" getting past this benchmark is very important and it bodes well for the sequel's chances next year.
The film stars Timothee Chalamet, Zendaya, Rebecca Ferguson, Dave Bautista, Stellan Skarsgard, Charlotte Rampling, Oscar Isaac, Josh Brolin, Jason Momoa, Javier Bardem, and David Dastmalchian
"Dune Part Two" is set to hit theaters on October 20, 2023.