Dune: Part Two Was Greenlit The Day After Dune Landed In Theaters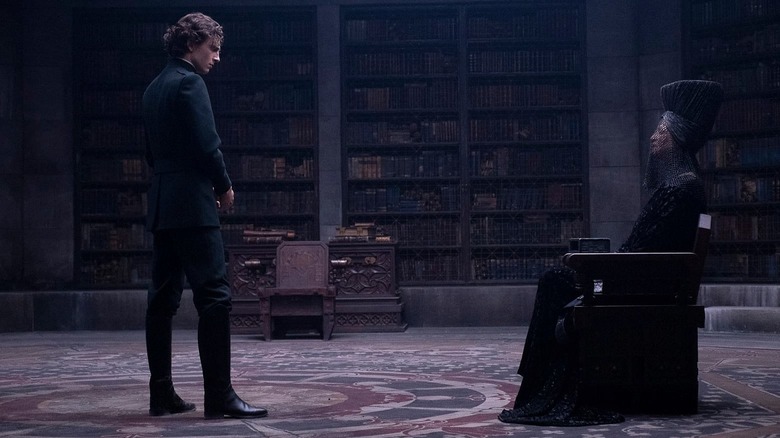 Warner Bros.
Warner Bros. and Legendary seemed interested in the idea of making director Denis Villeneuve's adaptation of Frank Herbert's beloved sci-fi novel "Dune" into (at least) a two-part epic, but some in Hollywood wondered if the companies would actually follow through with a sequel. Thankfully, the first movie performed well enough when it hit theaters last fall to indeed justify "Dune: Part Two," which will be coming our way in 2023. It turns out Villeneuve wasn't sitting on pins and needles for too long, as his sequel got the green light from the studio that day after it hit theaters in North America.
The filmmaker recently sat down with the folks at Empire Magazine for the upcoming issue. During the conversation, Villeneuve revealed that he got the call about "Dune: Part Two" sooner than one might have expected. Here's what he had to say about it:
"It was funny, in fact. Because when I got the numbers from the United States, I knew that the movie had performed very well in Europe and that people were very excited about it and it was starting to smell good. But I got the numbers on a Friday and on the Saturday night everybody was drinking Champagne and celebrating, but I slept like a baby. I slept so well and I woke up saying, 'Oh boy, I didn't sleep like that in four years!' Then I got a call: 'We are greenlit!' And I started to prep. So when people ask me if I had time to relax, I say, 'Yes, one night.'"
"Dune" did indeed have one heck of a nice international rollout before making its way to theaters in the U.S. in October 2021. On its opening Friday, the film took in an impressive $17.5 million, which is all the more amazing given that it was also available to stream at no additional cost to subscribers on HBO Max. Once it became clear that the movie's opening day was a success, little time was wasted in getting the sequel going.
The Spice Must Flow
Warner Bros.
It is no secret to anyone who saw "Dune" that it was very much half of a movie in many ways. It ends in kind of an odd, anti-climactic spot and leaves a whole lot on the table to be explored in the sequel it was setting up. But that was a risky move given that this very expensive blockbuster, was, in itself, quite the risk. (And that was before the HBO Max release muddied the waters a bit more.) Luckily, the movie is currently less than $1 million away from making $400 million at the global box office and recently scored a ton of Oscar nominations, including one for Best Picture.
Be that as it may, the early green light seems to indicate that the studio was dead-set on getting the full scope of the story out into the world. In some ways, that approach makes sense as long as the first movie wasn't a total flop. In the streaming age, having the full story laid out will add a lot more value in the future well beyond the box office. Not to mention that, if the sequel can break out, Herbert has several other books in the franchise that can be mined for further sequels/spin-offs down the road.
Production on the sequel is expected to begin this summer with much of the cast, including Timotheé Chalamet and Zendaya, reprising their roles. Villeneuve will once again be behind the camera, with the script ready to go.
The April 2022 issue of Empire Magazine hits stands on February 17, while "Dune: Part Two" is currently scheduled to hit theaters on October 20, 2023.