Ivan Reitman Contributed More To The Ghostbusters Theme Song Than You Might Think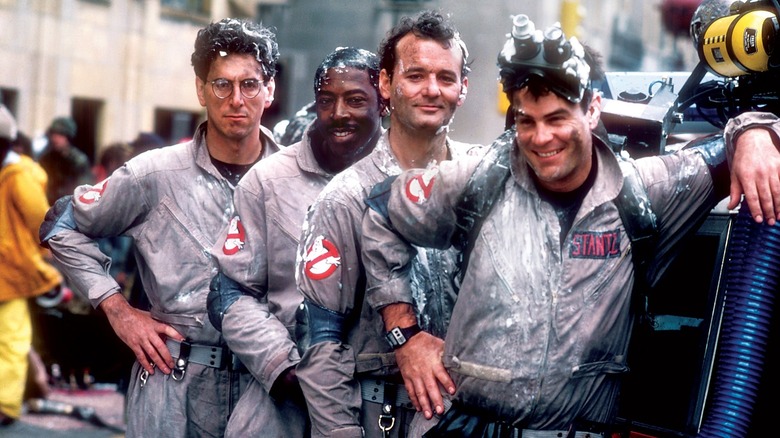 Columbia Pictures
I long for the days when movies came with songs written about the title, a lost artform likely due to it having been perfected with Ray Parker Jr.'s theme for "Ghostbusters." The phrases "Who you gonna call?" and "I Ain't Afraid of No Ghost" are as synonymous with Ivan Reitman's masterpiece as proton packs and the Stay Puft Marshmallow Man, with the theme song continuing to be a certifiable banger and an inarguable earworm after almost four decades. In the wake of Reitman's passing, Ray Parker Jr. raised up his memory by going on record to say that Reitman was part of what made the "Ghostbusters" theme the cultural touchstone it became. "He's the one who picked the song," Parker Jr. said. "Everybody else thought it was a little bit crazy."
As Parker Jr. tells it, there was originally only a need for about 20 seconds of music to play over the legendary opening scene in the New York Public Library. "I had the 'Who you gonna call' and that stuff, but it was really, really short," said Parker Jr. "But Ivan called me up and said, 'I like what you're doing with that, can it be longer? Can you make it a record? Can it be something else?'" Parker Jr. admits that he thought the tune was fine for a moment in a film, but couldn't imagine that the song was good enough to constitute a full hit. "He heard it clearly," he said. "In the parts I turned in, some were supposed to be background parts, but he wouldn't even let me re-sing it!"
Bustin' Makes Me Feel Good!
Reitman told Parker Jr. that he loved the way he was singing it, slang included. They decided to keep the demo because he loved it so much. "He thought it was a hit when nobody else did — including myself!" Parker Jr. went on to make the longer, official version, and Reitman was so into the final sound that he offered to direct the music video for it. The song "Ghostbusters" was the only music video Reitman ever directed. The extended version of the theme song even enjoyed radio airplay upon release, and was nominated for "Best Original Song" at the Academy Awards, losing to Stevie Wonder's "I Just Called to Say I Love You" from "The Woman in Red."
The song has been covered by dozens of artists, most notably Fall Out Boy and Missy Elliott for the 2016 version of "Ghostbusters." Though if there's an award for best cover of Ray Parker Jr.'s classic, the undisputed title belongs to "Potter Puppet Pals" creator Neil Cicierega for his comedic take, "Bustin'" He takes the catchiness of the original and modifies the lyrics just enough to turn the song into a banger about sleeping, bustin', and freaky ghosts.
And we'd be remiss not to mention the hilarious sketch from "Key & Peele" featuring Jordan Peele as Ray Parker Jr. trying to sell a compilation CD collection of his other movie themes, "Ghostbusters" not included. Parker Jr. thought the sketch was "wonderful," and went out of his way when he ran into Peele backstage at the Emmys to tell him how much he loved it.