New Elvis Footage Hails To The King, Trailer Coming On Thursday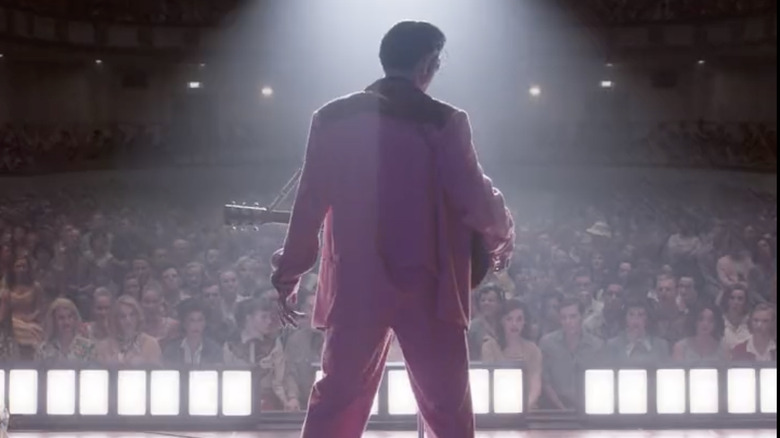 Warner Bros.
Director Baz Luhrmann is continuing to take care of business on this "Elvis Monday," releasing even more footage from his highly-anticipated biopic about the King of Rock and Roll, Elvis Presley. Starring Austin Butler in the titular role, the new footage continues Luhrmann's trend of teasing us with shots from the back, a bird's-eye view, or otherwise concealing the face for the long-awaited reveal of King. What we can see is a lot of iconic hip-swiveling, thigh-shaking, arm-swinging, groin-thrusting, and floor-grinding set to a chorus of screaming fans and a haunting rendition of "Suspicious Minds."
Hey, it's time to TCB!⚡️

I'll have a trailer to share with you all on Thursday…#Elvis #TCB #ElvisMonday pic.twitter.com/NETP7mk1eA

— Baz Luhrmann (@bazluhrmann) February 14, 2022
"Just gotta be making the most of this thing while I can," we hear. "This could all be over in a flash." 
The latest teaser also promises the full trailer for the upcoming Elvis biopic is coming to us this coming Thursday, with the frequently accompanied #TCB hashtag in reference to the Presley band name and his motto, "Taking Care of Business." Plot details have been kept tightly under wraps, but based on the multiple iconic looks of Elvis Presley shown in the 15-second teaser, the film looks to be covering a long period of Elvis' career, as the iconic Bill Belew designed white-jumpsuit was worn for the first time only five years before his untimely death in 1977.
A Flashy Spectacle Fit For a King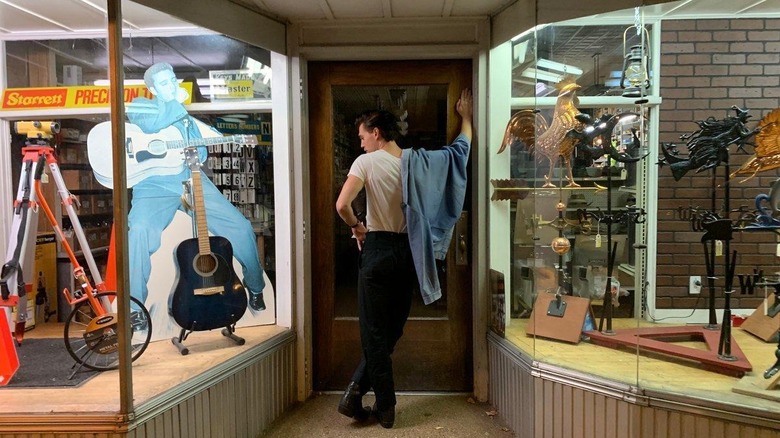 Warner Bros.
Baz Luhrmann is by no means the first person to give Elvis Presley the film treatment, but he's definitely the first to share their innate sense of spectacle and flair. "Romeo + Juliet," "Moulin Rouge!," and "The Great Gatsby" are all larger-than-life productions filled with color, lights, elaborate costuming, and lavish production design, making him the perfect fit for the man who made a gold lamé suit an iconic piece of fashion. Luhrmann is also making sure a new generation is introduced to the King, joining TikTok for the first time specifically to share the teaser footage which features someone breathing fire ... likely an intentional reference to the album "Breathing Out Fire."
The script for the Elvis flick comes from Luhrmann & Sam Bromell, Craig Pearce, and Jeremy Doner, based on a story by Luhrmann and Doner. In addition to star Austin Butler, America's Dad, Tom Hanks, is playing longtime Presley manager Colonel Tom Parker. Olivia DeJonge has nabbed the role of Priscilla Presley and the trio are joined by Yola Quartey, Luke Bracey, Kelvin Harrison Jr., Dacre Montgomery, Helen Thomson, Richard Roxburgh, Kodi Smit-McPhee, Alton Mason, Kate Mulvany, and David Wenham in supporting roles, many of which are other iconic figures and musicians of the time.
The untitled Elvis movie is due in theaters on June 24, 2022.