The Trouble With Super Bowl Ads Is There's No Danger Music, But There Is Jim Carrey As The Cable Guy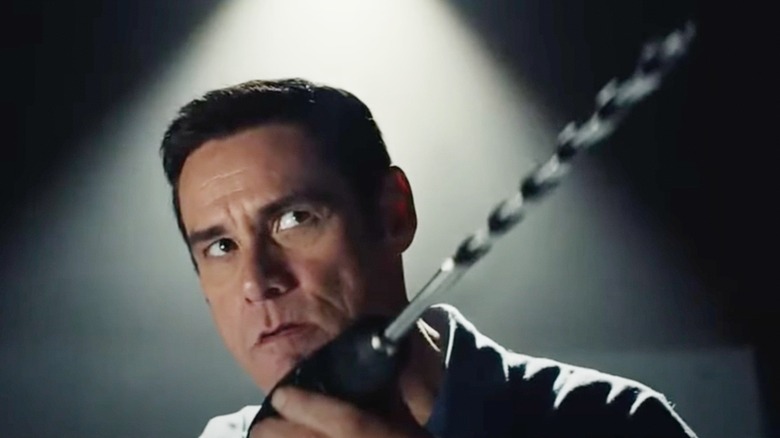 Verizon
It's been over 25 years since Jim Carrey played Chip Douglas, the obnoxious, lisping cable installer who worms his way into the life of an average Joe embodied by Matthew Broderick in "The Cable Guy." Carrey was fresh off the success of "Ace Ventura: Pet Detective," "The Mask," "Dumb and Dumber," and "Batman Forever" when he starred in "The Cable Guy" for director Ben Stiller in 1996. In an age when seemingly every movie character under the sun is resurrected in a legacy sequel — or Super Bowl commercial — The Cable Guy isn't necessarily the first one you would expect to make a comeback, but that's exactly what he has done this Sunday during the big game.
Even before game day, Verizon was posting 10-second teasers on its official YouTube account, priming the world for the (long-awaited, or just random?) return of The Cable Guy. In the first teaser, "Peephole," someone insistently buzzes and knocks on the door of a young woman's apartment. She leans into the titular peephole, and there he is: The Cable Guy, face fisheye-lensed and larger-than-life.
The second teaser, "Suiting Up," features him securing his belt, holstering his tools (and pens, in a pocket protector), and then brandishing a drill. The only description offered below the video is, "Stay tuned for a new way to internet." A date flashes onscreen, "02.13.22," but as any football fan can tell you, that's not the release date for "The Cable Guy 2" or even "Interstellar 2." No, it's the date of Super Bowl LVI, which is now here.
Below, you can see Verizon's full commercial starring Jim Carrey as The Cable Guy.
The Cable Guy Super Bowl Commercial
Was that worth the 26-year wait? You decide. All I'll say is, it's a bit silly to see all the fanfare that companies roll out for their Super Bowl commercials. Not only do we get trailers for movie trailers; now, we also get teasers for Super Bowl commercials, featuring old movie characters.
A few years ago, Joe Pesci returned pre-game as his "Home Alone" character in an ad for Google Assistant, and now here comes The Cable Guy, peddling Verizon's 5G Internet services. "The Cable Guy" has more of a cult-favorite quality than, say, Ace Ventura, but his cable installer job does make him a good fit for a commercial like this, and it shows how times have evolved, since 5G Internet and humanoids escaping the rigors of life through streaming content weren't exactly a thing back in 1996.
Will fans start a Change.org petition demanding the release of "The Cable Guy 2" and the restoration of the CarreyVerse, thanks to this commercial? Will Carrey do an interview in Variety unpacking the motivations behind it, similar to what Matthew McConaughey did this week for his Salesforce commercial (#NotInterstellar2)? Very likely, yes, so you should probably get in on the ground floor and buy as many Cable Guy NFTs and as much 5G Internet from Verizon as you can. (That is not an actual investment tip.)
For your consideration...the extended cut...get comfortable Gen Z...this is 90 whole seconds! :^P pic.twitter.com/IOvjoRTW2f

— Jim Carrey (@JimCarrey) February 14, 2022