Superhero Bits: Rob Liefeld Fuels Doctor Strange 2 Rumors, More Kraven The Hunter Casting & More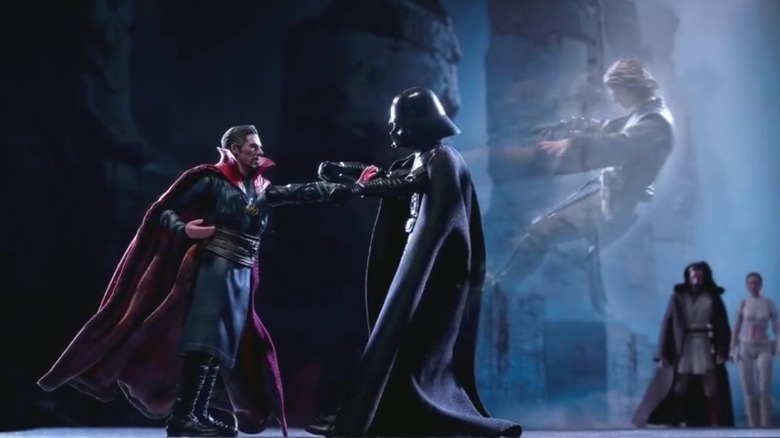 Plastic Action / Disney
(Superhero Bits is a collection of stories, updates, and videos about anything and everything inspired by the comics of Marvel, DC, and more. For comic book movies, TV shows, merchandise, events, and whatever catches our eye, this is the place to find anything that falls through the cracks.)
In this edition of Superhero Bits:
The Arrowverse has a new Joker.
Toby Kebbell comments on his turn as Doctor Doom.
Some interesting rumors regarding the "Kraven the Hunter" movie.
The Winter Soldier does "Hot Ones."
Binary Takes Center Stage In New Captain Marvel Arc
As shared by the official "Captain Marvel" Twitter account, the next arc of the character's ongoing series is going to focus on the character of Binary, who is (or at least was) Carol Danvers' powerful cosmic form. But this version is something else entirely, so the publisher teases. Maybe we're reaching here but could we see Binary in "The Marvels?" Here's a little logline teasing what's to come.
Carol's disappearance has left the newly sentient Binary to fill in, but stepping into the shoes of one of Earth's greatest heroes is no easy feat. As Binary finds herself plunged into a world she barely understands, the questions about exactly who and what Binary is grow deeper. And where IS Captain Marvel anyway?!
The arc begins in "Captain Marvel" #38 which hits stands on May 4.
Batwoman Delivers The First Ever Black Joker In Live-Action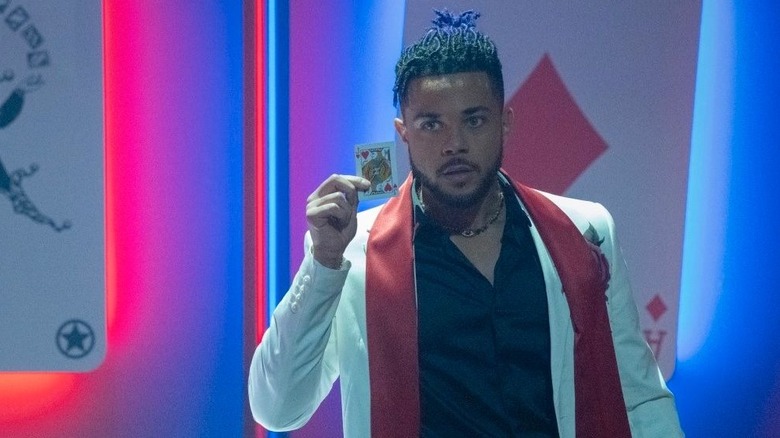 The CW
While we won't spoil anything too specific from the most recent episode of "Batwoman" some history was made as actor Nick Creegan, playing the character Marquis Jet, became the first ever Black Joker in a live-action DC project. This is a completely new iteration of the character and one that will be a big factor when the show returns from hiatus. In an interview with The Wrap, Creegan broke the whole thing down. While he couldn't say if we'll see him in full Joker make-up, he says we will see a new look.
"I can't divulge whether that happens or not. But I mean, everybody would love to put on some face paint. I think that's one of the most cool parts about the Joker. But also, you know, this version is brand new, and we had our own twist on it. So I think you'll be excited to see the new look. In episode eight, you'll see something that's brand new that has never been done by any version of the Joker."
Plus, befitting the character's legacy, Creegan teased that we are going to see "total f***ing chaos" from his version of Joker. So be on the lookout for that when "Batwoman" returns.
Toby Kebbell Reflects On Playing Doctor Doom In 2015's Fantastic Four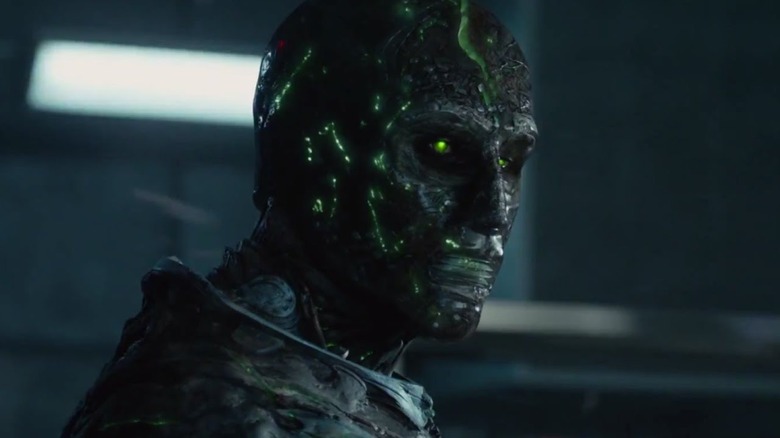 20th Century Studios
2015's "Fantastic Four" is widley considered to be one of the worst superhero movies of the modern era, and it is also a legendarily bad financial bomb. Now, actor Toby Kebbell, who played Doctor Doom in the doomed film, has looked back on the experience in an interview with Forbes. While the actor spoke at length about it, one of the highlights was him talking about going into the project thinking it would be great. Instead, we got a "goofy" take on a classic baddie.
"I truly believe Doom is an awesome villain, he's an excellent villain and they kind of always just do something goofy with it. It's a shame, it's a shame. I honestly feel that way. I wouldn't have gone into it thinking, 'Ah, this is going to be another terrible movie.' I thought they had that."
With any luck, we'll see Victor Von Doom show up in the MCU sooner rather than later, hopefully in all of his excellent villain glory.
Sebastian Stan Does Hot Ones
Bucky Barnes, AKA The Winter Soldier himself, Sebastian Stan is the latest Marvel actor to make an appearance on the wildly popular YouTube series "Hot Ones." While Stan is currently promoting the release of "Pam & Tommy," he's still known primarily for his work in the MCU and, of course, his work as Bucky does come up during the interview. As always, it's an entertaining watch and a solid interview. Check it out in its entirety for yourself above.
Was Kodi Smit-McPhee Offered Chameleon In Kraven The Hunter?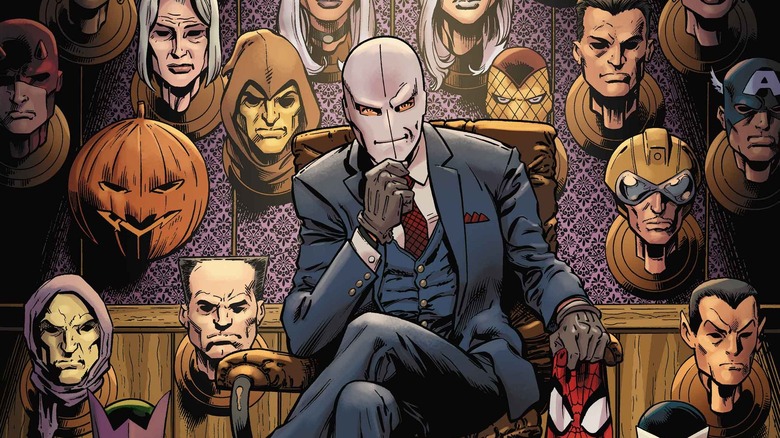 Marvel
Alright gang, it's rumor time! According to reporter Jeff Sneider, who is indeed known for getting insider-y scoops, "The Power of the Dog" star Kodi Smit-McPhee was offered the role of Chameleon in Sony's upcoming "Kraven the Hunter" movie. However, he wasn't able to take the gig.
If you missed it in The Ankler yesterday, Oscar nominee Kodi Smit-McPhee was offered the role of Chameleon in Sony's KRAVEN THE HUNTER movie but I was told a scheduling issue left him unable to pursue it. Stay tuned…

— Jeff Sneider (@TheInSneider) February 9, 2022
So this is revealing in several ways. It appears that Aaron Taylor-Johnson's Kraven will be duking it out with Chameleon who, as the name implies, is a master of disguise. Now, if not Smit-McPhee, who is it going to be? Also of note, Smit-McPhee previously played Nightcrawler in several "X-Men" movies. We did recently learn that Russell Crowe is going to be in the film (more on that in a minute) so things are heating up. This is worth keeping an eye on.
Rob Liefeld Weighs In On Doctor Strange In the Multiverse of Madness Rumors
Deadpool co-creator Rob Liefeld recently stopped by Kristian Harloff's YouTube channel for an interview and the subject of "Doctor Strange in the Multiverse of Madness" came up. Specifically, they were talking about the many, many leaks/rumors that have been making the rounds online. Liefeld, for his part, believes that many of these spoiled surprises are genuine as they are, from his view, coming out of test screenings.
"Here's the deal you all know, I want to know — have either of you been caught trying to sneak into a screening of Doctor Strange 2? ...They are testing the s*** out of this movie. The thing is, uh, they're testing, it's all getting out."
So it seems Marvel Stuios is holding quite a few test screenings for the sequel, which is directed by Sam Raimi. We're certainly not going to get into any potential spoilers here but even though test screening audiences typically sign some form of non-disclosure agreement, some stuff may be getting out there. To what degree Liefeld is actually plugged in on this one remains unclear, but be careful out there on the internet, people. Spoilers abound!
Russell Crowe Is Doubling Down In The Marvel Multiverse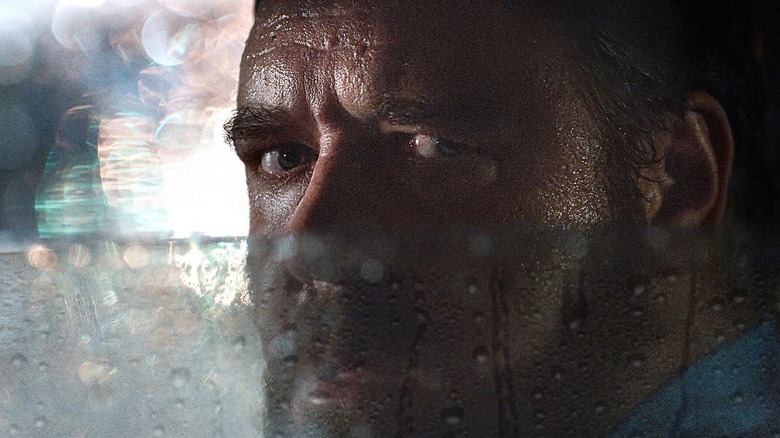 Solstice Studios
As mentioned a moment ago, "Gladiator" star Russell Crowe is going to star in Sony's "Kraven the Hunter" movie, which presumably takes place in the same universe that "Venom" exists in. This is divorced from the main MCU, and that's where things get interesting. Crowe is also playing Zeus in the upcoming "Thor: Love and Thunder," which is due in theaters later this year. This means that there are going to be two characters played by Crowe in the greater Marvel multiverse. Not that there is much more to say on the topic for now, but it is sure as hell interesting to note as the notion of a cinematic multiverse expands.
Darth Vader Meets Doctor Strange (In Toy Form)
Last, but certainly not least, we have a fun little video from Jax Navarro that was shared by "Doctor Strange" director Scott Derrickson on social media. Navarro makes these videos using only action figures and they are truly impressive pieces of work. In this case, we have Doctor Strange meeting Darth Vader for reasons that are not important. Strange pushes Vader's astral form outside of his body, and that form takes the shape of Anakin Skywalker, which is pretty neat. Check it out for yourself above.