The Movie Sylvester Stallone Has Tried To Get In Production For Decades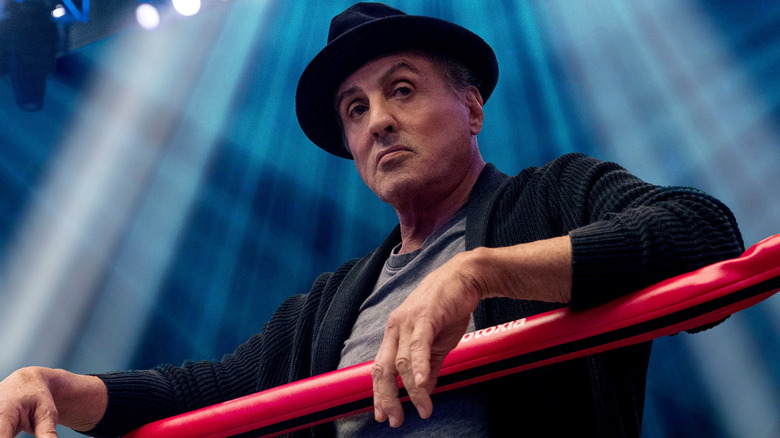 MGM
Few actors remain viable action movie stars into their 70s, but then again, most actors aren't Sylvester Stallone. The "Rocky" and "Rambo" vet has also stayed active behind the camera since he started directing all the way back in the late 1970s, having only just released an extended cut of "Rocky IV" in honor of the boxing sequel's 35th anniversary in November 2021. He's not one to easily quit, in other words, which is why he's spent decades trying to realize his dream project: An Edgar Allan Poe biopic.
Yes, you read that correctly. Sly, who's best known for killing and/or pummeling people with his bare fists on-screen, has long wanted to make a film about the renowned author and poet often credited with inventing the modern detective genre. The "Tell-Tale Heart" and "Cask of Amontillado" writer led a life much like one of his stories in that it was full of dark and disturbing events — like when Poe married his then-13-year-old cousin, Virginia Clemm, who would go on to die from tuberculosis at 24 (five years after she contracted the disease). As for Poe, he eventually died at the age of 40 in 1849, the result of what could've been a combination of factors, including his alcoholism and deteriorating mental health.
Stallone's Poe biopic has, quite literally, been in the works for longer than Poe was alive. Sly confirmed as much in a video posted to his Instagram account in January 2019, which revealed a script draft he wrote for "Poe" (as the project is titled) that dated back to March 1, 1979. He went on to reveal that he's still working on making the movie a reality, explaining:
"It's a never-ending journey, and I would hate myself if I don't continue it at least to the best of my ability and try to see it actually come to fruition. To be able to go out there and say, 'I accomplished it. It may have taken 45 or 50 years, but it's done.'"
What Poe Could've Looked Like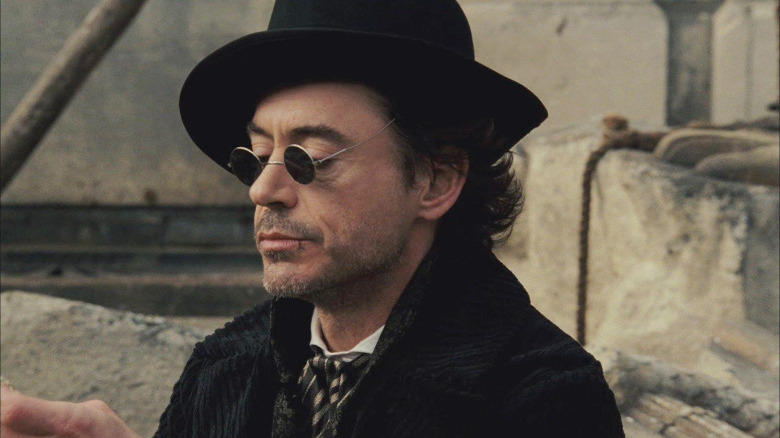 Warner Bros.
The same year he wrote, directed, and starred in 2006's "Rocky Balboa," Sly made it clear just how serious he still was about making "Poe" a reality. He described his vision for the film at the time to Ain't It Cool News, stating:
"For POE I'd like to focus on a muted color texture for the present day scenes and when we delve into the recesses of [Poe's] mind, which I will do quite often to see the creations of his extraordinary stories as they unfold in his sub-conscience, they will be portrayed in muted colors and with vivid contrast. The whole point is to show Poe as a normal struggling artist who had highs and lows like all of us and not portrayed as he usually is as a somber, morbid, introverted alcoholic with flashes of brilliance."
On top of writing and directing, Stallone had also once intended to star in "Poe." He confirmed as much when he posted a photo of himself as a younger man in a top hat and old-fashioned suit to his Instagram account in September 2017, describing it as the "only surviving picture" of his original costume design for the movie. Obviously, however, Sly had abandoned that idea by the late 2000s, having long since aged out of the role. Instead, he had his eye on casting none other than Robert Downey Jr.
Downey Jr. revealed he had read the "Poe" screenplay in April 2009, telling Metro (via JoBlo), "Stallone wrote a great script that he wants to direct about Edgar Allan Poe." This was also eight months before the Guy Ritchie-helmed "Sherlock Homes" hit theaters at the end of that same year. As such, it seems Sly was interested in hiring Downey based on his turn as Tony Stark from 2008's "Iron Man" (a fictional character who shared a number of traits with the real-life Poe, both good and bad) and his earlier dramatic work, as opposed to his performance as the 19th-century crime-solver (one born out of the very genre that Poe helped create) in Ritchie's movie.
Why Poe Didn't Happen... and Whether It Ever Will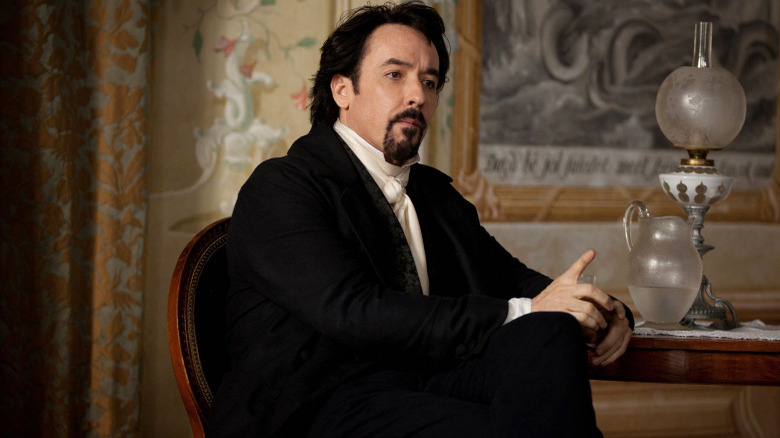 Relativity Media
So, why hasn't "Poe" become a reality yet? The reason, as you almost certainly guessed, is that most producers in Hollywood are far more interested in making action movies with Stallone, not an Edgar Allan Poe biopic. As Sly put it in 2013 (via the Huffington Post):
"I keep telling my ['The Expendables' franchise] producer Avi Lerner, 'Make Edgar Allan Poe!' He says, 'Does he have a gun?' 'No, he doesn't have a gun.' 'Can he throw a knife?' I say, 'No, he writes poetry!'"
Funnily enough, the year before Sly made those comments, "V for Vendetta" and "Ninja Assassin" director James McTeigue released his own movie about Poe. Titled "The Raven" in honor of Poe's classic 1845 poem, the film is a crime-thriller that takes place during the last days of the author's life and pits the fictionalized Poe (as played by John Cusack) against a serial killer who models their crimes after his stories. "The Raven" was also a poorly-reviewed box office flop, which no doubt only further hurt Sly's efforts to get anyone to take his vision for "Poe" seriously.
In spite of this, Stallone's Instagram post from 2019 suggests he still hopes to make "Poe" a reality. He's never stopped revising his initial script, either; as of 2013, he estimated it's "gone through 20 mutations. Every few years, I take it out and rework it and update it..." Stallone might even have more luck shopping it around now, given the high demand for mid-budget movies among streamers looking to build up their libraries of exclusive films. The only problem is that Netflix is already moving forward with its own Edgar Allan Poe movie titled "The Pale Blue Eye," an adaptation of Louis Bayard's mystery-thriller novel starring Harry Melling as Poe. So, until further notice, it seems Sly's biopic may've been beaten to the punch by a fictional take on Poe's life yet again.