Willem Dafoe Likens His Acting Motives To A 1960s Sex Documentary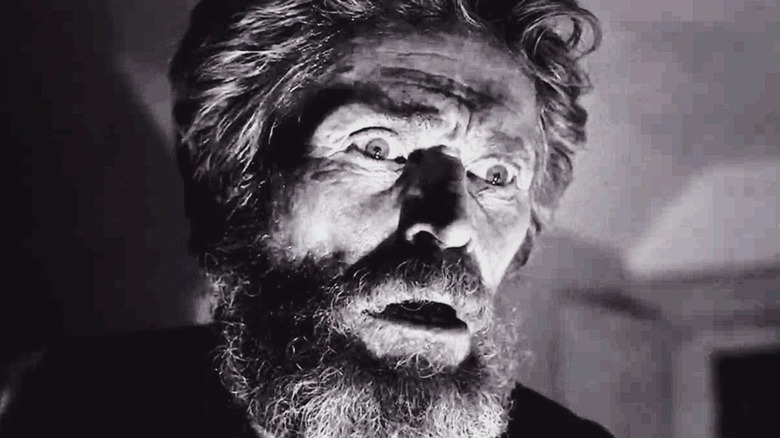 A24
A great interview makes you feel like you've got a first class ticket into someones mind, but a great interview subject makes you feel like you were bumped from coach to first class for free. When a subject is smart, interesting, and open, you've got the perfect cocktail for an excellent read. Considering Willem Dafoe's talent, approach, and general vibe (as the kids would say), it's no surprise that his conversation with Mark Ruffalo in Interview is a pure delight. I mean, Ruffalo did fine, he seems like a nice man, but Dafoe jumps right off of the pages, delivering some sweet and sparking lines about how he views his acting career. The magic of Dafoe is that he seems just as charming as you think he would be.
And the crux of that interview is Dafoe's sweet, and somewhat sexy, relationship with acting. In a job that can come off as mainly ego-driven, it seems like most actors try to distance themselves from the less-pure aspects of their careers. When talking about their motivation to act in certain movies, or to act at all, you hardly see actors speak on the capitalist pros to being a successful professional actor, like good branding and gobs of money and power. Dafoe doesn't dig into that, although he does talk about his negative perception of the concept of ambition, but he does sidestep the self-serving stuff in a way that comes off as genuine. When Dafoe describes acting like it's a volunteer group project, you believe him:
"My father's whole identity was in his work, as well as my mother's. There's something about making things that gives you energy. Probably the scariest thing is a complacency or a kind of deep, deep depression about what your job is, what you're here for. Somehow when you're in a community of people making something, you feel useful, like you're the storyteller in front of the campfire. You're doing a service."
And Then He Starts Talking About A Sex Documentary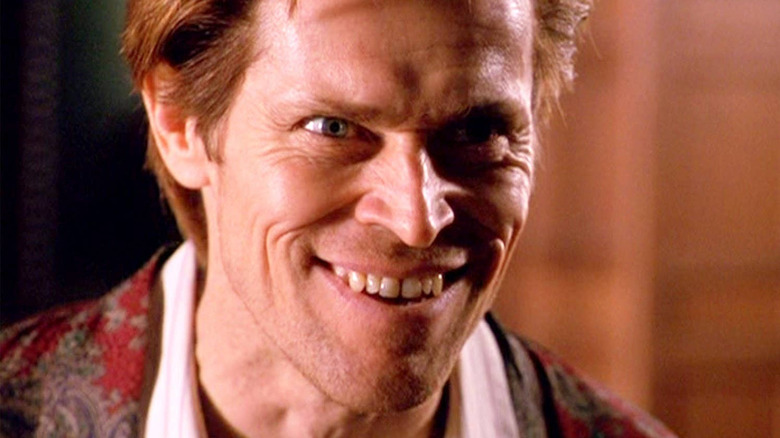 Sony
Dafoe doesn't stop there. He digs in deeper, referencing the power of pop culture and his privilege to be one of its purveyors:
"That service is playing up these stories. You're putting yourself in a situation where you're having an experience, and hopefully it's transparent and truthful enough that people can go with you and have that experience, too. It's a privileged position."
I love a good recommendation, and Dafoe seems more than happy to supply us all with a fun one. Towards the end of his thoughts about acting, and his own personal understanding of his career and his motivation to keep doing the damn thing, he cites Pier Paolo Pasolini's "Comizi d'Amore." I would describe the documentary myself, since that's my job and I too have my own complicated feelings and motivations for continuing to do it, but it sounds more fun when Dafoe does it:
"It makes me think of [Pier Paolo] Pasolini, who made a very beautiful documentary in the '60s where he went around Italy and interviewed all kinds of people about sex. It wasn't lurid at all, it was very straightforward and direct. I think you can see it on YouTube, 'Comizi d'Amore."'The thing that struck me is that people don't know how they feel about sex. They take their sexuality from society, or things outside of them, and then they try it on for size. It's not just about sexuality, it's about how people live. They learn from watching stuff outside of themselves."
Unsurprisingly, Dafoe is right, "Comizi d'Amore" is very much on YouTube. Also, who else would lean so heavily on a 1960s sex doc to describer their passion and the importance of their career? Dafoe is every interviewers dream. He's a subject that lets you sink into the background while his personality floats to the top. If Dafoe's drive to be in every big movie ever (from "The French Dispatch" to "Nightmare Alley" to "Spider-Man: No Way Home" just in 2021 alone) means we get more of this, what a treat for us.