Hail Mary: Boardwalk Empire's Jack Huston And Westworld's Angela Sarafyan Will Star In Biblical Fantasy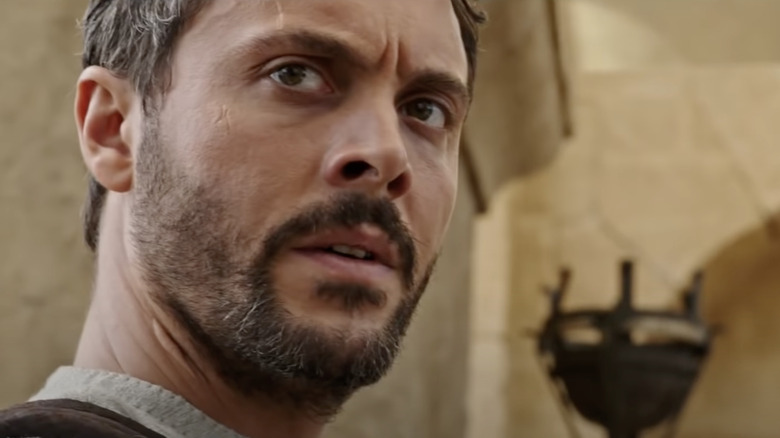 MGM/Paramount
If you saw the fallen-angel rock monsters in Darren Aronofsky's "Noah" and thought, "I would like more biblical fantasy films, please," then the upcoming "Hail Mary" might be right up your alley. Bonus points if you thought, "I would like at least two actors from prestige HBO dramas to star as angels."
Jack Huston, who played the one-eyed war veteran Richard Harrow on "Boardwalk Empire," and Angela Sarafyan, who has played the first-gen host and saloon gal Clementine Pennyfeather on "Westworld" for three seasons, will costar in "Hail Mary," a film that puts a modern twist on the idea of biblical fantasy. The movie retells the story of Jesus Christ's human parents, Mary and Joseph, here reimagined as Maria and Jose, and played by Natalia del Riego and Benny Emmanuel.
"Hail Mary" is financed by Sparkhouse Media, and the production company's official synopsis (via Variety) indicates that Maria and Jose are "attempting to get across a closed U.S. border" via a tunnel under the Rio Grande river used by Mexican drug cartels. Did I mention that the devil's right-hand man, Baal, is chasing them, along with ICE and U.S. border patrol? You probably already guessed that part.
Huston, who also starred in the faith-based remake of "Ben-Hur," will play Baal, seemingly a fallen angel, and Sarafyan will play the archangel Gabrielle. So there you go: you've got your angels. And yes, there will be an epic battle between them, and yes, the Second Coming is also involved.
'It's hard not to root for all of them'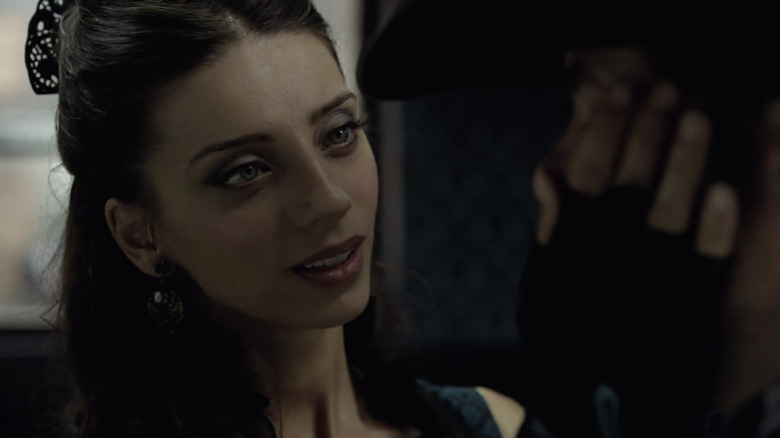 HBO
Rosemary Rodriguez is directing "Hail Mary" and the screenplay is written by Knate Lee. Rodriguez has an extensive background in television, most recently helming the fifth episode of HBO Max's "Peacemaker" and three episodes of "Home Before Dark." Lee was one of the writers providing concepts for "Jackass Forever," and he also served as a producer and writer on the CBS All Access streaming adaptation of Stephen King's "The Stand."
"The Stand," or something like "The Prophecy" with Christopher Walken, seems like a good reference point for "Hail Mary," though obviously the border-crossing aspect adds a new contemporary wrinkle. In a statement to Variety, Rodriguez provided some more details about the characterizations in the film, saying:
"Natalia Del Riego brings raw, authentic emotions to Maria; Benny is the joy of life as Jose; Jack twists our notion of the devil Baal so that he's not only dangerous, but he's fun, charismatic and curious; and Angela brings an otherworldly grace to the warrior Archangel Gabrielle. It's hard not to root for all of them."
The full synopsis for "Hail Mary" is as follows:
"Maria (Riego) is an immigrant from Belize who finds herself mysteriously pregnant. She's following the North Star, attempting to get across a closed U.S. border. She's being chased by the right-hand man of the devil, Baal (Huston). Helping her is Jose (Emmanuel), a scrappy carpenter who happens to have built a tunnel under the Rio Grande for the Cartels. ICE and U.S. border protection enter the chase. The film culminates in an epic battle between the archangel Gabrielle (Sarafyan), who provides protection for Maria when Baal shows up ready to make sure the second coming goes his way."
"Hail Mary" is currently shooting on location in Mexico City.