The Book Of Boba Fett Season 2 May Not Be Confirmed, But Temuera Morrison Has An Idea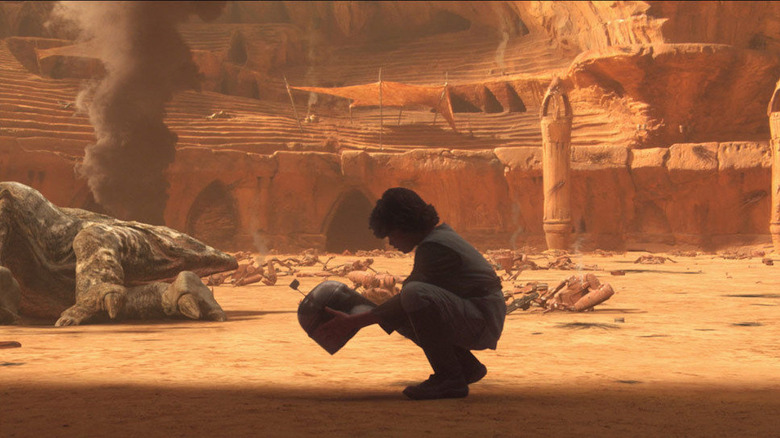 Lucasfilm
If your favorite character in an epic franchise dies, there's a good rule of thumb that you can take solace in: If you don't see their corpse, then there's a small chance that they're not really dead. This especially applies in "Star Wars." Darth Maul somehow survived his encounter with Obi-Wan Kenobi. For some ridiculous reason, Palpatine remained a presence in the shadows of a galaxy far, far away in order to be a main player in "Star Wars: Rise of Skywalker." And we're all still crossing our fingers for Max Rebo in the hopes that he wasn't performing at Garsa Fwip's Sanctuary on the day that the Pyke's attacked.
But the most prominent example has to be Boba Fett. Before resurfacing in "The Mandalorian" and spinning off into "The Book of Boba Fett," the feared bounty hunter was assumed to be rotting in the Sarlacc pit thanks to the events of "Star Wars: Return of the Jedi."
With all that in mind, what's stopping Samuel L. Jackson's Mace Windu from returning from the dead? Despite getting force-pushed out a window after getting his arm cut off, he could still be walking around somewhere since robotic limbs apparently aren't hard to come by in this universe. But if he is, then Temuera Morrison would like to find him.
Go Where The Wind(u) Takes You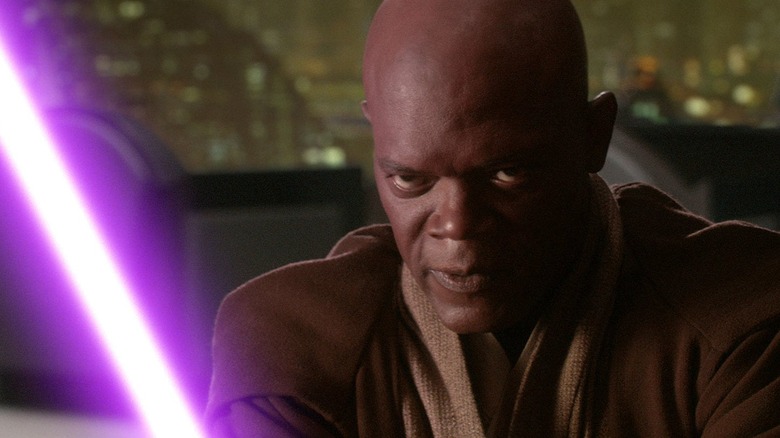 Lucasfilm
To promote his Disney+ series, Morrison and co-star/badass Ming-Na Wen spoke to IMDB about how their characters would fare in a fight against various "Star Wars" characters. After going through some heavy hitters like Darth Vader and Master Yoda, the actor under the infamous bounty hunter's helmet took pause when the interviewer brought up Windu because, if he's given the opportunity, he'd be out for revenge.
"Being a young teenager, fatherless and making his own way, he's got a few chips on his shoulders. I think that we'd better let Jon Favreau know that we should have another series where I start looking for Mace."
A second season of "The Book of Boba Fett" has not been confirmed yet. After all, it's really just the third chapter of "The Mandalorian." After "Star Wars" made a big deal about adding "Episode" whatever to the title of each movie, I wouldn't be surprised if the title for this show is changed down the line to "The Mandaloran: Book of Boba Fett" since the last two episodes only featured the new daimyo of Jabba the Hutt's territory for less than five minutes. However, if Fett's adventures do continue after this season, then crossing paths with Windu would make a lot of sense. Our own Ryan Scott lays out a great argument for why it could happen, but it all boils down to this: "Star Wars" has done this before. Samuel L. Jackson has been holding out hope for years and is down to bring back his Jedi Master whenever he gets the call. And Dave Filoni has never been one to stray away from fan service (as we saw in the last episode of "The Book of Boba Fett," which he directed).
So if Morrison is game and Jackson is game, why wait? The boxing world waited for Pacquiao vs. Mayweather so long that it became irrelevant. Hopefully Lucasfilm and Disney don't make the same mistake with this highly-anticipated rematch/grudge match. (You know, since Morrison also played Boba's dad, Jango Fett.)