Paramount And Nickelodeon To Smurf Up Multiple Smurfy New Movies In The Smurfs Franchise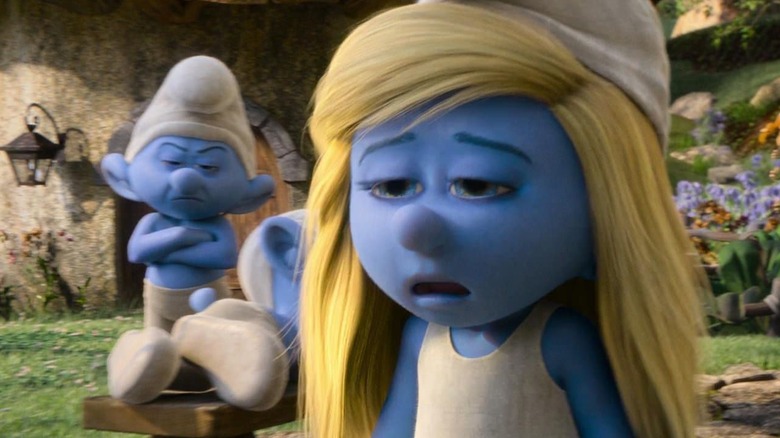 Sony Pictures
Paramount has been making waves over the last several months with massive deals for new orders of "South Park" and "Star Trek," but today brings an announcement of a different color. The studio has set yet another new content deal for a whole lot more of your favorite diminutive blue humanoids: Paramount Animation and Nickelodeon Animation will now be joining LAFIG Belgium and IMPS in a deal to produce more multi-media content based on "The Smurfs" franchise. The partnership will first see production start this year on a new animated musical film intended for a December 20, 2024 release. That movie will be written by Pam Brady ("South Park," "Team America"), with a director yet to be announced. 
The Smurfs, based on the work of Belgian artist Pierre Culliford (as Peyo) beginning in 1958, are no strangers to the screen, having seen a host of adaptations prior to Sony Pictures' recent trilogy of Smurf films, "The Smurfs," "The Smurfs 2," and the reboot "Smurfs: The Lost Village." The new deal will see a broad expansion of Smurf content in both films and TV.
Don't Worry, Smurflings, There's Enough Smurf Content To Fill A Dozen Smurf Villages
Sony Pictures
The major new Paramount and Nickelodeon endeavor will see the creation of multiple movies in addition to the forthcoming musical outing. Ramsey Naito, president of animation for Paramount Animation and Nickelodeon Animation, spoke Monday about the deal and the forthcoming film:
"Nickelodeon is the home to some of the world's most popular family franchises and we're honored to add The Smurfs to that roster. We're excited to tell a story that stays true to its origins, but with a Smurf-tastic musical twist that excites new audiences and builds on the Smurfs franchise and universe of wonderful characters and stories."
In addition to the films, Nickelodeon, LAFIG Belgium, and IMPS have ordered a 26-episode second season of the CG-animated "The Smurfs" series for TV. The original series launched in September 2021 in the U.S., airing on Nickelodeon internationally alongside some European public stations. 
The 2024 animated film will be Nickelodeon Animation's second CG-animated theatrical production following the Jeff Rose-directed "Teenage Mutant Ninja Turtles: The Next Chapter," which is currently slated for release on August 4, 2023.