The First Trailer For Amazon's The Lord Of The Rings: The Rings Of Power Will Drop On Super Bowl Sunday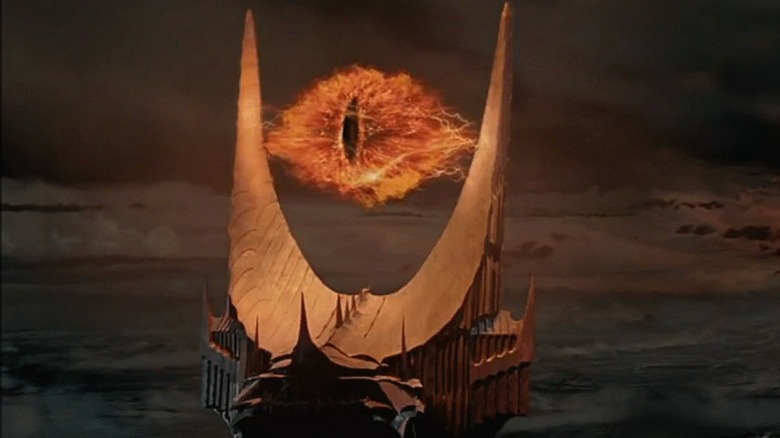 New Line Cinema
Ever wonder what major and minor events happened to take place on a given day in "The Lord of the Rings" history? As with practically everything else, there's a Twitter account for that. Throughout the first week of February, for instance, the Fellowship rested in the dreamlike realm of Lothlórien while recovering from their grief over the loss of Gandalf. If we look ahead next week to February 13, well, our heroes were still there and absolutely nothing of note happened in Middle-earth. (That said, on the very next day, Frodo looked into the Mirror of Galadriel.) On February 13 in our reality, however, all of America will grind to a standstill in celebration of the Super Bowl. As you may have begun to expect with this completely tenuous preamble, "The Lord of the Rings" and Super Bowl are about to intertwine in a big way this year. (Full disclosure: we chose the above image simply because the Eye of Sauron vaguely resembles the shape of a football. Some imagination may be required. As you were.)
You might think that the big matchup between the Los Angeles Rams and the Cincinnati Bengals would be the must-see event of the day, but that honor just might go to "The Lord of the Rings: The Rings of Power" instead — that is, among a certain group of passionately nerdy fans, at least. The upcoming Amazon series is about to make quite a splash, as the studio revealed that we're set to receive our best and most extensive look at the new series yet. This Sunday, fans will be eager to know that they can light up the beacons and keep a sharp look out for the Super Bowl trailer for the highly-anticipated new series.
Middle-earth Gets Football Fever
The news of "The Lord of the Rings: The Rings of Power" debuting its first official footage on Super Bowl Sunday comes from Amazon, who retweeted a video on Twitter teasing the announcement ... although with the added wrinkle of requiring some Elvish translation.
For those of you who left their Elvish-to-English dictionaries at home (don't make that mistake next time though, please), the Elvish characters in the brief announcement video translate to "Sunday," as pointed out by many online. Marketing for this "The Lord of the Rings: The Rings of Power" series has kicked off in earnest recently, beginning in January with the official title reveal and accompanying video that ended up preceding last week's onslaught of character posters galore – 23 in total! We can expect our first look at the style and tone of the upcoming series, its visual similarities to (or, more likely, differences from) Peter Jackson's "The Lord of the Rings" and "The Hobbit" trilogies, and perhaps even some of the new original score composed by Middle-earth veteran and potential returnee, Howard Shore.
Created by showrunners J.D. Payne and Patrick McKay and with the first few episodes directed by filmmaker J.A. Bayona, the ensemble cast of "The Rings of Power" include Cynthia Addai-Robinson, Robert Aramayo, Owain Arthur, Maxim Baldry, Nazanin Boniadi, Morfydd Clark, Ismael Cruz Córdova, Charles Edwards, Trystan Gravelle, Sir Lenny Henry, Ema Horvath, Markella Kavenagh, Joseph Mawle, Tyroe Muhafidin, Sophia Nomvete, Lloyd Owen, Megan Richards, Dylan Smith, Charlie Vickers, Leon Wadham, Benjamin Walker, Daniel Weyman, and Sara Zwangobani.
Expect the series to debut on Amazon Prime Video on September 2, 2022 (which, speaking of important dates in "The Lord of the Rings" history, coincides with the anniversary of original author J.R.R. Tolkien's death).