Clips Round-Up: Breaking Bread Brings Peace Through Food, An Intense Lockdown, & More! [Exclusive]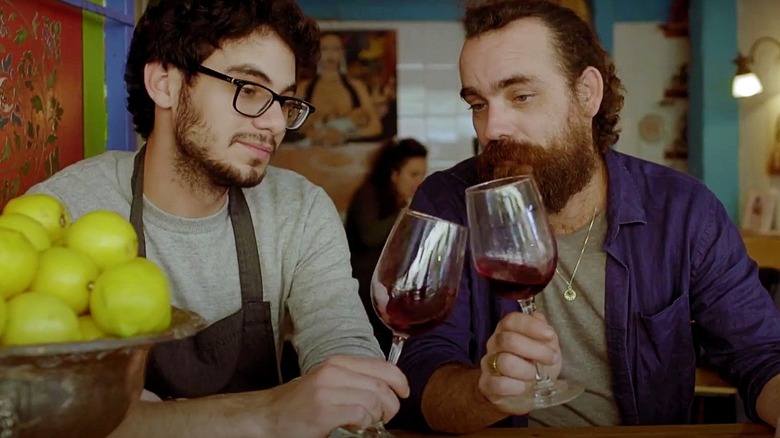 Cohen Media
(Welcome to SlashClips, a series where we bring you exclusive clips from hot new Digital, Blu-ray and theatrical releases you won't see anywhere else!)
In this edition:
Breaking Bread
Lockdown
Alone With You
Breaking Bread
Our first exclusive clip this week comes from the flavorful documentary "Breaking Bread," which Cohen Media Group will release to theaters beginning on February 04, 2022. Directed by Beth Elise Hawk, the film looks to be destination viewing for foodies.
Here is the official synopsis:
"Breaking Bread" follows Arab and Jewish chefs in Haifa, Israel as they collaborate in the kitchen. Connected through a shared love of food, the chefs unite to celebrate their cultures and the food of their region free from political and religious boundaries. Welcome to the A-Sham Arabic Food Festival. Founded by Dr. Nof Atamna-Ismaeel, the first Muslim Arab to win Israel's MasterChef, the festival invites Arab and Jewish chefs to celebrate their shared culinary history as they exchange stories, recipes and techniques. A celebration of the region's diverse cuisines and people, "Breaking Bread" offers a mouth-watering taste of rich culinary traditions that will leave you wanting more.
Lockdown
Uncork'd Entertainment has provided us with an exclusive clip from their action-thriller "Lockdown," starring WWE Hall of Famer Kevin Nash ("John Wick," "The Punisher"). Check out the above clip featuring an intense confrontation, and be sure to check out the film out now on DVD and VOD.
Here is the official synopsis: 
An action-thriller in the vein of the John Wick and Equalizer film series, the film tells of an angry mob, fed up with a deadly virus that has wiped out most of the population, that attack a school to rid their city of those they suspect are spreading the disease. One man must rescue his sister and fight his way out, against the armed militia.
Alone With You
Finally we're ending this week on a lovely note with a sweet scene from Dark Star Pictures' LGBTQ horror film "Alone With You," which stars Emily Bennett ("King of Knives"), Emma Myles ("Orange Is the New Black"), Dora Madison ("Friday Night Lights") and the legendary Barbara Crampton ("You're Next"). We're not sure if the rest of this film is as serene as this scene, but enjoy it while it lasts! 
Written and directed by Bennett and Justin Brooks in their feature film debut, and produced by Andrew Corkin ("Martha Marcy May Marlene") and Theo James ("Divergent") under their Untapped banner, "Alone With You" will hit theaters on February 4, 2022 and on demand, digital and DVD February 8.
Here is the official synopsis:
As a young woman painstakingly prepares a romantic homecoming for her girlfriend, their apartment begins to feel more like a tomb when voices, shadows, and hallucinations reveal a truth she has been unwilling to face.