Here's Where You Can Stream Or Buy Every Season Of The Flash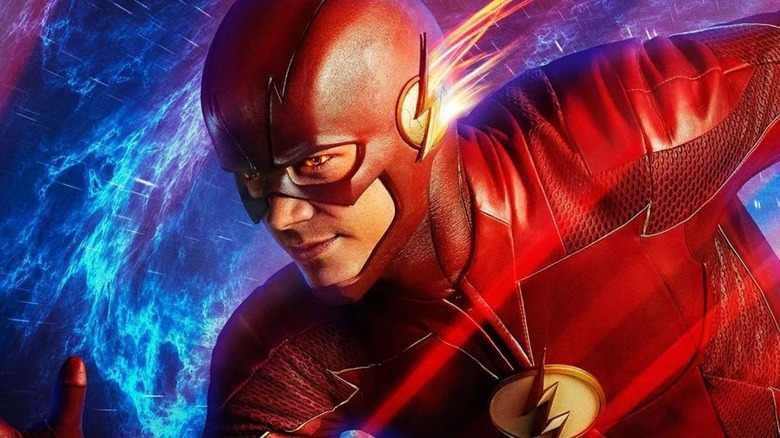 The CW
One of my favorite things about "The Flash" is that it feels straight out of a comic book story. It's easily one of the most fun superhero television shows of its time, has brought some fan-favorite supervillains to life, and can keep you invested without getting too cheesy. It also helps that Barry Allen (Grant Gustin), Caitlin Snow (Danielle Panabaker), and Cisco Ramon (Carlos Valdes) are an incredible group of people to hang out with during the show's eight-season tenure.
"The Flash" has been airing on The CW since 2014. With the remainder of season 8 arriving later in March this year (and the door open for a potential season 9), now might be a good time to catch up on "The Flash" or even watch it for the first time. It's more than just the story of a guy who woke up from a coma and discovered he had abs and super speed. If you stick with it, you'll be surprised with a gripping story that has terrific action sequences, a supportive found family that you will root for, and an ingenious glimpse into what happens when you're the Fastest Man Alive. 
Here's a handy guide on how to stream or buy every season of "The Flash."
Where You Can Stream The Flash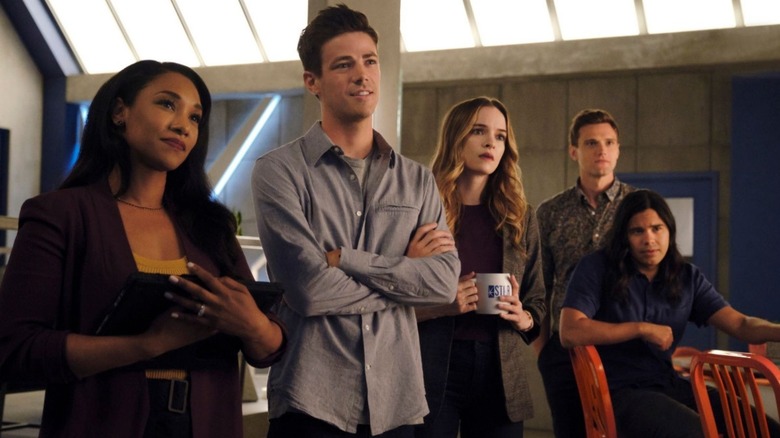 The CW
I remember it like it was yesterday — the excitement of waiting for the new episode of "The Flash" on Wednesdays. I was always asking too many questions: Who will they kill this time? Will Barry Allen and Iris West finally get together? Will the gang's intelligence override the supervillain's malicious intentions? Which bad guy do we tackle this week? Luckily, it isn't 2014 anymore, and you can catch "The Flash" whenever you like, on multiple digital streaming platforms.
Fans will be happy to know that Netflix has all seven seasons of "The Flash" available for streaming, so if you already have a subscription, all you have to do is search for the title! Season 8 has released five episodes so far, but here are some details on that: the five-episode crossover-like event serves as the beginning of season 8 and is known as "Armageddon." Although unavailable on Netflix, you can watch all episodes on The CW app and cwtv.com. New episodes of "The Flash" season 8 will resume airing on The CW from March 9 at 8 P.M. EST.
Where You Can Buy The Flash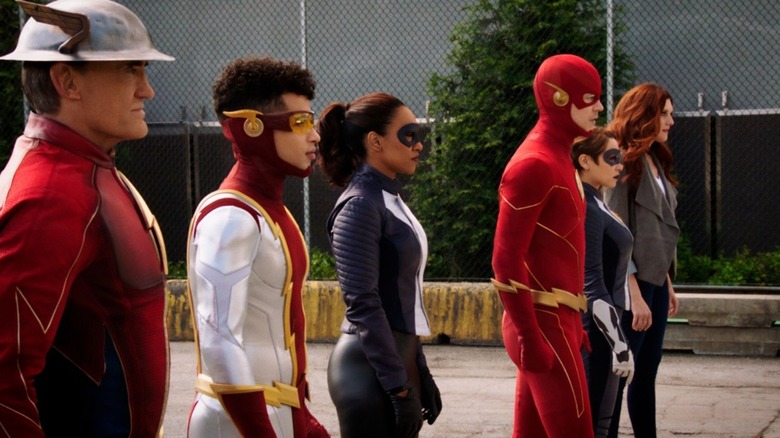 The CW
If you don't have access to the above streaming platforms, you can buy or rent all eight seasons of "The Flash" on Vudu, Amazon, and iTunes. On Vudu, you can buy each episode for $1.99 or the entire season — which is available for purchase and costs between $24.99 and $29.99. Amazon also offers all eight seasons of the Arrowverse series, seasons 1-7 are available for standard and HDX formats at a flat fee of $1.99 and $2.99 an episode and $24.99 for the entire season. "The Flash" season 8 can be yours for $2.99 an episode and $29.99 for the complete season.
iTunes has all chapters of "The Flash" at $2.99 an episode, and individual seasons can be yours, starting from $24.99 to $29.99. I also feel compelled to tell you that the show is on Blu-ray and you can get it from Amazon! The early seasons are priced between $21 and $22, while season 7 can be purchased at $56. Fans can also pre-order the season 8 Blu-ray for $44.98.
"The Flash" is a fascinating adaptation of the superhero as he comes to terms with his power of speed. It's also a lot of fun to watch — it's light-hearted, full of laughs, and can still be plot-driven and emotional. It is one of the few television shows out there that explores the unfathomable joy of being a superhero. You will not be disappointed. Happy viewing!