The Morning Watch: Eternals Honest Trailer, Christopher Lloyd Career Breakdown & More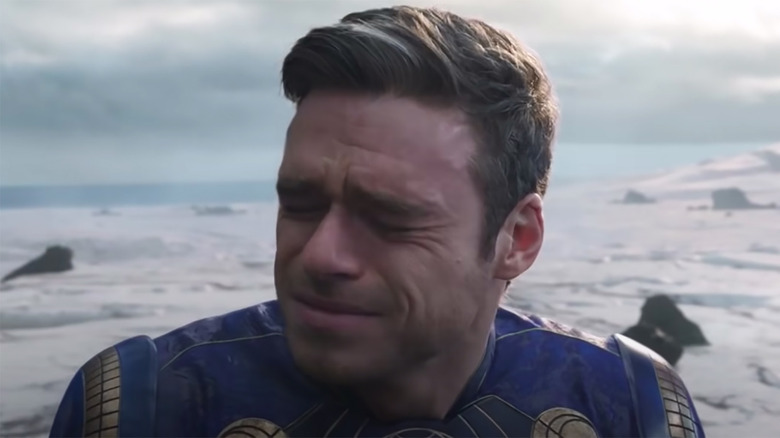 Marvel Studios
(The Morning Watch is a recurring feature that highlights a handful of noteworthy videos from around the web. They could be video essays, fan-made productions, featurettes, short films, hilarious sketches, or just anything that has to do with our favorite movies and TV shows.)
In this edition, listen as Honest Trailers digs into Marvel's "Eternals," featuring an all-star cast of cosmic beings who are as hot as they are sad. Plus, listen as the legendary Christopher Lloyd breaks down his career, from "Back to the Future" to "The Tender Bar" and a handful of movies in between. And finally, go behind the scenes of "House of Gucci" with an extensive featurette that includes commentary from director Ridley Scott, star Lady Gaga, and much more.
Eternals Honest Trailer
First up, are you ready for the Marvel Studios movie featuring characters that you probably haven't heard of before? Of course you are! What you might not be prepared for is the first Marvel movie that abandons a lot of green screen for practical locations with stunning cinematography. Then again, as the Honest Trailer from Screen Junkies points out, the real problem with "Eternals" is trying to keep track of the ensemble cast, who are introduced and re-introduced to make sure we know exactly who they are. 
Christopher Lloyd Career Breakdown
Next, in honor of the Amazon Prime Video release of "The Tender Bar," GQ brought in Christopher Lloyd to take a look back at a few key roles from his career. Yes, he spends plenty of time talking about "Back to the Future" and the sequels, but he also discusses the sitcom "Taxi," the classic "One Flew Over the Cuckoo's Nest," and his turn as a villain in "Star Trek III: The Search for Spock."
Behind the Scenes of House of Gucci
Finally, MGM has provided an in-depth look behind the scenes of "House of Gucci" in this featurette that's nearly 30 minutes long. Learn about the story, characters, and all the hard work that went into the movie from director Ridley Scott. Listen as the filmmaker talks about bringing this outrageously true story to life with Lady Gaga, Jared Leto, Adam Driver, Al Pacino, Salma Hayek, and Jeremy Irons