The Philadelphia Story Ending Explained: Convolution As Comedy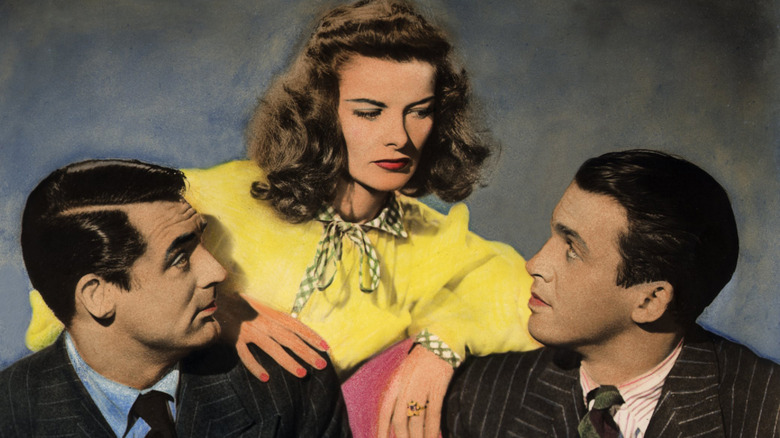 United Archives/Getty Images
Once upon a time, romantic comedies consistently proved to be one of Hollywood's greatest exports. Pairing a couple of the biggest and most beautiful movie stars in the world so they fall in love with one another, all while participating in wild antics and delivering witty banter, was an escapist thrill on par with the grandest visual spectacle money could buy. They were critically acclaimed, made a lot of money, and actually won Academy Awards. Nowadays, having a romantic comedy even play in a movie theater feels like a triumph, as the genre has been relegated to movies that are mostly sent straight to streaming, given small budgets, and usually star teenagers. A film like "Marry Me" has become an anomaly.
If you thought the premise of "Marry Me," where a pop star picks a random guy out of the audience to marry, was convoluted, the machinations and conceits at play in "The Philadelphia Story," one of the greatest romantic comedies of all time, are downright labyrinthian. George Cukor's 1940 adaptation of Philip Barry's play of the same name features a collection of characters played by Katharine Hepburn, Cary Grant, and James Stewart, arguably the biggest flex of above the title billing in film history. The film features so many shifting motivations and relationships that by the time it's over, you'll find yourself thinking, "Wait, who ended up with whom? And why?" In fact, the central couple at the end of the film may downright dissatisfy some audiences. Let's all take a deep breath and work through this together.
What Is The Philadelphia Story Actually About?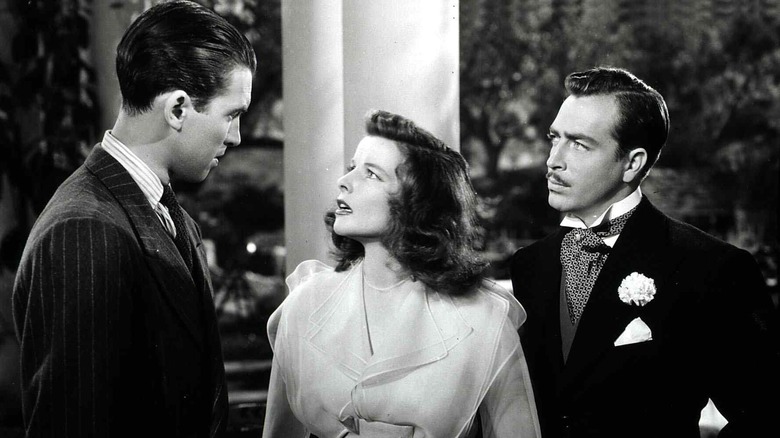 United Archives/Getty Images
"The Philadelphia Story" focuses on the few days leading up to the approaching nuptials between old money socialite Tracy Lord (Hepburn) and new money coal mining general manager George Kittredge (John Howard). Obviously, this stick in the mud who can't even properly ride a horse (for shame!) is not going to end up with Katharine Hepburn, so we need to bring in some romantic foils. Enter C.K. Dexter Haven (Grant), a yacht designer who divorced Tracy two years ago and has been working with "Spy" magazine in Argentina. Because people 82 years ago were just as obsessed with rich people as they are today, "Spy" desperately wants to cover this wedding of the elite. Tracy, however, refuses any press access. Enter romantic foil #2: jaded journalist Macaulay "Mike" Connor (Stewart). He and his photographer partner Liz Imbrie (Ruth Hussey) go undercover as friends of Dexter at the wedding, a ruse that Tracy does not buy for a single second.
Over the course of the 24 hours before the wedding, with everyone jammed together at the Lord country estate along with Tracy's family, Mike and Tracy start up a flirtation that culminates in some lip locking and a drunken nighttime swim. Meanwhile, Dexter looks to poke his nose in Tracy's love life to attempt to win her back, Liz pines for the affections of Mike (which he is oblivious to), and Tracy comes to terms that everything in life is not necessarily there to serve her. Plus, Tracy's kid sister Dinah (Virginia Weidler) also wants to stop the marriage because of her kinship with Dexter. Oh, and Tracy's father (John Halliday) and uncle (Roland Young) have to pretend to be each other for very silly reasons that would take far too long to explain here. There's a lot going on.
Ultimately, George learns of Tracy's night with Mike and breaks off the engagement, as people are seated for the wedding. Not wanting to turn away the guests, Mike steps in to take George's place, but Tracy refuses him out of respect for Liz's feelings towards Mike. Dexter then steps in, and Tracy agrees to remarry her ex-husband.
Following the Code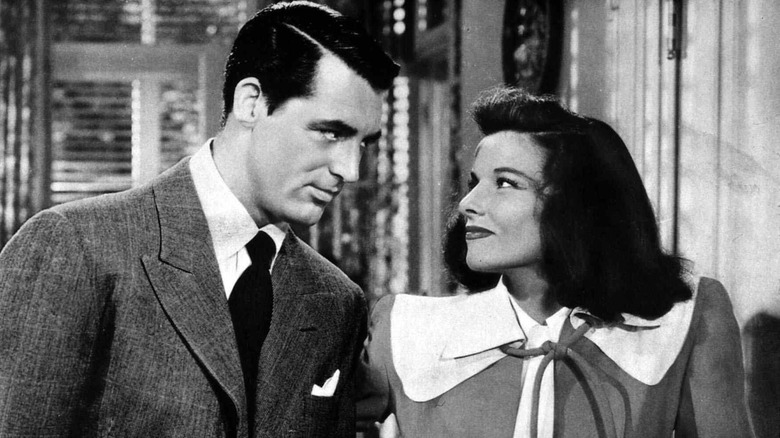 United Archives/Getty Images
For many viewers of "The Philadelphia Story," I'm sure the decision for Hepburn's Tracy to choose Grant's Dexter in the end may come as a bit of a surprise. For most of the film, their rapport is quite contentious, where the barbs they spit at one another can turn from wittily passive aggressive to outright hurtful. Even one instance of their sparring causes Stewart's Mike to slowly back out of a spat he found himself in the middle of and wants no part. As for Tracy's relationship with Mike, they seem to meet each other at their level, have a charming time together, and the air surrounding the two feels more positive. However, we must remember this was made in the time of the Hays Production Code, the self-imposed rules Hollywood put into place concerning morality and obscenity.
A frequent plot mechanic of the romantic and screwball comedies of the Hays Code era was having a married couple divorce. That way, they had the ability to play the field without the morally dubious cloud of adultery hanging over them, which was forbidden by the code. Through this loophole, the characters could date and even kiss other people in the movie (no sex, obviously) before coming to the conclusion that the person they should end the movie married to was the person they already were married to, reinforcing the sanctity of marriage. Cary Grant frequently returned to stories with this device in other terrific rom-coms like "The Awful Truth" and "His Girl Friday." So, if that conclusion comes out of nowhere for you, they really had no other choice to make within the framework of what could be made in Hollywood at the time.
The Ending Is a Beginning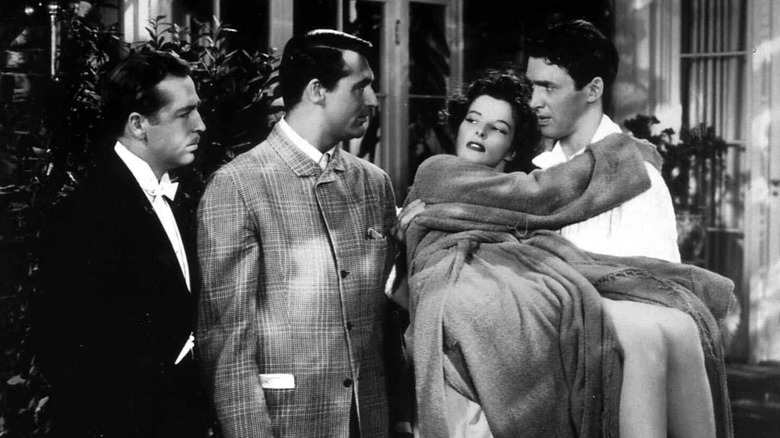 United Archives/Getty Images
The opening scene of "The Philadelphia Story" depicts the final moments of Tracy and Dexter's first marriage, with her breaking his golf clubs on his way out the door and him shoving her to the ground. While Tracy and Dexter have certainly grown over the course of the marriage, the hasty decision to give it another go could very well lead to a marriage where that opening scene happens again. It might not be as outwardly brutal as that one, but it could still go up in smoke. Their second marriage is more of a "Why not?" marriage than an "I do" one.
The chaos of the film's final moments falls in line with the antics of the rest of "The Philadelphia Story." Frankly, who ends up with whom isn't nearly as important as watching James Stewart perform the funniest drunk acting in cinema history (a performance that won Stewart his only Academy Award). This is a comedy, and the jokes are what you are here for. You find so much joy in every single scene that just about any pairing that could occur at the end would be a satisfying one, because the fun you've been having makes every possibility a delight. "The Philadelphia Story" has stood the test of time because it delivers perfectly what every single person wants out of a great romantic comedy: charming, beautiful movie stars making you care and laugh.
At the time of this publication, "The Philadelphia Story" is available to stream on HBO Max, but it's worth seeking out wherever you can find it.