Marry Me Trailer: Jennifer Lopez Is A Pop Diva Who Gets Hitched To Owen Wilson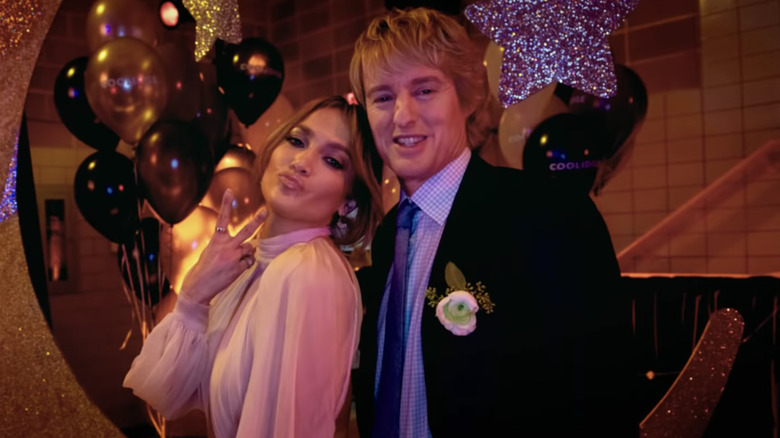 Universal Pictures
A new rom-com trailer just dropped and it's better than you could possibly imagine: in the span of two minutes, watch Owen Wilson and Jennifer Lopez get married, attend a high school dance and fall in love ... in that order. The JLo Hollywood agenda continues with "Marry Me," a chaotic story of love that sees the lead characters spontaneously getting married despite not knowing each other at all. Then, because they're in too deep, they agree to continue faking the relationship — and so you have another classic love story set-up. Will things go terribly wrong? Most definitely! But eventually, they'll go spectacularly well! And special bonus — this one comes with lots of singing!
You can watch the first trailer for "Marry Me" below.
Marry Me Trailer
I'm not sure if there's a "best lyric" award at the Grammys, but they should probably invent one for the scene where JLo sings "If every heartbreak was a yellow brick road/pointing me straight, just taking me home." Who doesn't love a good Wizard of Oz reference? No idea what it means, but I'm sure that romantic-lead screen queen Jennifer Lopez will make everything clear in "Marry Me." The film sees her playing an A-list pop star whose relationship becomes a celebrity news obsession. No worries, that's pretty much where the meta aspect ends because from there, it's all rom-com insanity and movie logic.
Music superstar Kat Valdez (Lopez) has big plans to marry her Grammy-award winning musician boyfriend, Bastian (Maluma) live on stage, before an audience of millions. But moments before the ceremony, already decked out in her bejeweled wedding dress, Kat discovers that Bastian has been cheating with her assistant. She has no choice but to go onstage, where she's overwhelmed with emotion and impulse — so she picks a random man from the audience and marries him. The stranger in question is Owen Wilson's Charlie Gilbert, a divorced math teacher holding a sign that says "Marry Me." In his defense, he was holding it for a friend ... but hey, if a pop star wanted to marry you, why say no?
The rest of the film sees the nerdy math teacher and singing superstar weathering the media storm and slowly falling in love. They won't be alone, of course. We all know the formula by now — Charlie is also a single father, with a spunky young daughter played by Chloe Coleman, who will both humanize him and snap him back to his senses when needed. She'll be helped by Sarah Silverman as our resident comic relief and Charlie's best friend. On JLo's side, John Bradley plays her manager, encouraging the relationship for publicity reasons. The film is directed by Kat Coiro, the TV director behind episodes of "Brooklyn Nine-Nine," and the upcoming Marvel series, "She-Hulk."
"Marry Me" arrives on February 14, 2022, because of course it does. Looks like we have a very promising Valentine's Day ahead.