Offbeat Romantic Movies That Are Highly Underrated
When it comes to romantic movies, audiences tend to go for the usual classics. From "Breakfast at Tiffany's" to the majority of Meg Ryan's catalog, there's no shortage of films within the genre that supply the typical lovey-dovey feelings fans adore. Yet, even with all of their entertainment value, some film fans might be looking for their romances to arrive in a different cinematic package. Enter the offbeat, unconventional romance. From movies that are action spectacles to those that take a musical route, cinema has a love story that can cater to any viewer with any specific interest.
With such a long list of films that don't fit the typical rom-com aesthetic, some movies tend to be dismissed by the film fandom. And that's where this list comes in! Here, we'll take a much-needed look at some often-overlooked romantic gems. From movies that wear quirky romance on their sleeve to ones that hide their lovely relationships between the frames, this list covers all the bases. So grab your favorite discount chocolates, a cozy blanket, and your favorite candle, and let's give some respect to the underrated treasures of the romantic movie variety.
The Crow
With its hyper-gothic style and iconic soundtrack, the 1994 adaptation of "The Crow" (based on the comic book series by James O'Barr) is a fascinating piece of '90s filmmaking. The movie centers on Eric Draven (Brandon Lee), a murdered musician who is brought back to life by a supernatural crow. As Eric begins to put the pieces together of the events that led to his death, he takes on the task of slaying the criminals that killed him and his fiancée, Shelly (Sofia Shinas). While the movie might seem gruesome on the outside, there's an underlayer of romance that casual viewers often ignore.
From the poignant acting of the late Brandon Lee to the music video-style montages of Eric and Shelly's relationship, "The Crow" doesn't shy away from its emotional core. That fact becomes especially clear when examining how much director Alex Proyas focuses on the romantic notions that fuel Eric's drive for justice. Yet, it is the score by Graeme Revell that genuinely evokes the eternal love between Eric and Shelly. It's the cherry on the sundae of a movie that deserves to be recognized as much for its depiction of moments of undying love as it does for its gothic culture-defining ones.
The Enchanted Cottage (1945)
Starring Robert Young and Dorothy McGuire, the 1945 version of "The Enchanted Cottage" (based on the play by Arthur Wing Pinero) is a unique romantic tale. In it, an insecure housemaid named Laura Pennington (McGuire) comes to work at a mysterious New England cottage. While there, she meets a handsome young pilot named Oliver Bradford (Young), who is looking to rent the cottage for his upcoming honeymoon. When Oliver is disfigured during combat, his once perfect life completely changes, leading him and Laura to bond over their unconventional appearances. As time passes and their feelings intensify, the pair find themselves (both literally and metaphorically) transformed by the magic of the cottage.
While a silly concept by modern standards, "The Enchanted Cottage" has an earnest nature that is infectious right from the start. Nothing about the movie is cynical, especially the genuine chemistry between Young and McGuire. In a current movie landscape where true love is ridiculed to such an obnoxious degree, this John Cromwell-directed gem is an excellent symbol of the power of love.
The Mummy (1999)
On the outside, the iconic 1999 reboot of Universal's "The Mummy" might seem like an odd pick for this list. Sure, it was a box office success and continues to have a growing nostalgic following, but when it comes to its lovey-dovey elements, "The Mummy" often gets pushed to the side for more traditional love stories. That is a shame since this flick starring Brendan Fraser and Rachel Weisz is an unlikely rom-com.
While it's evident that Imhotep (Arnold Vosloo) and Anck Su Namun's (Patricia Velasquez) relationship is the driving force behind the film's central conflict, the true romantic selling point in "The Mummy" is the pairing of Rick O'Connell (Fraser) and Evelyn Carnahan (Weisz.) From their classic Hollywood slapstick vibes to Rick and Evelyn's hilariously adorable bits of chemistry, it's clear that this opposites-attract pairing of a librarian and a roguish adventurer is as offbeat as a relationship can be. For viewers who feel like the nerdy outsiders, Rick and Evelyn prove that anyone can have a swashbuckling romance and live to tell the tale.
I Married a Witch
When it comes to quirky romances, none of them get odder than "I Married a Witch." The movie follows the men of the Wooley family who were once cursed by a witch to never find the right woman. When the witch, Jennifer (Veronica Lake), is released from her magical imprisonment in a tree, she goes on a revenge spree. Her main task? To get Wallace Wooley (Fredric March) to fall in love with her so she can further destroy his mortal life. Yet, as luck (and magic) would have it, Jennifer falls under her own romantic spell, leading her and Wooley's lives to become even more hilariously complicated.
Serving as the inspiration for the supernatural romantic comedy, "Bewitched," this René Clair-helmed film often gets overlooked in favor of its TV counterpart. Sure, the film might not have the iconic theme song or the delightful '60s aesthetic of the sitcom classic, but there's a delicious blend of camp and romance in "I Married a Witch" that is hard to ignore. While it's pretty well known that Veronica Lake and Fredric March didn't like each other in real life, their on-screen chemistry is the glue that holds this chaotic ride together. Ultimately, if you're looking for a movie that is just the right combination of ridiculous and earnest, you can't go wrong with this witchy romp.
Streets of Fire
Walter Hill's "Streets of Fire" certainly makes a bold first impression with its Jim Steinman-infused soundtrack and an incredible cast of talented actors. A neo-noir rock musical, the film follows a famous singer named Ellen Aim (Diane Lane) who gets kidnapped by a biker gang (led by Willem Dafoe.) With word spreading of Ellen's disappearance, it's up to her ex-boyfriend, Tom Cody (Michael Paré), to save her before the streets of Richmond become even more ruined with chaos and bloodshed.
Filled with campy one-liners and fascinating musical sequences, "Streets of Fire" is as offbeat a film (and romance) as any movie could be. Not only does it mix the nostalgia of the 1950s with the modern sensibilities of the 80s, but it also features a unique visual and verbal language all its own. However, the reason it had to be on this list is the undeniable chemistry between Paré and Lane. Not only are they two of the prettiest people to ever be put on celluloid, but you can feel the passion between them instantly, making "Streets of Fire" one heck of a romantic ride.
The Mask of Zorro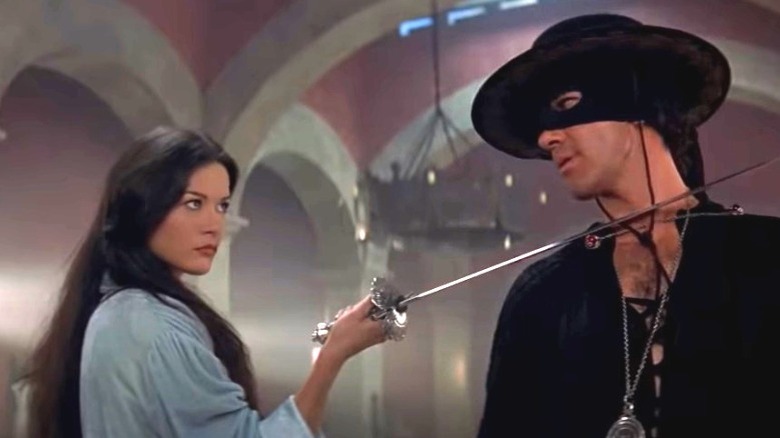 Sony
Most film fans don't necessarily think of 1998's "The Mask of Zorro" as a romantic story. While the film primarily focuses on the swashbuckling adventures of two iterations of the eponymous masked hero, the love triangle involving the movie's original Zorro, Diego (Anthony Hopkins), ignites the film's initial conflict. With a luscious and emotional score by James Horner, it all makes sense why this version of "Zorro" deserves some respect in the romance department.
Yet, the real reason why "The Mask of Zorro" makes this list is the insanely charismatic relationship between the new Zorro, Alejandro (Antonio Banderas), and Diego's long-lost daughter, Elena (Catherine Zeta-Jones). From their hilarious banter inside a church to their incredible dance sequence at a lavish party, the passion between these two stubborn characters is a delight to watch. As the film progresses toward its action-packed yet heartbreaking conclusion, there's no denying that the chemistry between Banderas and Jones is easily one of the best parts of an already charming movie.
The Fifth Element
One of the most ambitious movies of the '90s, "The Fifth Element" not only features fantastic sci-fi aesthetics but also a delightful romance. In the movie, Leeloo (Milla Jovovich) is a prophesied being whose destiny is to defeat the Great Evil. On her journey to fulfill her task, she meets a New York City cab driver named Korben Dallas (Bruce Willis), who just so happens to know a thing or two about combat. As the film progresses, Leeloo and Korben establish a connection that has the power to save the world.
While "The Fifth Element" is typically not thought of as a romantic movie, it becomes clear that love is the driving force behind this Luc Besson classic. From Leeloo needing to discover a reason for humanity to exist to Korben wanting to find a connection to keep him going, the emotional bond between these two is essential to the magic of the film's conclusion. When combined with the acting magic of Willis and Jovovich, it's easy to see why Leeloo and Korben's story is an essential entry for this list. 
Ever After: A Cinderella Story
While it has its fans, not enough people praise the 1998 gem, "Ever After: A Cinderella Story." Taking place during the French Renaissance, the film centers on Danielle de Barbarac (Drew Barrymore), a country girl looking to escape the toxic environment of her stepmother and stepsisters. Disguised as a courtier, Danielle crosses paths with Prince Henry (Dougray Scott), a royal who can't stand the typical lifestyle he has to lead. When Danielle, posing as Comtesse Nicole De Lancret, changes Henry's perspective on life, the two fall in love, which, as in any fairy tale, complicates both of their lives.
From the witty dialogue (written by Susannah Grant, Andy Tennant, and Rick Parks) to the lush score by George Fenton, "Ever After" reinvents the typical down-on-her-luck girl-to-princess story with exquisite detail. Yet, the most remarkable facet of the film (and why it had to be on this list) is the stunning performances of Barrymore and Scott. Not only do they excel at the screwball comedic aspects of the script brilliantly, but they sell the melodramatic moments of their character's relationship with masterful craft. If you're looking for a "Cinderella" that doesn't play by the rules, "Ever After" is the adaptation for you.
Death Takes a Holiday
Filled with melodramatic moments, Mitchell Leisen's 1934 film, "Death Takes a Holiday," weaves a haunting tale that deserves more respect. In it, Fredric March plays the spirit of Death, who (like the title suggests) is looking to take a break from his "job." To accomplish this goal, Death takes over the body of Prince Sirki and, while residing in the home of Duke Lambert (Guy Standing) and his family, falls in love with the beautiful Grazia (Evelyn Venable.) With only three days to experience mortal life, Death must decide how to handle his short time as a human and, more importantly, his new relationship with Grazia.
Running a mere 79 minutes, this big-screen adaptation of Alberto Casella's play is as romantic as can be. Maybe it doesn't have the excellent character development that film fans are used to with classic Hollywood cinema, but what "Death Takes a Holiday" lacks in runtime, it makes up for with the genuine love at its center — a fact proven not only by yet another excellent hyper-romantic performance by March but also by the film's supporting players, including "It's a Wonderful Life" star Henry Travers. The cast brings the splendid words of screenwriters Maxwell Anderson and Gladys Lehman to life, creating a beautiful yet simple gothic love story.
Legend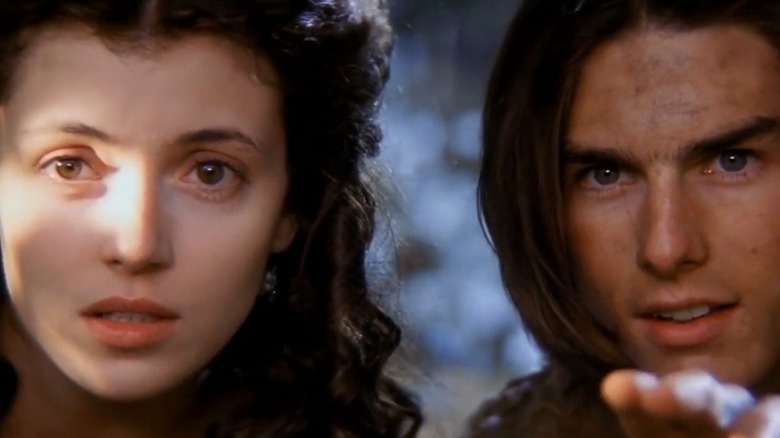 Universal
A fairy tale from the mind of Ridley Scott, "Legend" is often thought of as just an '80s fantasy spectacle. Yet, at the core of the story is a twisted love triangle that perfectly personifies the film's fascination with the balance between good and evil. In the movie, Princess Lili (Mia Sara) finds herself feeling responsible for the world falling into chaos after the death of a unicorn. Separated from her true love, the forest man Jack (Tom Cruise), Lili eventually enters the home of the evil creature, Darkness (Tim Curry.) In the monster's presence, Lili finds her heart shifting in a new direction. It's up to Jack to save everyone, including Lily, from being consumed by Darkness' evil plans.
With breathtaking cinematography by Alex Thomson, "Legend" tells a relatively simple story that blends all of the great fantasy tales from "Beauty and the Beast" to the best of the Arthurian legends. The film is a tribute to these stories, showcased in the relationship between Lili, Darkness, and Jack. That dedication to honoring the great fantasy stories of the past and the deliciously evil chemistry between Mia Sara and Tim Curry makes this movie an underrated classic.
The Karate Kid Part II
Most fans don't think of the "Karate Kid" movies as love stories. Yet, in the case of "Karate Kid Part II," the romantic relationships going on in both Daniel LaRusso (Ralph Macchio) and Mr. Miyagi's (Pat Morita) lives are pretty important. In the movie, the dynamic duo finds themselves traveling to Okinawa so that Mr. Miyagi can settle matters involving his dying father. Along the way, Daniel meets Kumiko (Tamlyn Tomita), a girl who has dreams of becoming a dancer, while Mr. Miyagi crosses paths with an old flame, Yukie (Nobu McCarthy.) Together, Daniel and Miyagi must settle the score with some vengeful rivals while also figuring out how to make these relationships work.
Though some viewers prefer Daniel's romance with Ali (Elizabeth Shue) from the first movie, it's hard to ignore the genuine chemistry between him and Kumiko. Macchio and Tomita perfectly embody the innocence and ever-maturing dynamic between the two characters, from their chill sequences on the beach to their adorable dance in a rockabilly nightclub. Plus, Morita and McCarthy do some excellent subtle acting when portraying Miyagi and Yukie's evolving relationship, resulting in some of the most emotional parts of the movie. Overall, "The Karate Kid Part II" doesn't get enough credit, especially for its romantic elements.
The Young Girls of Rochefort
With its stunning color palette and fascinating look at relationships, Jacques Demy's "The Young Girls of Rochefort" doesn't get talked about enough. In this musical, twins Delphine (Catherine Deneuve) and Solange (Françoise Dorléac) dream of finding their true loves and escaping their mundane, small-town lives. When a group of traveling performers (George Chakiris and Grover Dale) comes to town with a mysterious musician (Gene Kelly) and a sailor (Jacques Perrin), the young girls' lives change in enchanting ways, leading them down new paths that they, along with the significant people in their lives, never thought possible.
Like many of the underrated gems on this list, "The Young Girls of Rochefort" is a film that is as bold as it is romantic. From its whimsical score by Michel Legrand to its pastel cinematography by Ghislain Cloquet, the movie oozes heartfelt emotion from its first frame. Yet, even with its optimistic aesthetic, the film isn't afraid to comment on the melancholy side of love. This fact is proved not only through the lyrics of the music but also in the film's unique conclusion. "The Young Girls of Rochefort" is a treasure that deserves all the credit for bringing a fresh perspective to the typical, Technicolor musical love story.
Some Kind of Wonderful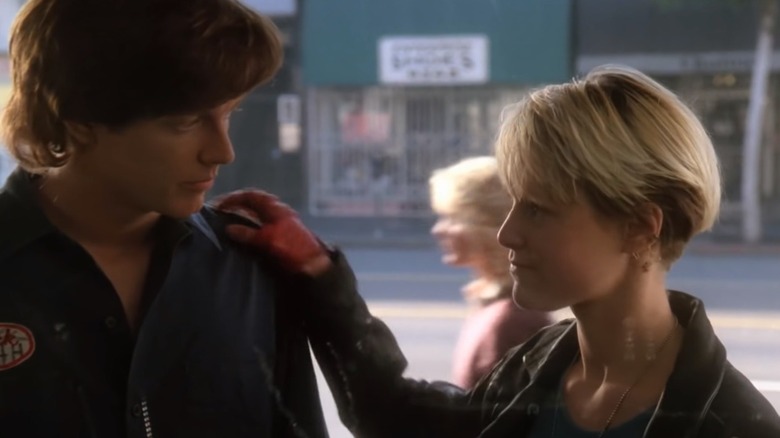 Paramount Pictures
Although many '80s romances have left a pop culture impact, not enough credit is given to "Some Kind of Wonderful." Starring Eric Stoltz, Mary Stuart Masterson, and Lea Thompson, the film centers on Keith (Stoltz), an artistically inclined high school senior looking to break away from his typical blue-collar life. To shake things up, he decides to ask the popular girl at school, Amanda Jones (Thompson), out on a date, but when Keith finally begins to notice that his best friend, Watts (Masterson), has been crushing on him, he has to decide whether to fall in with the cool crowd or be his more authentic self.
Filled with terrific performances, this film written by John Hughes excels at telling a beautiful and overall believable teenage romance story. Unlike the previous Hughes and director Howard Deutch collaboration, "Pretty in Pink," "Some Kind of Wonderful" isn't afraid to let the misfit characters get their romantic time in the spotlight. So if you always considered yourself the "Duckie" who was always looking for your happy ending, "Some Kind of Wonderful" will fill that missing space in your heart.
Strange Days
Directed by Academy Award-winner Kathryn Bigelow, "Strange Days" takes place in an alternate reality in 1999 — right before New Year's Eve. In the film, Lenny Nero (Ralph Fiennes), a former cop turned black marketeer, makes a profit off of recordings from an illegal device called a SQUID. What is this technology capable of? Well, it's a fancy piece of machinery that can document the user's memories and feelings when connected to someone's brain. When Lenny discovers a controversial SQUID tape involving a conspiracy with the LAPD, his life and that of his trusted bodyguard, Mace (Angela Bassett), are turned upside down.
As in the great film noirs that came before it, themes of love and emotional connection play heavily into "Strange Days." From Lenny's constant obsession with his ex-girlfriend Faith Justin ( Juliette Lewis) to Mace's unrequited crush on Lenny, Bigelow gives a fresh perspective on the typical romantic tropes often found in classic examples of the genre. However, the film's greatest accomplishment is the complicated emotive growth between Fiennes and Bassett's characters, proving that cinematic romances don't have to follow the straight and narrow path to be rewarding in the most natural ways.
Bicentennial Man
There's no hiding that Chris Columbus' "Bicentennial Man" was far from a universal success when it hit theaters in 1999. Most critics didn't give it a fair shake, and its box office returns weren't exactly noteworthy. Yet, as the years have passed, new viewers have seen how this robot-turning-human drama is a hidden gem in Robin William's filmography. While the movie contains many noteworthy things (in particular, its make-up by Greg Cannom), one element within its narrative often gets overlooked: the romance between Andrew (Williams) and Portia (Embeth Davidtz).
From their awkward meet-cute to their triumphant romantic embrace, Andrew and Portia certainly don't have the most typical love story. He's an ever-evolving android, while she's a stubborn fine art restorer. It's hard to ignore the unique spark between this offbeat pair, which is beautifully portrayed by Williams and Davidtz in every scene. As the film progresses, it becomes clear that Andrew and Portia's story is the true magic within an underappreciated treasure of a movie.