Superhero Bits: The Batman Clip In Glorious 4K, Iron Man Is Getting Engaged & More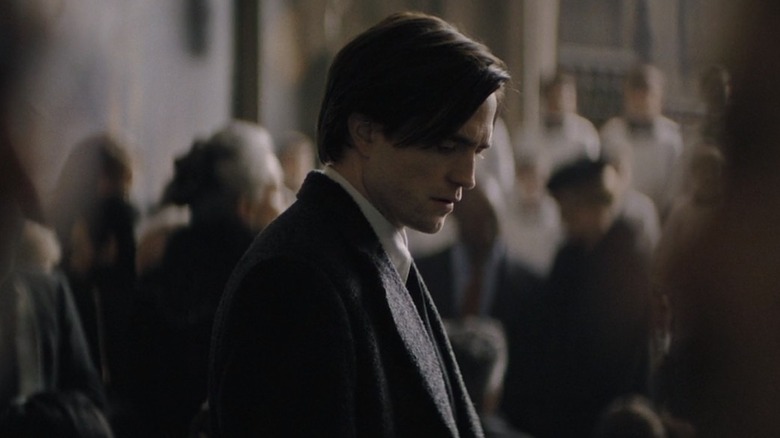 Warner Bros.
(Superhero Bits is a collection of stories, updates, and videos about anything and everything inspired by the comics of Marvel, DC, and more. For comic book movies, TV shows, merchandise, events, and whatever catches our eye, this is the place to find anything that falls through the cracks.)
In this edition of Superhero Bits:
"The Batman" gets its first clip released in 4K.
Vincent D'Onofrio really wants to return as Kingpin again.
"Peacemaker" included a fun nod to Ryan Reynolds (sort of).
Iron Man is getting engaged.
Iron Man #20 Will See Tony Pop the Question
As we can see in the above artwork from "Iron Man" #20, Marvel is setting up the relationship between Tony Stark and Hellcat to go to the next level. Indeed, it seems like Tony is going to pop the question, making for kind of a big deal as he seemingly plans to build a life with Patsy Walker, AKA Hellcat. Writer Chris Cantwell had this to say about it:
"Since Issue #1, bringing Patsy Walker/Hellcat into this story just felt right. She was the perfect kind of grounded presence in Tony Stark's hyper-octane world that I believed could help bring more balance to his life. Patsy Walker's best super-power in my mind has always been her ability to be human and sincere. And like Tony, she has had her share of demons in the past (some literal in her case). Both Patsy and Tony have gone through fundamental transformations in this story. And as the dust settles, and Tony sees Patsy as this phenomenal force in his life, he does the only thing he can think to do in order to keep her near him and connected: he proposes they be together for the rest of their lives. Of course, marriage is freighted for Patsy in ways it is for few other Marvel characters. Just one her previous relationships took her to the very depths of hell. It's not an easy decision for her in the least."
We'll see how this all plays out when "Iron Man" #20 hits shelves on May 30, 2022.
The History of Marvel Comics: Black Panther Trailer
Marvel is continuing to expand its relationship with SiriusXM for another new podcast that will tell the tale of Black Panther and his comic book history. The above trailer offers a taste of what listeners can expect from "The History of Marvel Comics: Black Panther," which is set to premiere on February 14, 2022. The series will be hosted by author Nic Stone ("Shuri"). Per Marvel, the six-episode series "explores the comic book origins of the Black Panther through conversations with the creators who shaped T'Challa's journey, celebrates the innately Afro-Futuristic world of Wakanda, and analyzes the larger social impact of the character." Some of the guests on the show will include Brian Stelfreeze, Christopher Priest, Don McGregor, Joe Quesada, John Ridley, John Romita Jr., Reginald Hudlin, and Ta-Nehisi Coates. Be sure to check out the trailer for yourself.
Harley Quinn Reacts to Peacemaker Fan Art In Perfect Fashion
Recently, an artist by the name of Joe Taft took to Twitter to share some artwork of Harley Quinn standing alongside Peacemaker. The art was shared with an image from the animated film "Batman and Harley Quinn" to illustrate the similarities. As we can see, the official Harley Quinn Twitter account got wind of the artwork and we got an in-character response to the art, which was pretty spot on. Will we ever see Margot Robbie's Harley alongside John Cena's Peacemaker again beyond "The Suicide Squad?" Time will tell, but we do still have at least a few episodes of "Peacemaker" left on HBO Max — not to mention James Gunn's other mysteries spin-off series.
Vincent D'Onofrio Isn't Contracted for More Kingpin, But He's Ready
One of the biggest surprises for the MCU last year was Vincent D'Onfrio's return as Kingpin in "Hawkeye," with the actor having previously played the part on Netflix's "Daredevil." During a recent appearance on "The Sarah O'Connell Show" (above), the actor addressed his status with Marvel Studios and revealed that he is not currently under contract for more. That being said, he's ready and waiting.
"No, [I'm not currently signed on for more Marvel projects.] I've been through this before with Daredevil. It's very clear to them all that I really want to play this part, keep playing it. You know, I'm just hoping that continues. I'm just beginning to have fun with it... I still think there's so much more to do with this character, so I'm just hoping that I do get a call. That would be really nice, and I would like to continue."
It would certainly seem a shame to just leave it at that, especially given the semi-cliffhanger we were left with in the "Hawkeye" finale. Not to mention there's that "Echo" spin-off coming up. If someone is taking bets, put your money on seeking more Kingpin in the future.
Peacemaker Episode 5 Includes Aviation Gin, Ryan Reynolds Extends His Thanks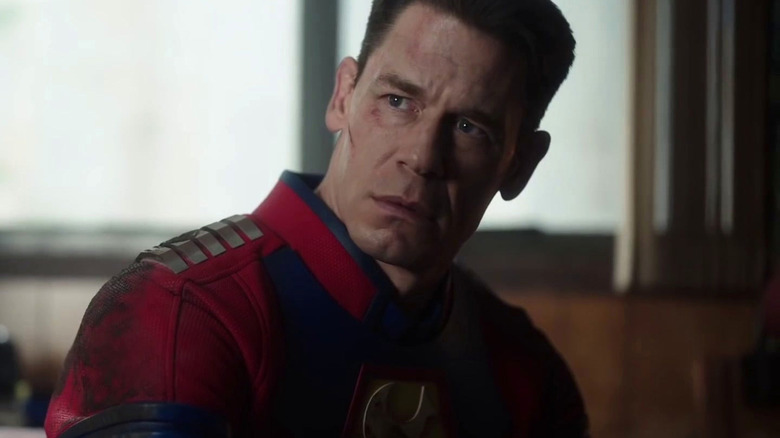 HBO Max
Circling back to "Peacemaker," the most recent episode of the series on HBO Max featured a pretty interesting cameo that would have been easy to miss, were it not for one of the owners of the company keeping his eyes peeled. Indeed, Ryan Reynolds noticed that his very own Aviation Gin was featured in the episode and the "Deadpool" actor decided to point this out on Twitter.
Note to internet: watch more @DCPeacemaker Great cameos! @AviationGin pic.twitter.com/tClOxVCzxH

— Ryan Reynolds (@VancityReynolds) January 29, 2022
Series creator James Gunn then weighed in confirming that it was indeed Aviation Gin, as the label was turned away. At the same time, John Cena also saw Reynolds' message and responded in appropriate fashion.
A fellow cosplayer with an eye for peace, a pallet for spirit, and the guts to send a #Peacemaker bulletin to the already feisty internet. Cheers to you 🥃 @VancityReynolds you're a class act with a brass set. 🧜‍♂️ https://t.co/jqzivMPdEF

— John Cena (@JohnCena) January 30, 2022
Twitter (and pop culture in general) is more fun when everyone gets along, isn't it? "Peacemaker" returns with a new episode this Thursday.
Spider-Man: No Way Home Walking Corpses Clip
The fine folks at Sony Pictures have released another new official clip from "Spider-Man: No Way Home" online, and it features Willem Dafoe's Green Goblin rather prominently. The scene in question has his character coming into contact with the other villains of the multiverse, only to be informed that, from Doc Ock's perspective, he's a walking corpse. Given that the movie is largely through the bulk of its theatrical run at this point, these clips and more spoiler-heavy material are likely to start making their way online. So apologies to those who haven't seen it yet, because there is no more hiding from it at this point.
Pip the Troll Was a Very Last-Second Addition to Eternals, Which Explains a Lot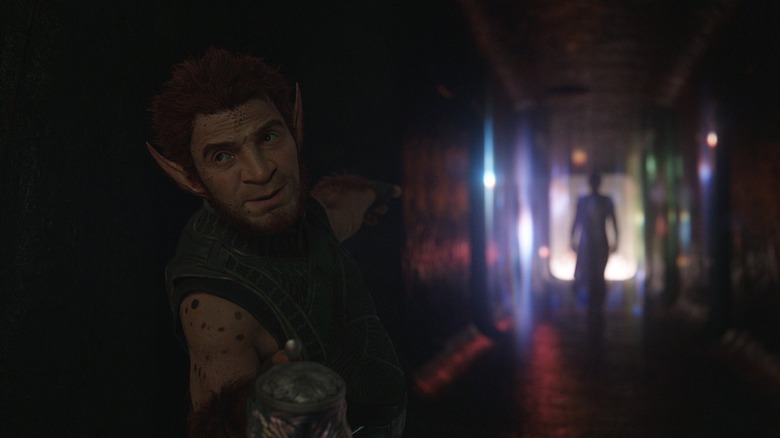 Marvel Studios
"Eternals" is getting something of a re-evaluation as of late since it's now available on Disney+ for the masses to stream. Be that as it may, there is no taking away from the fact that Pip the Troll (voiced by Patton Oswalt) looked pretty rough, in terms of the CGI. He appeared alongside Harry Styles as Eros, AKA Starfox, the brother of Thanos. Well, as revealed in a recent interview with The Wrap, Stephane Ceretti, VFX Supervisor for the film, and Matt Aitken, WETA Digital VFX Supervisor, shed some light on the topic. Here is the exchange from the interview:
Stephane Ceretti: Let's be honest. But it was a bit challenging to get that done in time, but we did what we could. It turned out okay. It's...

Matt Aitken: Another new thing to the MCU... And so, just try trying different things out. And I think I might have said to you at one point, Steph, we're getting close to our hard out. We need this much time. If we're going to change the design again, and build the facial rig, and get all the nuances of the facial performance, we're going to need to have that approval of the design right here. And then I think we went way past that.

Stephane Ceretti: We were way past that. I was like, "Guys, we got to go. We really got to go. But what if we try this. We got to go. Try this. Okay, we'll try this." We've all been there, but I mean, in the end you're putting, for the first time, a CG character next to Harry Styles. And you're thinking, "Hmm, Harry Styles is going to be hard to beat." It is what it is. I still think it's a fun moment. I still think it's a lot of opportunities for fun stories later down the line. I hope it's a character we're going to see more, because he's hilarious. What's hilarious is that Patton has agreed to do it. And I think the best thing, there's so many good possibilities because of that. And Harry doing that too is just freaking cool.
So yeah, pretty clear that this came into play much later in the game and it's not easy to get a full CGI character done under a time crunch. They did what they could. Let's just hope that when/if we see Pip again, the team gets more time to make him look a bit more convincing.
The Batman Funeral Clip In 4K
Lastly, director Matt Reeves has revealed an official version of the funeral scene from "The Batman" that made the rounds online last week. What's more, the filmmaker has released the clip in 4K on his official Vimeo channel. So, even for those of you who have seen the clip floating around on Twitter and/or YouTube, this is the best possible way to watch it in anticipation of Robert Pattinson's debut as Bruce Wayne on March 4. Those interested can check it out above or head directly to Vimeo by clicking here.