Reacher Review: Prime Video's Action Series Is Absurdly Good Fun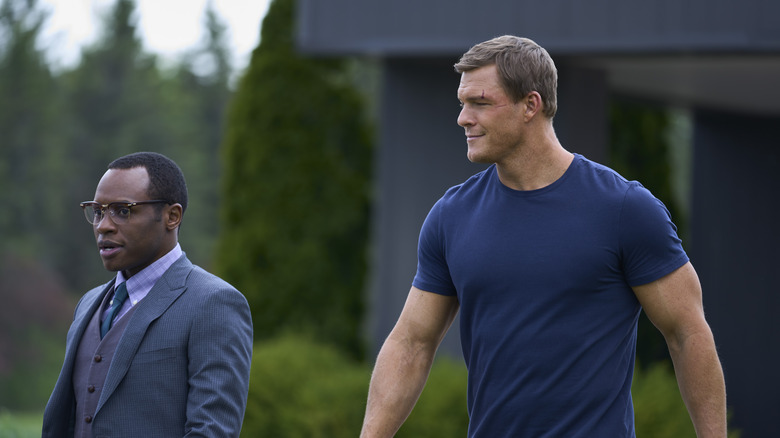 Prime Video
Prime Video's "Reacher" series isn't the first time we've seen Lee Child's Jack Reacher on screen. Back in 2012 and 2016, Tom Cruise played the title character from the popular book series in two feature films. Those movies weren't the worst movies ever made (though the second one was markedly worse than the first).
Fans of the "Reacher" books, however, were a bit confused (to put it politely) why Cruise was playing a character meant to be a 6'5" 250-pound powerhouse. Cruise's performances in those two films were impressive (he is Tom Cruise, after all), but many, including Child, admitted his character didn't embody the attributes that have made Reacher a favorite character for millions.
The Prime Video series, which was made with Child's blessing, has rectified that casting misstep by having "Titans" alum Alan Ritchson take on the role. And Ritchson, who has read the entire "Reacher" book series, has worked hard to bring the character from the page an onto the screen.
"This was a character that I just needed to get out of the way of, there's so much source material here," Ritchson told /Film about how he approached the role. "Everybody's got their idea of Reacher, but I think we all understand who he is on some level, and I just wanted to breathe life into that."
So who is Reacher? If Sherlock, MacGyver, and the Terminator had a baby, that very large baby would be Reacher, and Ritchson embodies the part beautifully. From his fighting style to the delivery of Reacher's memorable one-liners, Ritchson has Reacher down. He's a major highlight of the series, as the titular character should be, and I think those who love the "Reacher" books will be more than pleased.
Book fans will also be happy to learn that the show's inaugural season hews closely to Child's first "Reacher" book, "Killing Floor." Most of the events take place in the town of Margrave, Georgia where Reacher, a nomad at this point in his life, visits and gets subsequently arrested before he can even take a bite of peach pie.
Plausibility is Often Overrated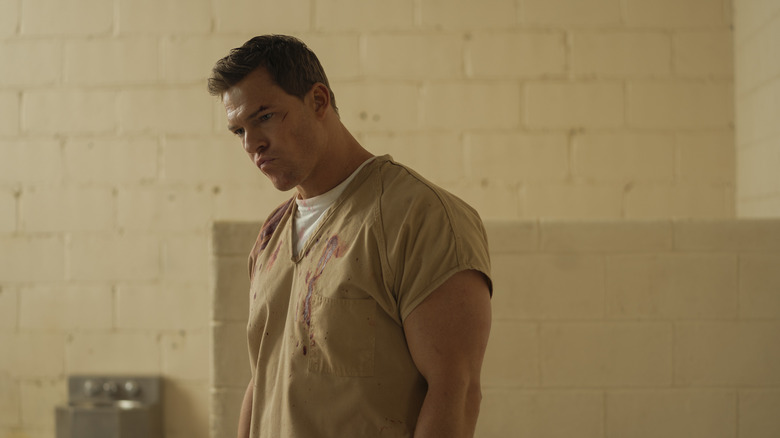 Prime Video
Things escalate from there, and when I say escalate, I mean escalate. As the episodes progress, the action and the events go well the beyond the realm of plausibility. This isn't a show that concerns itself with plausibility, however, and you shouldn't worry about it either. "Reacher" is the opposite of a quiet, grounded drama — it's an over-the-top action-packed thriller centered around a large, very smart, very skilled, unstoppable man. It is absurd, and it is delightful.
"Reacher" is at its best when it sticks to present day and the ever-growing number of murders in Margrave. The one place where the show falters are the regular flashbacks to Reacher growing up with his brother on military base camps. The purpose of the flashbacks are clear in that they aim to give us more about why Reacher is, well, Reacher. But do we really need to know why Reacher is how he is?
Yes, character development is important, but we get enough clues to Reacher's past through oblique references as he goes after the baddies in Margrave. And even if you want to argue young Reacher's "Stand By Me" moments add to the story, those scenes are more often clunky than not, and leave you itching to get back to present day where the danger and the intrigue keeps crashing into Margrave.
Overall, however, "Reacher" is a fun show provided you know what you're getting yourself into: the brutal fight scenes; the very specific, very violent, kinds of murder; the stereotypically heinous bad guys; the number of times Ritchson takes his shirt off with very little pretense other than letting the audience count his abs. The show is a wild romp, and one that will make your synapses tingle as you watch the intrigue and the action unfold.
"Reacher" premieres on Prime Video on February 4, 2022.