Tom Cruise Knows Some Fans Aren't Thrilled About Him Playing Jack Reacher In 'One Shot'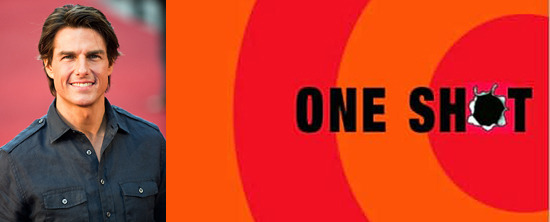 Christopher McQuarrie's adaptation of Lee Child's thriller novel One Shot is moving forward with Tom Cruise in the lead role of hulking ex-military cop Jack Reacher, who is drawn into a strange plot involving sniper shootings in a mid-size town.
To say that fans have been unenthusiastic about that casting choice is an understatement. A recent re-read of the novel gave me a good idea of how the character will be adapted to suit Cruise, and so I'm ready to see what McQuarrie is going to offer. But I've had many conversations with others who aren't so sure. Cruise seems quite aware of that uncertainty, as he talks publicly about his role in the film.
Empire caught up with the actor as he starts to promote Mission: Impossible – Ghost Protocol. Cruise said of One Shot,
Firstly, I'm very sensitive to [reactions to his casting]. This is Lee's book and Lee's character. Him giving me his blessing is what made me do it. If he hadn't then I wouldn't have done it.
To recap, Lee Child told the BBC this summer,
It's completely impossible to literally transfer the page to the screen. Ironically, to capture the feel of a book on the screen, you have to change almost everything about it. People think we should have had an actor that looks more like Reacher is described in the books. First of all there aren't any such actors, so it's much more a question of which actor has the talent and screen presence to create what Reacher does on the screen, and that really comes down to finding the actor with the most talent.
Jumping forward in time to Cruise's current comments, the actor moves forward from Child's statement:
Lee told me that the reason he wrote him that size (6' 5") is because that was just one element to his character, and that opened the door to me playing him.
Here's the synopsis:
Six shots. Five dead. One heartland city thrown into a state of terror. But within hours the cops have it solved: a slam-dunk case. Except for one thing. The accused man says: You got the wrong guy. Then he says: Get Reacher for me. And sure enough, ex—military investigator Jack Reacher is coming. He knows this shooter–a trained military sniper who never should have missed a shot. Reacher is certain something is not right–and soon the slam-dunk case explodes. Now Reacher is teamed with a beautiful young defense lawyer, moving closer to the unseen enemy who is pulling the strings. Reacher knows that no two opponents are created equal. This one has come to the heartland from his own kind of hell. And Reacher knows that the only way to take him down is to match his ruthlessness and cunning–and then beat him shot for shot.
Even if you're not thrilled aboutthe idea of Cruise in the lead, the rest of the cast is too good to ignore: Werner Herzog is the villain, the Zec, and Michael Raymond-James (Terriers) is one of his henchmen. Rosamund Pike plays the defense attorney; Robert Duvall is Cash, an old Marine with a pivotal role; David Oyelowo is a cop, likely the primary investigator Emerson; Richard Jenkins is the determined DA Alex Rodin; Alexia Fast plays a young girl named Sandy who has a few important moments; and Jai Courtney plays a villainous henchman named Charlie. IMDBPro says Tammy Felice is local TV reporter Anne Yanni, and Joseph Sikora is accused sniper James Barr.
One Shot is slated for release on February 8, 2013.