Severance: Release Date, Cast, And More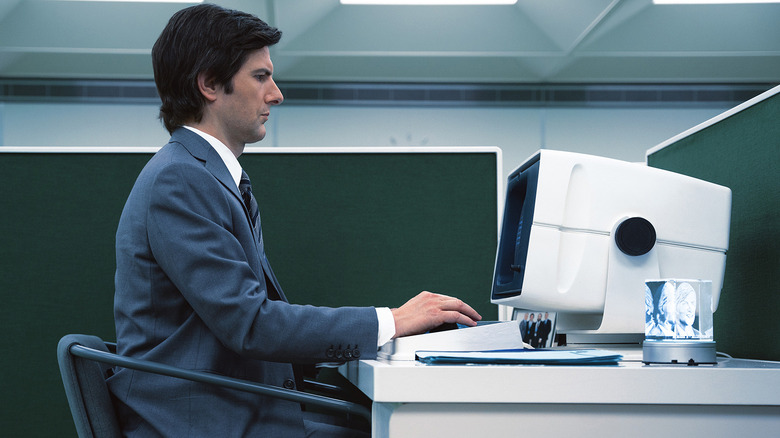 Apple TV+
(Welcome to ...And More, our no-frills, zero B.S. guide to when and where you can watch upcoming movies and shows, and everything else you could possibly stand to know.)
With its thrilling new series "Severance, " Apple TV+ dares to ask a terrifying question: what if office culture was even more dystopian? As we all know, the real world is packed with shady corporations going to deeply disturbing lengths to assure productivity while refusing to treat employees as human beings. In the grand tradition of great sci-fi with eerily accurate social commentary comes the plot of "Severance," which takes the toxicity of office culture to its technological extreme. What if you could achieve perfect work-life balance and all it took was one measly medical procedure? This series may look like a typical office drama, but there's an unsettling undertone baked into the plot. If the creepiness is calling out to you, here's everything you need to know about the upcoming premiere of "Severance."
Severance Release Date and Where To Watch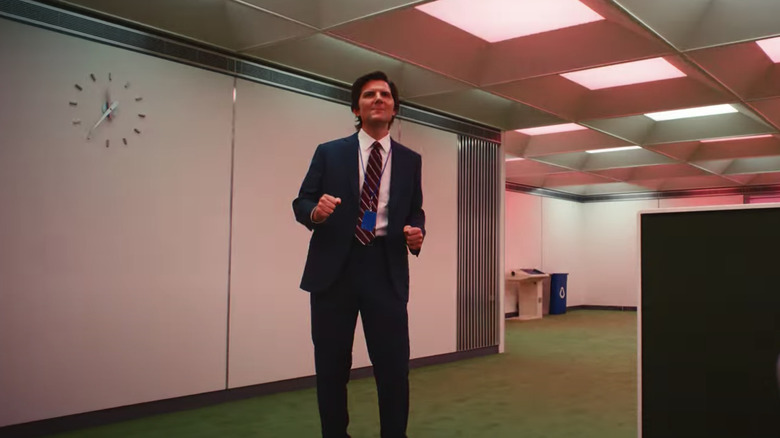 Apple TV+
"Severance" is another intriguing addition to the Apple TV+ lineup, debuting on February 18, 2022. This was actually one of the first series ordered after the streamer officially launched back in 2019. Since then, the service has grown considerably but still seems pretty tiny when its library is compared to other streamers. That hasn't stopped some of its gems from breaking out into the world with plenty of chatter and excitement, and Apple TV+ seems determined to keep building on its momentum. Just last week, they launched the first few episodes of Lord and Millers' genre-bending murder mystery, "The Afterparty." With the Uma Thurman-led project "Suspicion" just around the corner, "Severance" is poised to keep audiences locked in with new episodes premiering weekly. Keeping with the increasingly popular streaming TV strategy, "Severance" will give viewers a taste of the series with a two-episode launch on February 18, followed by new episodes weekly on Fridays.
What is Severance?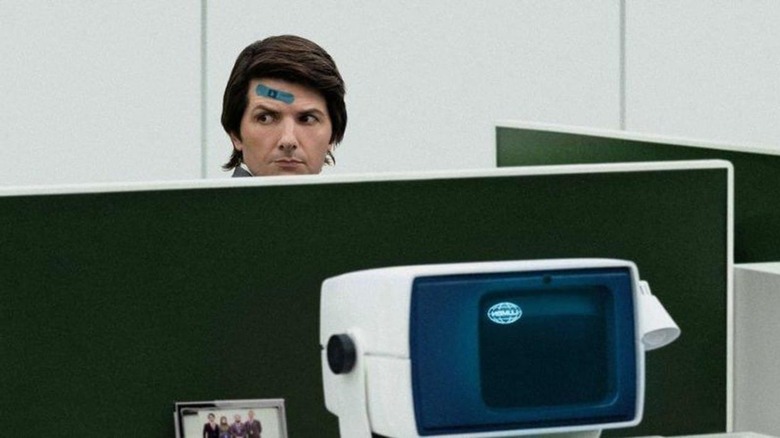 Apple TV+
"Severance" follows office drone Mark Scout (Adam Scott), a loyal Lumon Industries employee who signs up for a radical medical procedure that promises to create ideal workers. It begins with a memory-altering surgery that divides their life into two halves: work life and home life, with absolutely no crossover between them. Because of his dark past, Mark welcomes the opportunity to balance two ends of his life: if all goes well, he'll think of nothing but work when in the office. Then, once he leaves the building, all memories of the workday will fade. To those of us out here in reality this sounds pretty all-around horrific, but Mark and his co-workers see it as the next natural step in their careers. As the series progresses, Mark will find himself at the center of a slowly unraveling mystery.
Severance Director, Writers, and Crew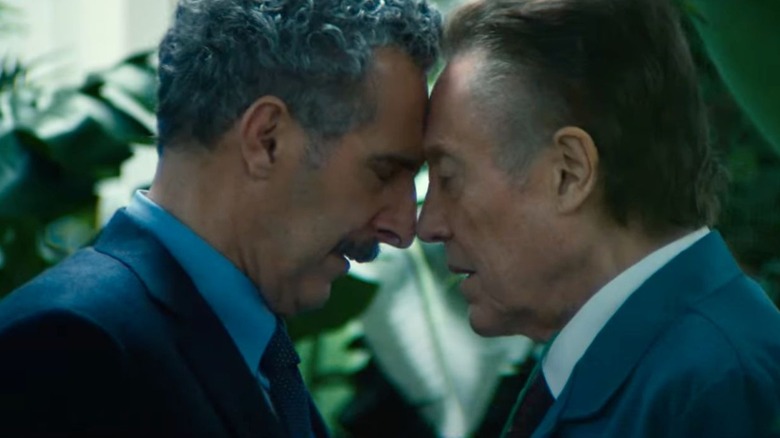 Apple TV+
"Severance" comes from writer and creator Dan Erickson, a relative newcomer who previously worked in series development for Super Deluxe and has written for Spike's Lip Sync Battle Pre-Show. Back in 2016, Erickson's "Severance" script was the first TV script to make it on to the annual Bloodlist. Erikson is joined by Ben Stiller and Aoife McArdle ("Brave New World") as series directors; this marks a reunion for Scott and Stiller — Stiller previously directed the actor in "Big Little Lies" and "The Secret Life of Walter Mitty." Chris Black ("Outcast," "Star Trek: Enterprise") will executive produce alongside Erickson, Stiller, Nicky Weinstock, and Jackie Cohn, while Adam Scott will serve as producer.
Severance Cast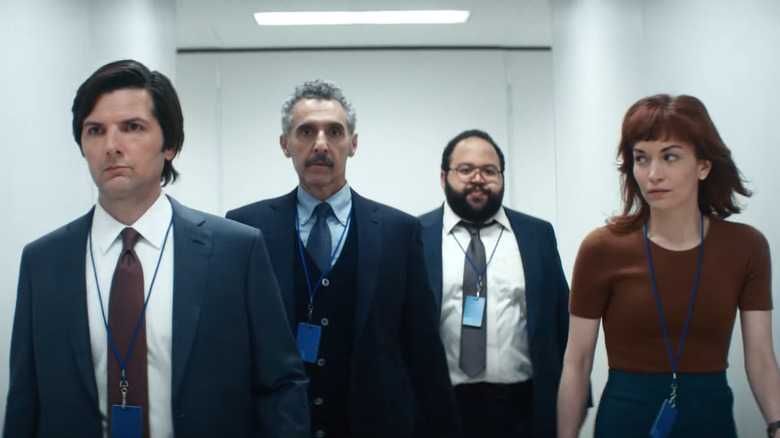 Apple TV+
Adam Scott stars as the series lead, Mark, "an employee with a shady past who's trying to put himself back together." We've seen Adam Scott do workplace drama before, though I'm gonna go out on a limb here and say "Parks and Recreation" won't have a ton in common with "Severance." Scott will show up in his professional button-down, sit at a desk and perform tedious tasks — but instead of laughter, he'll be surrounded by a deeply unsettling vibe.
Joining him in these horrors, "Severance" also stars Academy Award winner Patricia Arquette ("Boyhood") as Mark's boss, and John Turturro ("The Batman") as a long-time company employee. Christopher Walken plays Burt, the head of optics and design at a company called Lumon Industries. The series also stars Britt Lower ("Man Seeking Woman"), Tramell Tillman ("Godfather of Harlem"), Jen Tullock ("The Coop"), and Zach Cherry ("Succession," "Crashing").
Severance Trailer and Synopsis
In "Severance," Mark Scout (Adam Scott) leads a team at Lumon Industries, whose employees have undergone a severance procedure, which surgically divides their memories between their work and personal lives. This daring experiment in 'work-life balance' is called into question as Mark finds himself at the center of an unraveling mystery that will force him to confront the true nature of his work ... and of himself.