The Afterparty Review: A Middling Whodunit Wrapped In A Hyper-Creative Comedy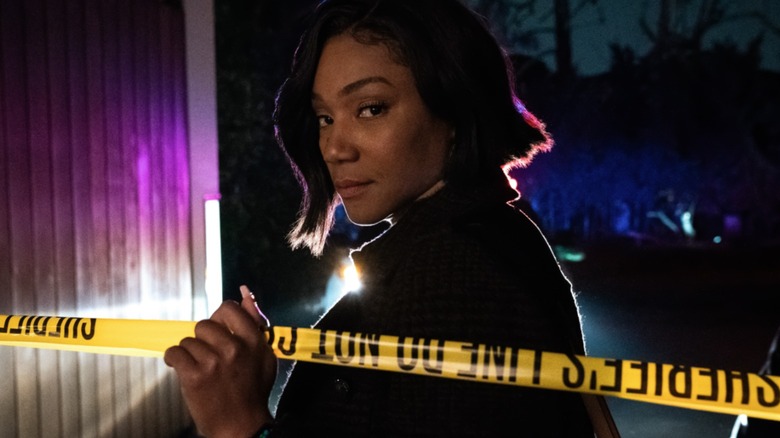 Apple TV+
There are few phrases in the English language that are guaranteed to pique comedy lovers' interest more than "Agatha Christie by way of Lord and Miller." That's pretty much the pitch for "The Afterparty," the new eight-episode series by "The Lego Movie" and "21 Jump Street" directors Phil Lord and Christopher Miller. The comedic mystery isn't actually based on a Christie novel, but it pulls from the same playbook of her drawing room mysteries, framing its narrative around interviews Detective Danner (Tiffany Haddish) conducts with a series of guests at a 15-year high school reunion afterparty.
None of the guests seem too bothered by the death of pop star Xavier (Dave Franco), whose hilarious career also includes a role in a Hall & Oates biopic and a blockbuster adaptation of Hungry Hungry Hippos. Xavier is their former classmate, and the series opens with his body being recovered from the bottom of the cliffs outside his home. Depending on who you ask, Xavier was also kind of a tool.
Crime Scene Genre-Hopping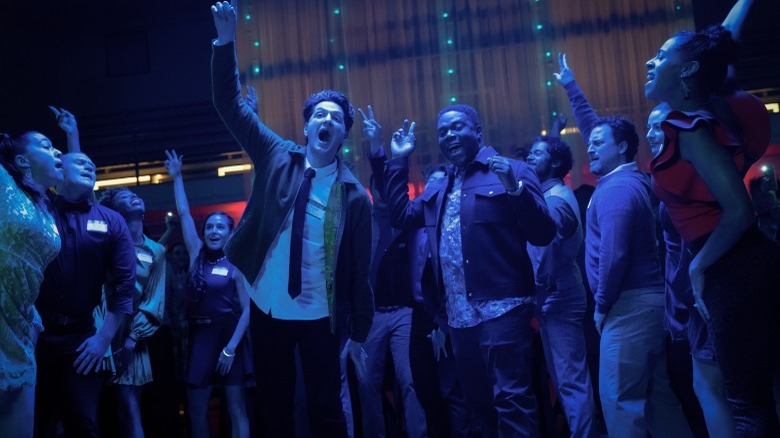 Apple TV+
And it does depend, because "The Afterparty" tells a different partygoer's story per episode, reimagining the show as a different genre depending on who's speaking. When Brett (Ike Barinholtz) tells the story, he's the star of his own "Fast & The Furious" movie, complete with reckless driving and references to the importance of family. Meanwhile, Aniq (Sam Richardson) imagines himself the super-respectful hero of a heartwarming romance film.
This is a risky gimmick on which to rest an entire series. The subjective, zoomed-in story structure calls to mind the much-maligned fourth season of "Arrested Development," or the stretched-thin final season of "How I Met Your Mother." Luckily, Lord and Miller are cut from a different comedic cloth than most. While they didn't write all of the show's scripts, the executive producers' energetic, goofy sense of humor infuses the series and mostly keeps the whole enterprise afloat.
"The Afterparty" feels like seven different shows in one, by design. Its pieces overlap, sure, but some episodes soar above the rest. The series' high point is a musical detour penned by "Crazy Ex-Girlfriend" writer Jack Dolgen. The half hour makes great use of Ben Schwartz, who plays a would-be musician named Yasper who used to pal around with Xavier when he was a nobody. In his hopeful, heightened version of reality, Yasper raps about his expectations for the night. Later on, when Xavier gives him a non-committal answer to his proposed collaboration, Yasper breaks out in an ensemble song-and-dance in praise of the phrase, "Yeah, sure, whatever."
A Lackluster Mystery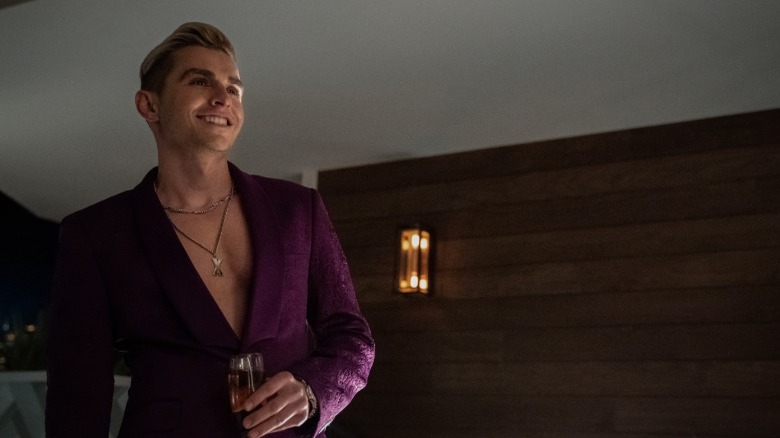 Apple TV+
The series genre-hops competently enough, with other episodes dabbling in noir and animation. Its only problem is its payoff, or potential lack thereof. While the series' comedic cast is excellent — Ilana Glazer, John Early, Zoe Chao, and Jamie Demetriou round out the ensemble — they don't particularly maintain much chemistry. By the time the series approaches its endgame, we're left with the sense that these are a bunch of kind of likable people whose kind of unlikable classmate is dead. No one inspires strong enough feelings in viewers to make us care one way or another if they're the killer. A flashback episode placed late in the season seems to promise big reveals, but only slightly deepens the story.
As a stalwart proponent of a return to the weekly release model, it pains me to say that "The Afterparty" might have worked better as a binge-watch. It doesn't have enough material to stretch it over so many weeks, and its later story beats don't hit as hard as writers intend them to. Yet it's not an ideal marathon watch, either, as the seemingly endless afterparty inspires restlessness more than intrigue.
Still, "The Afterparty" is far from a lost cause. As the one asking the questions, Haddish is the through-line between every witness statement. She plays Danner as such an enthusiastic listener, she may as well be eating popcorn while she follows along with each uniquely told story. Her interjections are often the best bits of the show, as when she describes a character's facial expressions as "looked like Jack Nicholson in 'Witches of Eastwick.'" The show also isn't afraid to make cops the butt of their jokes, often framing them in jokes as harmful rather than helpful. Its not yet clear whether "The Afterparty" will continue beyond one season, but if it does, Haddish could easily carry the series beyond this one-night-only storyline.
Overall, "The Afterparty" may not be the most compelling whodunit, but its funny and decidedly original. Its shortcomings stem from the same narrative ambition that informs its best and most creative parts.