85-Year-Old Oscar-Nominated Legend Bruce Dern Wanted To Join Jackass Forever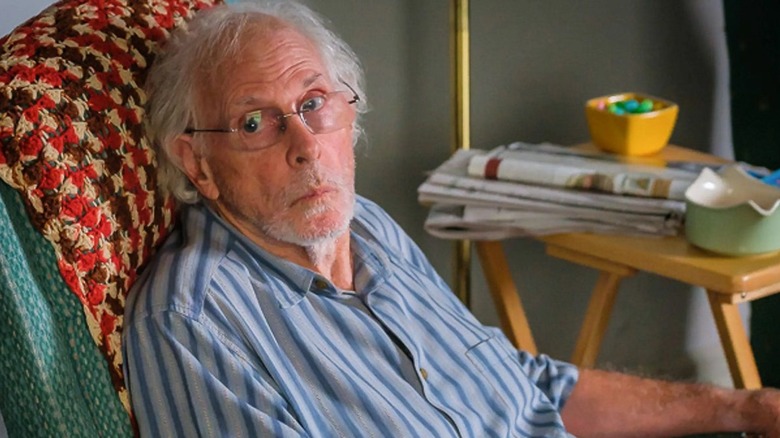 Roadside Attractions
The "Jackass" crew has given guest-starring privileges to tons of great celebrities over the years, and have, of course, become celebrities themselves in the process. From the original series to the many sequels, Johnny Knoxville and his bright band of merry misfits have cultivated a happy-go-lucky environment where celebs and plebs alike (typically people from the "Jackass" broader circle) can frolic in the curiosity and, thus, enjoyment of doing things you shouldn't — and even some of the most famous of folk have tried to weasel their way in.
It turns out that legendary actor Bruce Dern (yes, Laura Dern's father) was interested in getting in on the "Jackass" action — which is certainly the coolest piece of film news or trivia I've heard in a hot minute. Knoxville opened up about Dern reaching out to the "Jackass" team himself to potentially be of service for the upcoming "Jackass Forever" movie while chatting with Howard Stern on Wednesday, January 26.
"Bruce Dern had contacted us — someone had contacted us [saying] 'Bruce Dern wants to be in 'Jackass.' I — we would love Bruce Dern to be in 'Jackass,' but now we're kind of done filming," the stunt performer explained on "The Howard Stern Show." Unfortunately, Dern missed the mark and will not appear in the upcoming "Jackass Forever" film, but we can all dream about what his cameo may have become.
...If you're thinking of a Bad Grandpa 2.0 featuring Grandpa's BFF, you're in good company.
The Most Iconic Jackass Cameo
Take a trip back with me to 2002, when the original "Jackass" TV show was an American darling, coming to a close with its third season after making a splash on MTV. That's when one Mr. Brad Pitt met Knoxville at "Jackass" executive producer Spike Jonze's house.
"He was saying he really wanted to do something with us," Knoxville told MTV News in September 2006. "We were filming the last episode. At the time, we didn't even have any ideas — just that he wanted to be on the show."
And that's just what he did. Pitt was part of a one-minute bit in the final episode called "The Abduction," where he gets kidnapped by men in ski masks. Later in the episode, he joins the "Jackass" crew as they get into monkey suits and ride shopping carts into walls and other obstructions. Knoxville more recently touched on Pitt's involvement during an appearance on "Hot Ones" in 2018:
"[Pitt] showed up ready. We had him in two bits; One, we kidnapped him in front of Pink's Hot Dogs, which went really well, and the first time — we had him for one night. We were doing these go-karts, bombing the hill on Vine. And we were all like, oh, we really don't want him to get hurt, because he's Brad Pitt and he's... But he did not care, he was ready to do it. He was the first one in the middle of the street, we're like, 'No, no, no, no! Don't do that!' But he didn't care."
"Jackass Forever" premieres in theaters on February 4, 2022.