How The Jackass Crew Pulled Off A Stunt With Brad Pitt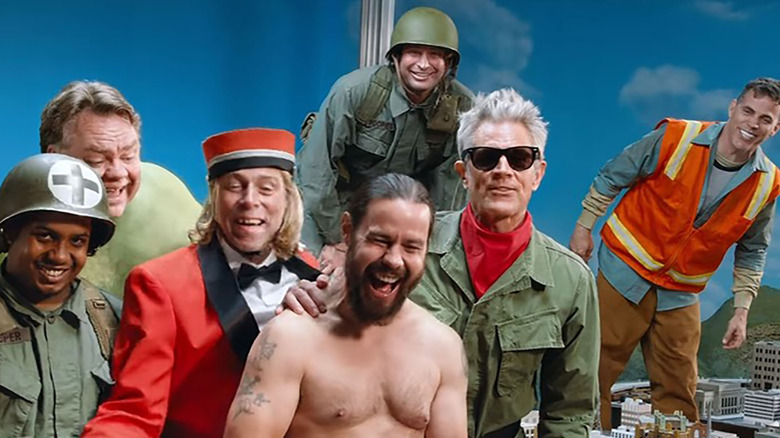 Paramount Pictures
If there's one thing the "Jackass" franchise does right — joke's on you, though, they do everything right — it's their celebrity cameos. The team knows how to pack a punch with the appearances they select and, in turn, those appearances make their already-exciting projects that much more compelling. One of the best examples of this is legendary actor Brad Pitt's two turns on the beloved stunt-and-smash series, because of course it is, knowing Pitt and his wacky sense of humor.
In 2018, "Jackass" team captain, master of ceremonies, and star Johnny Knoxville opened up about pulling off a stunt with the "Once Upon a Time ... in Hollywood" star while appearing on (my favorite interview series) "Hot Ones" — and apparently, the movie star was more than ready to go crazy with the crew.
"Is it true that you had to talk Brad Pitt off the ledge when he wanted to do a prank that was just bigger than the one you guys had planned for him?" Sean Evans, "Hot Ones" host since 2015, asked Knoxville. The stunt performer revealed:
"[Pitt] showed up ready. We had him in two bits; One, we kidnapped him in front of Pink's Hot Dogs, which went really well, and the first time—we had him for one night. We were doing these go-karts, bombing the hill on Vine. And we were all like, oh, we really don't want him to get hurt, because he's Brad Pitt and he's... But he did not care, he was ready to do it. He was the first one in the middle of the street, we're like, 'No, no, no, no! Don't do that!' But he didn't care."
The Most Underrated Team-Up Ever?
You're probably wondering how Brad Pitt himself got roped into the whole "Jackass" beautiful mess in the first place — and I'm here to tell you that story, nay, legend, so that you can take this campfire tale with you in your travels and impress your friends. Trust me, it's the kind of celebrity trivia that actually rules.
Picture it: It was early 2002 and "Jackass," the original TV show of course, was a raging success. The series was coming to a close with its third season — and that's when Knoxville met Pitt at "Jackass" executive producer (and later, prolific director) Spike Jonze's house.
"He was saying he really wanted to do something with us," Knoxville told MTV News in September 2006. "We were filming the last episode. At the time, we didn't even have any ideas — just that he wanted to be on the show."
From there, Knoxville and his cronies came up with "The Abduction," a one-minute bit in the show's final episode in which Pitt is, you guessed it, abducted by men in ski masks while waiting in line at Pink's Hot Dogs in Hollywood. The men put a shocked Pitt into a van and drove off while bystanders watched, and a few even tried to help to no avail.
Additionally, Pitt got to try his hand at being a jackass in a second sketch, during which he and the guys dressed in monkey suits and rode in shopping carts until they careened forcefully into curbs, bushes, and anything else in their path. Talk about a perfectly chaotic way to cap a perfectly chaotic series.